Joburg most definitely comes to life during the holiday season! There's holiday season cheer everywhere you go, twinkling lights and sparkling décor, festive treats and feasts at every turn, and let's not forget all of the exciting family-friendly entertainment that's sure to delight both young and old! And to ensure you're ready for all the celebrations, we have come up with a Christmas guide covering everything you need to know about all the festivities in the city, from where to plan your Christmas Day lunch and gifting ideas for all your loved ones to merry markets, where to see the Christmas lights and so much more! Merry Christmas!
What Are You Looking For? 
Festive Feasts & Treats
Christmas Shopping & Gift Ideas
Merry Entertainment
Holiday Décor
Jolly Fun For The Kids
Festive Feasts & Treats
Christmas is all about the three Fs – family, fun and of course, feasting! And if you're looking to enjoy the feasting part without all of the time consuming preparations and cleanup afterwards, then be sure to book your table at one of these merry and oh-so jolly Christmas lunches and dinners at various restaurants throughout Joburg. Spend this special day indulging in cheerful meals complete with all of the trimmings – Christmas pudding, delicious roasts and
Explore Christmas Feasts in Johannesburg. 
Other than all the hearty roasts and indulgent puddings, Christmas also brings a wave of delightful baked treats along with it. Think sweet Christmas cookies, shortbread biscuits and Gingerbread houses! And to ensure you can get tour hands on some of the best Christmas cookies in the city, we have come up with a list of bakeries around Johannesburg that will most certainly satisfy your sweet tooth.
Explore Christmas Cookies Hot Spots In Johannesburg.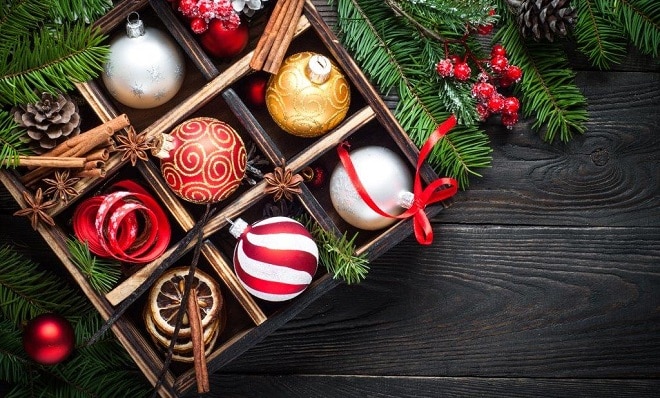 Christmas Shopping & Gift Ideas
Have no clue what you want to gift your loved ones this Christmas and are looking for a few ideas? No problem, check out our festive gift guide! Here, we cover everything from lovely gifts for her and him, cool presents that the kids will enjoy, stocking filler suggestions that your family and friends will love, and of course a few over-the-top luxury items if you know someone who has been extra good this year and deserves something extra special.
Explore Our Christmas Gift Guide. 
We love gift sets! Not only because they offer great goodies but because they also give you more bang for your buck. There's a wide variety of options to choose from no matter what you or your loved ones are interested in. From fragrance sets and makeup bundles, to snack hampers and even stunning jewellery combos, there's bound to be the perfect gift set for you.
Explore Festive Gift Sets.
Don't forget to get your hands on an advent calendar to help you countdown the day until Christmas while also giving your a little spoil daily. Every year, there's an abundance of advent calendars to delight both young and old. From surprise beauty gifts and shimmering jewellery pieces to cool LEGO® figurines and decadent chocolates, every day in December will feel like Christmas with these stunning advent calendars.
Explore 2020's Advent Calendars. 
Merry Entertainment
As soon as November arrives, we know what that means – all of the merry markets will be popping up left, right and centre throughout the city! Offering everything from festive treats and gift ideas to special visits from the beloved Santa Claus and the perfect place to get together with family and friends, these Christmas markets are an absolute must-visit during this time of year.
Explore Merry Markets in Johannesburg.
Another must you need to add to your holiday to-do list during the festive season is to visit and enjoy all of the twinkling festive lights throughout Johannesburg. There are many various venues throughout the city that host annual sparkling and shimmering light displays that will leave you and your loved ones in awe and feeling the magical festive spirit that Christmas brings along with it.
Explore Christmas Light Displays in Johannesburg. 
Nothing says "Festive holidays" like fun-filled Christmas activities for the little ones. Bring them over to Northgate Shopping Centre and let them enjoy a full line-up of activities designed to bring out the magic of Christmas! Visitors can expect to find craft workshops, magic and game shows, musical elves, art and crafts, face painting, and lots more!
Explore Festive Fun At Northgate Shopping Centre
A fantastic foray for the whole family, the outdoor Christmas Village is back at Sandton City. This year, escape to this traditional European Christmas experience, located in the Protea Court between 10 and 22 December, for that festive feeling where gourmet and gifting delights, carols, and other family entertainment is at your fingertips. Entrance into the Christmas Village is free. There will be performances by the Joburg Ballet and even Santa will pop in to snap a couple of pics with the kiddos.
Explore Festive In The City At Sandton City
Holiday Décor
Along with the merry gift shopping comes the Christmas décor shopping! From twinkling festive lights and sparkling strings of tinsel to shiny baubles in a rainbow of colours, delicate ornaments and more, stock up on your seasonal décor at various stores throughout the city! You're bound to find something dazzlingly festive to suit every budget, colour scheme, style and space.
Explore Festive Decorations in Johannesburg.
Jolly Fun For The Kids
Looking for something fun to do with the kids while at home this holiday season? Well, how about heading to the kitchen and enjoying some festive baking? There are plenty of festive season treats and delight you can all create and savour together. Here are a few baking suggests to get your started. Christmas is all about spending quality time with your loved ones and indulging a little bit, so make the most of this special time by baking together.
Explore Festive Baking.
Since the kids will now be on school holidays, surely you need some fun activities to keep them busy during the festive season. Why not let them get creative by letting them get crafty with some homemade DIY Christmas décor projects? Here are a few suggestions on some fun and exciting crafts they can do in spirit of Christmas.
Explore Festive Crafting Projects.
What we love most about Christmas is the fact that there is NEVER a shortage of festive movies to enjoy. So, grab a few Christmas treats, curl up on the couch and spend the evening watching as many Christmas movies as you can. Here are a few classics that you need to add to your must-watch list.
Explore Classic Holiday Season Movies. 
H

a

p

p

y

H

o

l

i

d

a

y

s

!