Woolworths
Woolworths has recently launched their new plant-based food range among its many branches across Joburg. Their new range includes a diverse selection of items, such as cheese, milk and meat alternatives. Their cheese range is made out of coconut oil and is soya-free. It has Greek style cheese, cream cheese, cheddar and cheese spread. Woolworths also has a healthy choice of vegan milks, such as almond, coconut and rice, coconut, soya and rice milks. Their meat alternatives are extensive, from burger patties made from vegetables to sandwich slices made from pea protein. And their vegan biltong, made from mushrooms, is certainly worth mentioning. These dried morsels taste like a chewy and slightly bitter version of the real thing. Woolies also has a few of their delicious pre-made snacks and meals in vegan options as well as pre-made vegan jelly.
Find out more about your favourite Woolworths branch here.
Spar
Spar stocks the widest variety of South Africa's own vegan brand, Fry's. Here, vegans can get some delicious and affordable burger patties, schnitzels, nuggets, sausages, polony, sausage rolls and pies. They also have a Crafted range, featuring butternut balls, falafels and a country roast. Certain branches of Spar, such as the Craighall Park and Broadacres branches, also stock various vegan ice cream, salad dressing, sandwiches, Meraki products and tofu. This is a good retailer to browse through and catch some interesting finds. If that wasn't enough, Spar has now launched their own range of vegan and vegetarian goodies, called Simply Veg. Give their vegan nuggets a try, these are free from onion, garlic, dairy and egg.
Find out more about your favourite Spar branch here.
Pick n Pay
PnP offers all the same Fry's products as Spar, but they also sell Quorn. Quorn is a meat substitute made from mycoprotein, a plant-based fungus. Products under this range include bacon, chicken-style pieces and fillets, sausages and burger patties, among others. They have a vegetarian range as well as a vegan range, both of which taste the same with the vegan option having a softer texture. Be sure to look out for the vegan label on the bag to make sure you don't receive a product that contains dairy or eggs. This is, in our option, the best tasting and textured of the meat alternatives. Pick n Pay also sells a fair range of vegan milks, such as almond and soy. To boot, PnP now offers shoppers delicious and affordable vegan items as part of their Pick n Pay Livewell range.
Find out more about your favourite Pick n Pay branch here.
Checkers
Checkers stocks both Quorn and Fry's products. But they also stock the popular British range, Linda McCartney. Named for the Beatles' Paul McCartney's late wife, this range produces vegetarian and vegan products. Again, it's important to check your labels to make sure the products are vegan. They have sausages, burgers and pies among their range. These products have a more meaty taste than its competitors, so it's perfect for those new to the vegan lifestyle or who are still adjusting. Checkers also have their Simple Truth range, which has many vegan products, including milk, pasta, pizza, burger patties, pre-made meals and snacks.
Find out more about your favourite Checkers branch here.
Food Lover's Market
This grocer sells many vegan options, aside from all the fruit and vegetables, that is. They sell bags of soya mince, just soak in hot water or stock for 15 minutes then use like regular mince. They also have vegan mayonnaise and vegan milk alternatives, such as Almond Breeze. Recently, they became a stockist for Tofutti, dairy-free imitation cheese. But what makes this store worth stopping at is their Almond Creamery, a brand of flavoured vegan drinking milk.
Find out more about your favourite Food Lover's branch here.
Dischem
We all know Dischem as our favourite pharmacy and health store. But they also sell some interesting and delicious vegan products. Dischem stocks all types of vegan milks and even vegan milk powder. They also sell Violife cheese and cold sandwich cuts. Best of all, they provide vegan jelly sachets and chocolate. You can find a wide variety of dressings, sauces, condensed milk and even plant-based protein for the gym bunnies.
Find out more about your favourite Dischem branch here.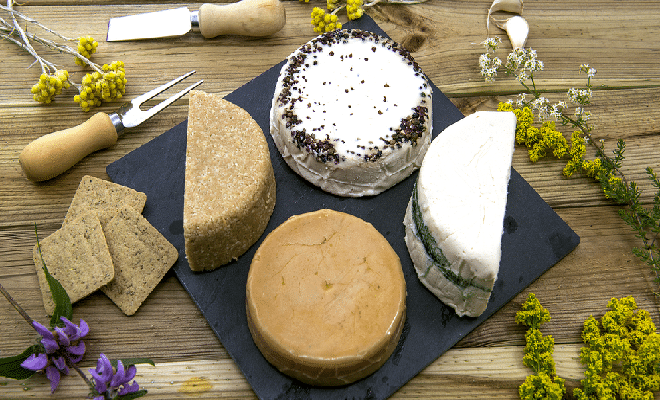 To see where you can find even more vegan products, check out our list of the best vegan food stores in Johannesburg.
What is your favourite vegan range? Let us know in the comments section below!