Pick n Pay Launches Livewell Range
On Wednesday, 20 November 2019, Pick n Pay announced some exciting news. Launching over 500 new products in their Livewell Range in January 2020, PnP will make healthy eating even easier. With more customer-friendly labels for smarter choices, PnP is catering to health conscious shoppers countrywide. The Livewell Range already features an array of snack packs, wholegrains and frozen foods. With reduced salt, sugar and saturated fats, these products are ideal for people looking for healthier alternatives to their favourite snacks and meals. Seeing that South Africa is one of the unhealthiest nations in the world, the PnP Livewell Range couldn't make its debut at a better time.
The Livewell Range is also vegetarian and vegan-friendly, with a number of guilt-free products to tuck into. The newly improved beetroot hummus is one of our favourites. Vegan-friendly, low in fat and full of flavour, this spread is the perfect accompaniment to a freshly baked wholewheat loaf or seed crackers. We also love PnP's Cranberry and Cherry Rooibos Tea, with energy boosting properties and sweet fruity notes. Paired with a bowl of rolled overnight oats or chia pudding topped with berries, this is breakfast fit for a health conscious king or queen.
Kauai Comes To The Party! 
Preparing your daily smoothie can be a task and a half. All the peeling, chopping, de-seeding and blending takes up a significant amount of time. And, unfortunately, restaurant smoothie options are laden with hidden sugars and fats. That's why Kauai and Pick n Pay have partnered to bring you healthy frozen ready-to-eat meals, sides and smoothies under the Livewell brand. You can now enjoy your favourite Kauai meals directly from Pick n Pay fridges. Over 220 stores currently stock these products, with more to be introduced in the new year. The ready-to-go smoothie pack comes complete with all the ingredients you need to create your own smoothie masterpiece at home. All you need to do is pick up your Kauai pack from PnP, blend it up at home and enjoy!
Spend R5 To Save The Planet
Not only are Pick n Pay making it easier to eat well and live longer, but they are set to relaunch their R5 reusable bag as an alternative to plastic bags. Knowing that times are tough, but that you also want to do your part to prevent further global warming, PnP introduced the affordable R5 environmentally-friendly shopping bag. The bag will be launched at 22 stores across the country in January, before being rolled out nationwide. Support this initiative to ensure that the economical eco-friendly bag stays available.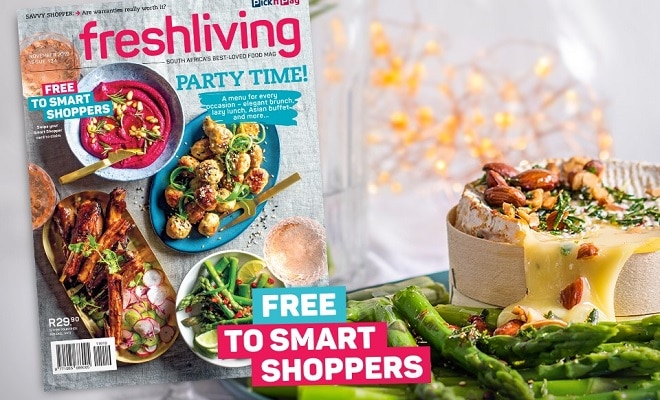 For More Information
If you need a little help starting your health journey, pick up the Livewell catalogues available at all PnP stores. These leaflets not only advise on how much salt, sugar and saturated fat you should consume, but they offer tips on how to cut down and replace these harmful food items with healthy alternatives. You can also add the PnP Fresh Living magazine to your shopping trolley for a variety of recipes featuring Livewell products.
You can also check out what's cooking at the PnP Good Food Studio on Nicol. Learn how to whip up healthy, yet delicious meals using the freshest ingredients from PnP here.
Visit the Pick n Pay website for more information about the Livewell Range, or follow them on social media:
Facebook - facebook.com/Picknpay
Twitter - twitter.com/picknpay
Instagram - instagram.com/picknpay
Have you tried any of Pick n Pay's Livewell products? Let us know what you think about them!