Bedfordview is well known for its Italian, Greek and Mediterranean restaurants. However, there's far more on offer. From Brazilian grill to fiery Indian and even Japanese teppanyaki, Bedfordview's restaurant scene is as diverse as its population. The suburb is also a great place to enjoy family-style dining with the kids. So, no matter what type of cuisine you're in the mood for, Bedfordview's restaurants should have something to tickle your tastebuds.
What Are You Looking For?
Italian
Greek
Portuguese
Mediterranean
Asian
Steak & Grill
Mexican
Seafood
American & Fast Food
Vegetarian/Vegan
Coffee Shops & Cafes

Italian
Andiccio 24
For a fast and tasty Italian feast, visit Andiccio 24. Here, you can customise your pizza, choosing from a range of delicious toppings. Andiccio 24 is also well known for its dessert pizzas and sweet treats. Bring the family along on a Friday night for a sit down meal or order for takeaway.
Del Forno 
Another one of Bedfordview's favourite pizza and pasta spots is Del Forno Italian Restaurant. Dine on the open pavement or inside the restaurant for a casual but sophisticated atmosphere. Del Forno offers a variety of Italian delights to choose from, including family-style meals to share. So, whether you're looking for a venue to celebrate a special occasion or simply for a mid-week special on pizza, Del Forno is the place to be.
Lupa Osteria 
Italian cuisine is both homely and refined. With its luxurious flavour combinations and careful preparation of ingredients, this is comfort food made fabulous. If you're after Italian with a flair of fine dining, book a table at Lupa Osteria at Bedford Square. We've heard rave reviews about their cheesy pasta dishes, freshly made pizzas and fine selection of wines. Definitely a top date night spot!
PRIMI 
How about sundowners overlooking Bedfordview? PRIMI at Eastgate Shopping Centre is one of our top hangouts over weekends for gourmet Italian-style pizzas, pastas and grills. Bring your group of friends along for jam jar cocktails and more pizza than you can possibly eat. Our favourite is the Johnny B Good - Mozzarella cheese, fresh tomato and garlic with dashes of fresh basil pesto. It's Italian simplicity at its finest.
Rossa
Rossa is affectionately known as the home of the best pizza in Bedfordview. Bring your friends or family along to enjoy their mind blowing 24-slice pizza! All of their ingredients are sourced fresh and treated with the utmost care. You can expect delectable flavours to reach your table at Rossa. Partnered with their family-friendly atmosphere and warm hospitality, this is definitely one of Bedfordview's finest Italian eateries.
Greek
Soul Souvlaki 
If it's authentic Greek street food you're craving, visit Soul Souvlaki Bedfordview. This quaint side street restaurant opened its doors in August 2018, delighting Bedfordview's Greek food lovers. Here you will find the very best flame grilled souvlaki dishes, yiros, salads and tasty flatbreads. However, their stand out menu item is their oven roasted potato wedges. Trust us, you'll never look at the humble potato wedge the same way again.
Visit Soul Souvlaki Bedfordview.
Yia Yia's Kitchen 
What's better than Grandma's cooking? Yia Yia's Kitchen celebrates the authenticity of homemade Greek cuisine in all its dishes. Come and enjoy a taste of the Greek islands in the heart of Bedfordview. Yia Yia's Kitchen also offers catering for private parties and functions, as well as live entertainment. Opa!
Plaka Eastgate
Meze has never looked this good - fresh Greek salads, grilled calamari, chicken souvlaki, tangy tzatziki and tons of feta cheese is all that Plaka at Eastgate Shopping Centre has to offer. Savoured with a delicious glass of red or white wine, this is the ultimate Greek feast. There is also a lovely little deli shop here, stocked with all the ingredients you need to whip up your own platters at home. If you've never visited Plaka Eastgate, you've been missing out. So, book a table as soon as possible!
Mythos Bedford Square 
Mythos at Bedford Square recently underwent a massive renovation. Bringing your favourite Greek restaurant firmly into the 21st Century, this upgrade has seen the Mythos brand take on a whole new look. Come along to feel like you're dining on a Grecian beach, complete with fabulous meze spreads and tasty cocktails. Oh, and there's a gelato counter too, for all you sweet tooths!
Visit Mythos at Bedford Square.
The Fat Mermaid
Now for something slightly out of the box. The Fat Mermaid is one of Bedfordview's best kept secrets. Tucked away down a narrow street, this Greek restaurant and party venue features something most other restaurants wouldn't ever consider. A swimming pool! Bring the kids along for a splash in the summer while you relax poolside, sipping on one of the Fat Mermaid's famous coffee freezes.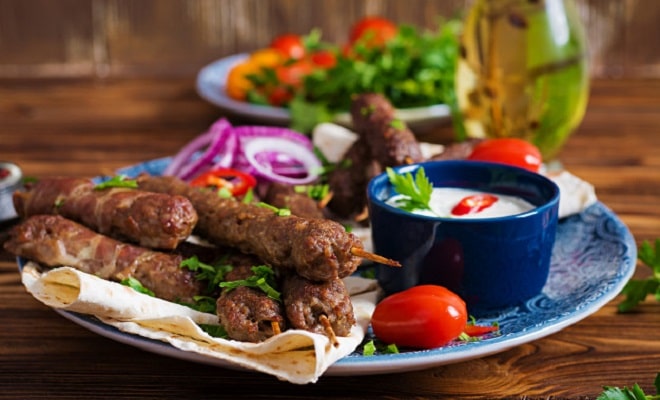 Portuguese 
Pigalle
For fine dining with an Afro-Porto fusion feel, book a table at Pigalle Bedfordview. This upmarket Portuguese eatery is situated at Village View Shopping Centre, overlooking one of the suburb's busiest streets below. However, this does not detract from its fine dining air and excellent eating experience. You've never imagined Portuguese cuisine could look this good, trust us.
Rodizio
While not strictly a Portuguese restaurant, Rodizio Brazilian Grill serves up some of the best seafood platters and grills in Bedfordview. This spot is a meat lover's dream, offering as much slow roasted prime beef, tender chicken, traditional Chouriço, succulent pork and sensational lamb you can eat! Pair with a traditional Portuguese salad of cocktail tomatoes, peppers, onions, crispy greens, cucumber and olives for a well balanced feast.
Visit Rodizio Brazilian Grill.
Vasco's Seafood & Grill 
King prawns, grilled in lemon butter and a garlic marinade - what more could you ask for? Vasco's Seafood and Grill are experts in seafood and Portuguese-inspired cuisine. Offering classic dishes remade into contemporary showpices, Vasco's brings a distinct touch of class to the Bedfordview restaurant scene. Do yourself a favour and order the chef's signature lavender scented crème brulee after your main meal. It's to die for!
Visit Vasco's Seafood & Grill.
Adega 
For a more family-friendly dining adventure, stop by Adega Bedfordview. With an outdoor kiddies' play area and family-style menu, this is the ideal spot to bring the little ones on your night off from the stove. Adega also offers a variety of weekday specials on their seafood platters and grills. Think rump steak, mussels, calamari and king prawns served with spicy Portuguese rice for just R250*! Sounds like an absolute bargain to us.
Mozambik Eastgate 
Another one of Bedfordview's best family-friendly restaurants is Mozambik at Eastgate Shopping Centre. With an outdoor kiddies' play area and fun beach vibe, it's the ideal spot for family dining over the weekend. Mozambik also offers a little something for the adults - delicious cocktails! Let their Tipo Tinto and Sparletta Sparberry mix cocktail jug transport you directly to a sunny Mozambican beach side villa.
Mediterranean 
Doppio Zero 
What began as a bakery and al fresco cafe in 2002, has become one of Joburg's top Mediterranean restaurants. Doppio Zero Bedfordview is a must-visit for health conscious eaters, veggie lovers and bread fanatics alike. Dine on the cool pavement or inside the restaurant's two-storey cafe. Doppio Zero Bedfordview is also dog-friendly, so bring your best four-legged pal along.
Visit Doppio Zero Bedfordview.
Europa
Could this be Tuscany, Provence, Barcelona or Corfu? No, it's Europa! For the ultimate Mediterranean dining experience, take a trip to Bedford Square to visit this much-loved restaurant. Here, conversation thrives over multiple cups of coffee and delicious slices of cake. Don't expect to dine and dash, as this is a true Euro-inspired eatery. So settle down for breakfast, lunch or dinner and enjoy the time as it leisurely passes by.
Asian
Yamitsuki
As one of the only true Teppanyaki restaurants in Joburg, Yamitsuki stands as a food mecca in Bedfordview. From sushi set aflame to Western dishes, this popular restaurant caters to a range of tastes. Their unique spin on Asian cuisine is sure to entice you, along with the restaurant's vibrant atmosphere. So, what are you waiting for? Join them for half-price sushi on Mondays or happy hour on Thursdays between 14:00 - 18:00!
Jungle Sushi and Teppanyaki 
Finding authentic Japanese cuisine outside of the city can be challenging. However, there is one spot in Bedfordview that delivers the very best sushi, teppanyaki, stir fry and noodle dishes. Jungle Sushi and Teppanyaki is famed for its sushi boats and teppanyaki prawns. However, there stand out dish is the deep-fried ice cream! It's a truly whimsical dining experience at Jungle, so give it a try as soon as you can.
Visit Jungle Sushi and Teppanyaki.
Kong Sing Chinese Restaurant
How much sushi can you eat in one sitting? Kong Sing Chinese Restaurant serves up all you can eat sushi all days of the week, testing the stomach strength of even the most passionate sushi lovers. Take a seat at their sushi bar or nearby one of the windows to enjoy a spectacular view of the suburb below. The restaurant is fairly quiet despite its buffet-style servings. Bring your sweetheart out for dinner and a spot of romance at Kong Sing.
Visit Kong Sing Chinese Restaurant.
The Classic India 
Sometimes all you need to satisfy a craving is a hearty curry. There's no better spot to get an authentic North Indian curry in Bedfordview than at The Classic India. Whether you opt for a classy sit down dinner at their restaurant at Key West Centre or for a quick takeaway, you're sure to walk away from this meal with utter satisfaction. It's supposedly the best curry outside of India, so give it a try!
Steak & Grill 
Fireroom
Have you ever heard of South African sushi? It's boerewors encased by traditional South African pap garnished with micro herbs and served with a bit of tongue in cheek. Fireroom is one of the most innovative and out of the box sushi and grill restaurants in Joburg. They opened their doors in Bedfordview in mid-2019 and have steadily become a go-to for premium steaks, private dining and elite whisky tasting (and flaming sushi, of course).
Turn 'n Tender 
What's more mouth-watering than a steak cooked to perfection? Bedfordview's meat lovers flock to Turn 'n Tender at Village View Shopping Centre for the best steaks, grills and wines in the area. This is homestyle food made with absolute finesse. Perfect for when you're in the mood for a braai but have none of the energy to stoke an open fire!
The Baron 
The Baron has been in the business of fine steaks and family-style dining since 1993. This is a top spot for weeknight dinner with the kids and Friday night beers with the lads. The Baron Bedfordview delivers each order with a smile, echoing their motto that "nothing is too much trouble" for their loyal diners. For this reason, The Baron is a home away from home for many. Join them for excellent service and food that reminds you of mom's homemade dinners.
Mexican 
Salsa Mexican Grill
Put on your sombrero and head on over to Salsa Mexican Grill at Bedford Square for a fiery fiesta! The party never stops at this Tex-Mex restaurant. Design your very own menu and feast on a variety of tortilla-based dishes, including their ever-popular Cheesy Nacho Stack! Salsa also offers some of the best tequilas in town, so get ready for a fun night out.
Mochachos
Looking for a little Mexican flavour? Mochachos at Key West Centre offers a wide variety of Tex-Mex takeaway meals. Order yours mild or super spicy for an added kick. Mochachos also caters to the little ones with their Bambino menu. Taco Tuesdays, anyone?
Seafood 
John Dory's 
John Dory's at Bedford Centre is a favourite for families, seafood lovers and sushi fanatics alike. There is a separate kiddies' play area here, so the little ones can work off some of that energy before tucking into a delectable platter of fresh seafood. Wednesdays are half-price on sushi, drawing in the younger 'hip' crowd. Nevertheless, John Dory's is always abuzz with happy diners no matter the day of the week. Don't miss out!
Catch Seafood and Grill
With its open air dining area and wondrous scents of seafood cooking in buttery sauces, Catch Seafood and Grill reels in diners with ease. Tuck into fresh oysters, hand rolled sushi or pan-seared salmon at this top seafood restaurant. The fish spread is further complimented by an extensive wine and cocktails menu, presenting diners with a taste journey unlike any other.
Visit Catch Seafood and Grill.
American & Fast Food
Chevy Lane 
Have you wanted to visit a real 1950s American diner? Now you can! Chevy Lane is a quirky American-style diner located at Bedford Centre. Bring the kids along to enjoy an array of gourmet burgers, hotdogs, pizzas and waffles, washed down with the wackiest milkshakes you've likely ever seen. There is also a sophisticated whisky and cigar bar here for the grown ups to enjoy.
Brooklyn Brothers
Also located at Bedford Centre is the legendary Brooklyn Brothers restaurant. Take a seat on the deck and watch the sun melt over the Bedfordview skyline while tucking into an array of juicy dunked wings, sticky ribs and gourmet shakes. This is American-inspired grub at its finest, so don't miss the opportunity to get stuck in. Warning: you will need multiple serviettes to clean up after yourself!
Vegetarian/Vegan
Kaylee's Eatery 
The vegan lifestyle has exploded in recent years, seeing more and more people choosing to eat plant-based diets to be kinder to the planet. In early 2019, the vegan trend firmly settled itself into Bedfordview as Kaylee's Eatery opened its doors. This vegan-friendly restaurant serves up some of the best plant-based burgers and salad bowls, catering to both fully fledged vegans and 'flexitarians' alike. If you've been considering joining the movement, visit Kaylee's to get a taste of how good the vegan lifestyle can be!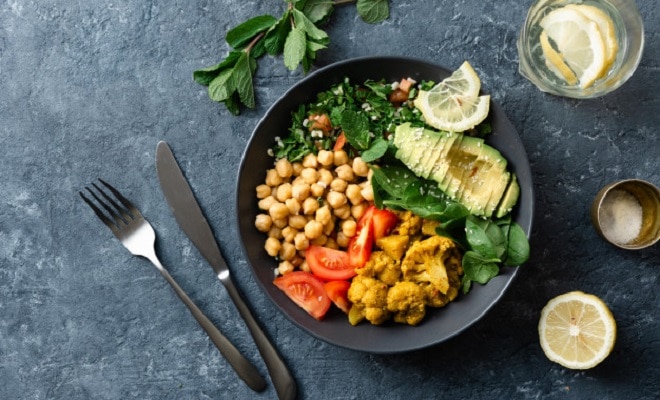 Coffee Shops & Cafes
Starbucks 
Bedfordview coffee lovers are spoilt for choice, as there is not only one but two Starbucks coffee shops in the area! Located at Bedford Square and Eastgate Shopping Centre respectively, these Starbucks branches offer a great place to work and meet up with friends. Hop onto the free WIFI to check your emails or post a picture perfect snap of your Starbucks coffee on Instagram.
Visit Starbucks at Bedford Square.
Motherland Coffee 
If you're as passionate as we are about homegrown brands, you'll love Motherland Coffee at Bedford Village. The vibe here is one-of-a-kind. It's where contemporary African design meets casual coffee hangout. Give their milktart, caramel and condensed milk cheesecake a shot. Paired with a frothy latte, this is pure indulgence.
Harpers Restaurant
Fancy a spot of afternoon tea? Harpers Restaurant at Eastgate Shopping Centre serves a delightful selection of tea cakes and pastries paired with your choice of Twinings floral teas. Their coffees aren't too be overlooked, however. Our favourite is the Hazelnut Latte served with cream. You only live once, right? Stop by Harpers on a trip through Eastgate Shopping Centre or book an afternoon tea session for a special occasion.