Shed & Silo
The Shed & Silo Country Cafe offers that classic East Rand simplicity in their scrumptious breakfast menu. The restaurant is situated on a farmstead in Benoni, so there is an added air of tranquility with every meal. Try the Eggs Benedict - served with crispy farm style bacon, olive ciabatta toast, sprinkled with black sesame seeds and topped with sweet micro herbs. Once you have gobbled up all of that goodness, take a saunter over to their cake display. These are some of the best cakes in the east, so make sure to take a slice home or treat yourself to an after breakfast dessert.
Click here for more information.
The Bread Basket 
The Bread Basket at Greenstone Mall serves up traditional breakfasts with a Mediterranean twist. Plus, their bread and cookies are to die for, so you might as well pay them a visit. Their standout breakfast is the Banana and Peanut Butter French Toast Croissant which is served with vanilla ice cream. Not particularly nutritious, but this is perfect for when you need a little sweetening up on a Saturday morning. The Bread Basket also offers weekend breakfast specials featuring all the greats; bacon, sausage, grilled tomato, chips, toast and two eggs. Paired with one of their gourmet flavoured coffees, this is as good as breakfast gets in the East Rand.
Click here for more information.
Little Belgium
Little Belgium is the new kid on the breakfast block, but don't let that deter you from experiencing their ingenious take on the timeless waffle. This trendy waffle house just opened in October 2019 at Flamingo's Nest Boutique Hotel in Benoni. All their meals are made fresh and can be adapted to suit your dietary needs. There are four breakfast waffle options, but our top pick is the healthy Yogi. A crispy waffle stack, drizzled with golden syrup, topped with Greek yogurt, granola and fresh fruit of the day. If you want something more substantial, try their Beef Tagliattan waffle - wild rocket, topped with caramelised red onion, rare grilled sirloin, balsamic reduction and crumbed feta cheese, served on a crispy waffle base and garnished with micro greens!
Click here for more information.
The Red Door Cafe
The Red Door Cafe in Edenvale is the ideal spot for hipster-inspired breakfast grub, serving up Ferrero Rocher croissants, Nutella cruffins and Cornflake crusted french toast with cream cheese and fig jam confections. The Red Door is also Edenvale's dedicated Paleo and Banting-friendly eatery. Their seasonal Paleo menu features a delightful breakfast bowl comprised of sweet potato wedges, red onion, spinach, bacon, hash browns, avocado and a poached egg. So, the next time you are hungry for a healthy, yet flavourful brekkie, take a journey to the east.
Click here for more information.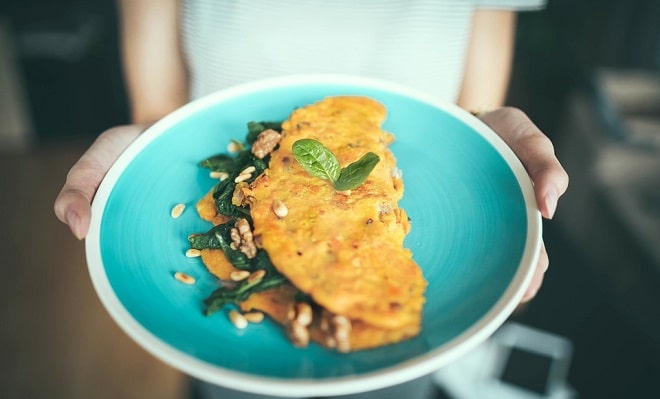 La Tazzina
Another Edenvale favourite is La Tazzina. This Alice In Wonderland themed cafe is well hidden, but well worth the hunt to find it. Their adorable garden makes the perfect setting for a slow breakfast with friends or family. While they are mostly famous for their cakes and pastries, this quiet cafe also serves up a mean Mediterranean breakfast with your choice of Italian coffee. We love La Tazzina's omelette options, which range from basic three egg and cheese, to the Popeye - an omelette filled with spinach, feta and mushrooms! However, our favourite is the La Tazzina open omelette - topped with mozzarella, bocconcini, rosa tomatoes and homemade pesto. It is breakfast perfection.
Click here for more information.
Cafe Billi Bi
For a classy breakfast experience in the east, visit Cafe Billi Bi at Stoneridge Mall. This is the place where all the cool kids hang out, with breakfast aficionados travelling from far to sample Billi Bi's fare. It is also dog-friendly, so bring your best furry friend along. Their salmon and asparagus Eggs Benedict is almost too picture perfect to eat, with slivers of smokey salmon and parma harm perched elegantly atop a poached egg, fresh asparagus and rye toast. Dressed in a Hollandaise sauce, this is early morning fine dining fit for a king. Cafe Billi Bi is famed for their premium roast coffee, too. Sit back, relax and enjoy the simple life while sipping on your favourite brew. The view from the restaurant is quite impressive, so bring your selfie sticks along!
Click here for more information.
The Victorian Secret 
Benoni truly seems to be the east's representative for awesome breakfast and unique dining experiences. Take a trip to The Victorian Secret as soon as you can for a great breakfast treat. Set inside a renovated Victorian-style home, TVS is one of Joburg's finest patisseries. Their set breakfast menu includes a starter of homemade granola served with fresh seasonal fruit and yoghurt, accompanied by bottomless filter coffee and tea or one jug of freshly squeezed fruit juice to share between six people. Next up, there is a buffet of fluffy scrambled egg, bacon, mushrooms, cocktail tomatoes and freshly baked croissants. And if that wasn't enough to delight you, tuck into a sweet platter filled with assorted bakery delights.
Click here for more information.
Harpers Restaurant
Harpers Restaurant at Eastgate Mall is a long-standing favourite with residents of the east. Their breakfast menu is varied and generous, offering everything from healthy granola, to full Farmhouse spreads. There is the traditional English breakfast for when you're mighty hungry - fried or poached eggs, bacon, beef sausages, grilled tomato, large brown mushroom and grilled onion, served with toast and preserves. Harpers also caters for vegetarians with meat-free French toast, Spanish style eggs and fried brinjal, mushroom, spinach and grilled cherry tomatoes on toast. Sample their selection of herbal Twinnings teas with a macaron or gingerbread man for breakfast pudding.
Click here for more information.
George's Bread & Co. 
George's Bread & Co. recently won the Best of Ekhuruleni award for Best Bakery, Best Coffee Shop, Best New Restaurant and Best Bakery with Cafe. If that wasn't reason enough to get you to travel to Boksburg, then come and indulge in their array of breakfast pastries. Apple and Custard Danishes, Chelsea Buns and Muffins greet you at the cafe counter. George's cafe haven't skimped on the tea and coffee either. We recommend the Dirty Chai Latte - a shot of espresso muddled with Chai spices and topped with frothed milk or cream. Don't forget to pick up a loaf of their 100% Sourdough bread or a pastry to take home.
Click here for more information.
BemBom 
Finally, we have BemBom - an authentic Portuguese coffee shop, bakery and cafe. Their slogan "The Sweet Taste of Portugal" is apt, as their menu features a great selection of Porto-Mediterranean dishes. They are also one of the most reasonable breakfast spots in the East Rand, with branches in Bedfordview, Meadowdale and Benoni. For something a little outside of the breakfast box, try the Papas de Milho Amarelo - freshly cooked polenta with spinach, mushrooms, bacon and a poached egg, topped with grated Parmesan cheese. It's porridge with a difference!
Click here for more information.
Do you know of any other great breakfast spots in the East Rand? Let us know about them!