Soon after they opened their doors, residents of Boksburg and surrounds started flooding to George's Bread & Co. We just had to find out what all the fuss is about. The bakery was founded by George, who hails from the family that owns none other than Croydon Bakery itself, arguably the best and most well renown bakery in the east. After working in the family business for nearly 20 years, he decided to start his own bakery where he crafts some of the best breads, pies and confectionery.
My first experience with George's was a red velvet cupcake. Now, I should mention that I am fussy when it comes to cupcakes. I want the sponge cake to be moist but light and airy. I also don't enjoy an overly sweet cake and I detest most icings as they are usually just whipped up cavities. But this cupcake was a thing of dreams. The cake itself was airy and light but not dry at all and the icing... well, I could eat that slightly sweetened cream cheese frosting with a spoon.
I was immediately left wanting more and insisted on going straight to George's the first chance I got. I was quite surprised with what I found. As a baker myself, albeit an amateur one, I am usually disappointed when walking into bakeries, purely because they lack anything that actually makes them a bakery. Selling a few pies or having dry and sugar-loaded cakes does not make a bakery. George's, however, did not disappoint.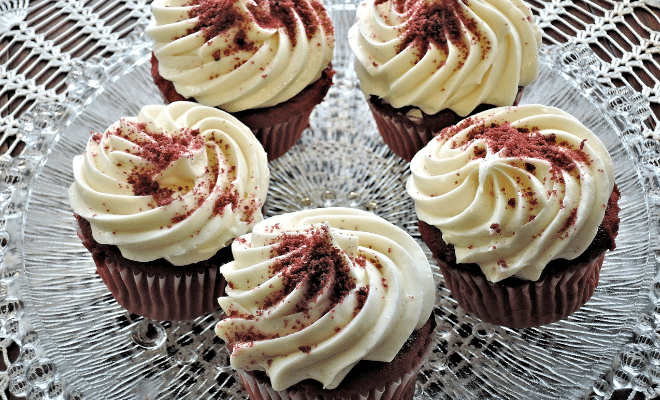 The black and beige signed shop immediately stands out from the rest of the K90 Centre. The interior just screams sophistication with the low hanging lights, darkened floors and black finishes. Most of the interior is scattered with tables and chairs for patrons wishing to have a sit-down meal or an expertly prepared cup of coffee. The walls at the back are lined with displays of their baked goods.
These baked goods consist of bread; white loaves, brown loaves, baguettes, ciabattas, raisin loafs, rye bread, health bread, mosbolletjies, paninis, cheese rolls, Portuguese rolls and even honeycomb rolls, to name a few. But, of course, the brother of Croydon Bakery needs to have good pies. George does not disappoint with his sausage rolls, chicken, steak, Cornish, curry, ham and cheese, cheese griller, feta and spinach or even venison pies. He also expertly makes sandwiches, quiches, croissants, pastries, doughnuts, cookies, tarts, truffles and will even make puff pastry and dough for you to cook at home.
One last thing they make, which deserves a special mention, are their cakes. They have a large variety of flavours available in whole cakes, cupcakes and slices. The best of which, in my opinion, are the cheese cakes. But they also have a delicious carrot cake and amazing chocolate cakes. Other flavours include black forest, red velvet, cream cakes, custard slices, apple slices, Swiss Rolls as well as Madeira, banana and date loaves and vanilla, funfetti and peanut butter cupcakes.
The one thing that makes this bakery a new favourite is the impeccable service. Instead of storming up to me and demanding to know my order immediately, the staff were gracious in allowing me to take my time browsing through their many options. When I was ready to order, I was assisted straight away. The lady assisting me, kindly informed me that they are more than happy to specially bake something or to hold stock for me should there be something in particular I want - a great service considering how quickly they sell out.
I left this bakery packed with bread rolls, a selection of cupcakes, pecan and red velvet truffles and a chicken and mushroom and spinach and feta pie. Each one of these items were tantalizing on the palate and perfect in texture. I felt like I was leaving an award-winning patisserie in Paris, France instead of a bakery in Boksburg.