July 2022
Redhill Arts Festival 2022
Date: 29 – 31 July 2022
Art lovers, this one is for you! Joburg's leading arts festival – Redhill Arts Festival – is back! This year, this creative and artsy event is going to be bigger and better than ever before! Brought to you by Redhill School in Morningside, #Redfest2022 will be offering some of the biggest names in theatre, music, and the arts. You can get your tickets from www.redhillartsfestival.co.za. Cost depends on which shows you feel like attending. Don't miss it!
August 2022
Magalies Rocks The Cradle 2022
Date: 26 – 28 August 2022
As springtime starts to bloom in the city, so does the Magalies Rocks The Cradle Festival 2022. Join them in celebrating the diversity that the Magaliesberg has to offer. Here, you'll get to experience inspiring cultures, cuisine, outdoor events, entertainment, arts and crafts, must-attend tours and amazing workshops, lots of wine and craft beer, fauna and flora, photography, and much more. Magalies Rocks The Cradle caters for all age groups and interests. So, gather your loved ones and enjoy a fun-filled weekend jampacked with exciting events. From art exhibits and live performances to museums and markets, there is something for everyone! Follow their Facebook page for updates and information.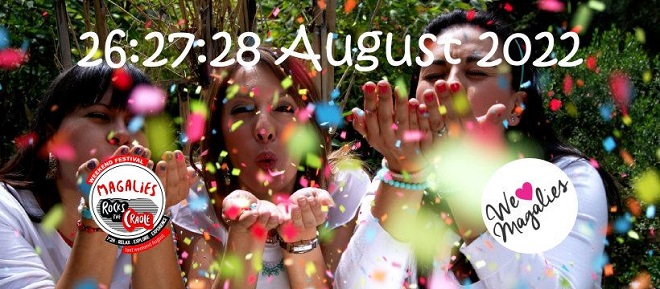 Festival of Motoring 2022
Date: 26 – 28 August 2022
Have a love for motorbikes and cars? Then be sure not to miss out on the adrenaline-packed Festival of Motoring 2022, taking place at the Kyalami Grand Prix Circuit in Midrand. This is the largest industry-supported auto show on the continent that unites key industry players, motoring enthusiasts, and consumers shopping for a new ride. With 50 pit doors available, there has been enthusiastic support from vehicle manufacturers and importers. Over 150 exhibitors will display auto products and services, along with other lifestyle, outdoor, and customised vehicle offerings to delight all petrol heads. The Festival of Motoring also offers exhilarating experiential platforms, including the opportunity to drive or be driven in the latest models, including EVs and commercial vehicles around the iconic Kyalami Grand Prix Circuit, the self-handling track, or the dedicated Dunlop Grandtrek 4×4 off-road course. Sounds like your sort of thrill? Then be sure to get your tickets from Howler costing between R50 – R250 per person.
September 2022
FNB Art Joburg 2022
Date: 02 – 04 September 2022
Taking place at the Sandton Convention Centre, don't miss the 15th edition of FNB Art Joburg, which finally returns this year to occupy some physical space. This event give art lovers and enthusiasts the opportunity to explore, discover and experience various galleries and talented artists, who will be presenting only the best in African contemporary art. This year, FNB Art Joburg 2022 promises to deliver quality, focused presentations that's sure to speak to your inner Picasso. Keep an eye out on their Facebook page for more information about ticket sales.
ComicCon Africa 2022
Date: 22 – 25 September 2022
And ComicCon Africa is back! Only this year, they will be heading to a brand-new venue – The Johannesburg Expo Centre! This is one of the most sought-after and popular pop culture and gaming festival in the country, offering a wide range of entertainment, experiences, competitions, and more. Here, you can enjoy four days full of cosplay, gaming, comics and art, celeb guests, anime and manga, fun for the kids and much more. To get the full lineup of this year's edition, visit their website now and take a look at what this exciting gaming festival has up their sleeve for you! Tickets are now available from Howler at R190 per person for a one-day pass or R570 for the full four-days.
DStv Delicious International Food & Music Festival 2022
Date: 24 – 25 September 2022
It's almost time for one of the biggest and most delicious food and music festivals to hit Joburg! Be sure to get your tickets to the DStv Delicious International Food & Music Festival 2022, which will be heading to the Kyalami Grand Prix Circuit in Midrand. And one of the top features of this exciting and scrumptious event is the fact the Burna Boy will be performing, live! For all the hot-off-the-press deets on this spectacular event, visit the festival's social media platforms – Facebook, Instagram and Twitter – to keep in the loop. Get your tickets at Howler, costing between R690 – R5 850 per person, depending on what ticket option/package you purchase.
October 2022
Rocking the Daisies
Date: 09 – 10 October 2022
Have you heard? Rocking The Daisies is heading the SuperSport Park Stadium in Centurion! Who is excited? Because we know we are! For the first time, Joburg and Pretoria will get a taste of one of South Africa's biggest music experiences, featuring an incredible international musical lineup and all of the exhilarating elements that have become synonymous with Rocking The Daisies. Get your tickets at Quicket.co.za at R695 per person and join them for the multi-sensory experience of a lifetime. This is a springtime festival-must you most certainly do not want to miss!
Corona Sunsets Festival 2022
Date: 29 October 2022
Just in time for summer, Corona Sunsets Festival returns to Joburg with a brand-new home – in the lovely grounds of Huddle Park in Linksfield. The 2022 Corona Sunsets Festival will most certainly bring the magic of a golden and breathtaking sunset in the middle of the city. Here, you'll catch a lineup of incredible local and international artists, along with all of the beauty and excitement this event always brings. You can get your tickets on Howler, costing between R350 – R950 per person, depending on what access ticket you purchase.
Ink & Iron South Africa
Date: 29 – 30 October 2022
The exciting and thrilling Ink & Iron South Africa is here! They're set to become the premium motorcycle, car, tattoo and music lifestyle festival in the country. This year, you can expect only the best in entertainment, including talented tattoo artists showcasing their incredible work (booking available); exotic, classic and muscle cars on display; motorcycle displays and dealerships; customizers and bike builders; top music artists performing live on stage; a food court and beer gardens for all of your refreshment and foodie needs, and more! they will be hosting this unique event at the Johannesburg Expo Centre. Keep an eye out on their website for updates on what to expect at this event. Tickets are available at Howler costing between R150 – R350 per person.
November 2022
Standard Bank Joy Of Jazz Festival 2022
Date: 25 – 26 November 2022
How about some soothing sounds of jazz? If this is up your alley, then be sure not to miss out on South Africa's premier jazz festival, The Standard Bank Joy of Jazz. The 2022 edition of this event marks the 23 years of South Africa jazz entertainment. While the festival itself celebrates over two decades of brilliance, the dynamic team that makes it possible – T Musicman – will be celebrating 33 years of excellence in the industry. To celebrate this amazing milestone, a legion of international giants and luminaries of jazz, as well as leading South African artists will head to Joburg for this festival. Immerse yourself in the finest music at the Joy of Jazz. Keep an eye on their Facebook page for announcements on ticket sales.
December 2022
Stay tuned for any December 2022 festivals in Joburg!
Looking for more exciting events to attend in the city of Joburg? Then be sure to take a look at our list of expos happening in 2022! Click here to see the full 2022 Upcoming Expos list.