We have found the best Portuguese restaurants in Joburg for you to try out. Here is a list that will help you locate the top 10 Portuguese restaurants.
Pigalle
Known for being the best when it comes to Portuguese food, Pigalle offers you a great fine dining experience, perfect for a romantic date with that special someone. With divine seafood and great international cuisine, there is something for everyone. The Portuguese steak pan-fried in wine, ruby port and garlic, and topped with a fried egg is absolutely moreish.
Adega
For authentic Portuguese cuisine, a beautiful interior and friendly service, make your way to Adega in Rivonia. They have a menu filled with a yummy array of mouthwatering options for you to choose from that will leave you feeling spoilt for choice! Don't forget to try their Mozambican prawns, but if you have a shellfish allergy, there are plenty other tasty traditional Portuguese dishes for you to try!
Restaurante Parreirinha
Restaurante Parreirinha is a gem that's definitely worth the visit! Their menu is filled with loads of traditional Portuguese dishes, including bacalhau na braza, trinchado and caldo verde, and be sure not to pass up the opportunity to taste their prawn cakes! They also have a good selection of red wines to complete your delicious meal and they offer a menu of cigars, ranging from Cubans and Americans to the Netherlands.
1920 Portuguese Restaurant
1920 Portugues Restaurant is well-known among residents and offers tasty and traditional homemade Madeiran specialities at great value for money. The decor is welcoming and homely and will make you feel as if you are part of the family! For the most well-priced prawns in town, order their speciality, LM-style Mozambique prawns, served with homemade peri-peri sauce and hand-cut chips or rice.
Mozambik
Enjoy tasty Portuguese cuisine at Mozambik with family and friends. You will feel right at home with the relaxed décor and friendly service. Their menu has a great selection of Portuguese (Mozambique-style) dishes for you to choose from, no matter what you're in the mood for. From peri-peri prawns to beef espetada and trinchado, they have it all. Speaking of trinchado, theirs sounds amazing!
Eira Moura
If you are looking for the best authentic Portuguese food in Edenvale, then make sure you book a table at Eira Moura. Their menu has a wide selection of traditional dishes to choose from that will delight your taste buds. The espetada is tender and succulent and their peri-peri chicken is definitely not to be missed.
Sabor
Tuck into delicious and authentic Portuguese dishes at Sabor in Linksfield. There is a wide array of options on their menu, which will keep seafood lovers, meat eaters and vegetarians alike happy. Besides the juicy steak and prego rolls, we suggest you try the prawn cakes and calamari – you won't be sorry!
Calisto's
Popular among many Portuguese cuisine lovers, Calisto's in Gillview is a definite must-try. Launched in 1992, the restaurant has been offering tasty meals for 25 years and counting. It's the diversity of their menu that really appeals to most foodies. From grilled chicken to fresh seafood and meat, satisfaction is guaranteed. And as there are another nine franchised branches in and around Joburg, this means you don't have any reason not to pop in for a tasty meal.
J's Diner
J's Diner is a super-affordable, informal and authentic Portuguese restaurant nestled in the heart of Blairgowrie. This unpretentious spot gets pretty packed on weekends, which is clearly a sign of the good food. They don't have a liquor licence, so you are welcome to bring your own drinks if you'd like. The best part? They've recently opened a takeaway joint in Linden – with free delivery.
Papa Bao Portuguese Restaurant and Pub 
"Papa boa" is Portuguese for "good food" and this is exactly what this sit-down restaurant in Charlize Theron's neighbourhood offers. It is more fun to order the establishment's delicious meals using the Portuguese names, without checking the English translations.  For Mexican-style eggs, try the  "Ovos Mexidos Com Toradas", while the Asinhas De Frango (chicken wings) are a hit with most patrons, but you also cannot go wrong with the delicate Bacalhau Na Brasa (Codfish on the coals).
Papa Bao serves hearty breakfasts, the most filling lunches and scrumptious dinners, all to a high standard, in a part of Joburg that is not revered for fine dining. If you are looking for a livelier atmosphere, visit on a Sunday, as they serve an appealing buffet and a variety of drinks, thanks to the pub part of the restaurant.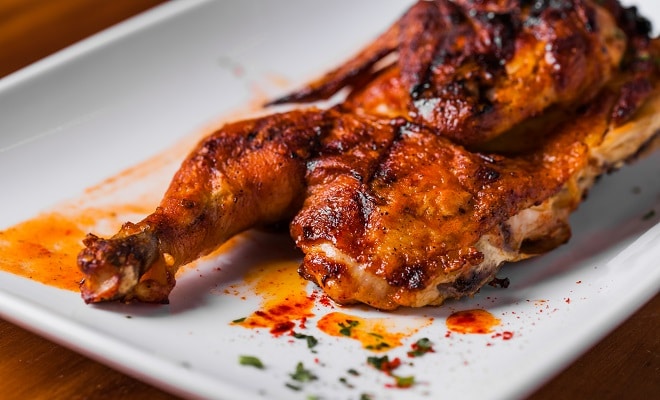 A Taste of Portugal 
Food trucks are not as prevalent in South Africa as they are in other parts of the world, but Boksburg tries to contribute in this regard by offering A Taste of Portugal. Fresh and authentic Portuguese cuisine is served out of a truck, which is actually a van pulling a trailer.
As an introduction into Portuguese dishes, start with their Prego roll, which has a steak so tender pensioners can savour it without their dentures. Graduating to the Trinchado meal (spicy stew, made from tenderised beef strips, doused with a tomato and onion sauce, flavoured with peri-peri, garlic and red wine) will see you fall in love with the overwhelming but addictive flavours.
Of course, you also have to try their full chicken, chips, salad and roll combination, just to prove that it tastes better than the chicken from that cheeky Portuguese place.
Ciano's Portuguese Flavour 
There is so much more to Portuguese food than just peri-peri chicken. Although the restaurant is rather small, Ciano's in Boksburg offers a comprehensive menu that is an education in all things Portuguese. Their prawns are grilled to perfection, while their fried hake is some of the best in the East Rand. 
Portuguese food is known for being rich, spicy and wholesome, and this comes through when you try the creamy livers and rice, spicy giblets and pap, as well as their popular jalapeno and cheese burger.
Ciano's is also ideal for families, as their "We're a big family" (two full chickens and three sides, ranging from chips, coleslaw and Portuguese salad) caters to those looking for a punch of flavour.
By Kim Brown and Sbu Mkwanazi
Have you been here? Rate and review your experience below!
This article is part of our World In Joburg series - a guide to cuisine from all over the world, right here in Jozi. Want to sample a new country's cuisine right on your doorstep? Here is our handy guide.