What Are You Looking For? 
Malls in Sandton
Malls in Randburg
Malls in Fourways
Malls in Midrand
Malls in Rosebank
Malls in Bryanston
Malls in Melville

Malls in Sandton
Offering only the best in international and local brands, as well as everyday leisure and entertainment, ever-popular Sandton City is a retail experience you don't want to miss. Rich in Afro-cosmopolitan glamour and South African flair, shoppers will have the opportunity to browse and shop at over 300 retailers, featuring the latest in fashion, the finest foods, loads of entertainment to entice all ages, and so much more. This shopping centre is the epitome of shopping in the suburb of Sandton.
Click here for more information about Sandton City.
Adjoined to the opulent Sandton City is Nelson Mandela Square. Together, these two shopping destinations make up the largest retail complex in Africa. Although much smaller in size than Sandton City, the Square attracts thousands of local and international visitors, offering a blend of heritage, culture, fine dining and luxurious shopping. The open-air European-style piazza is a great place to take a snapshot of yourself with the iconic Mandela statue.
Click here for more information about Nelson Mandela Square.
Benmore Centre has undergone a luxurious makeover, attracting a chic and luxurious calibre of shoppers to experience a grandeur of this brand-new space and its retail experience. Browse and stroll through the modern space and sleek passageways, explore the selection of stores this centre has to offer, and even get all of your everyday errands sorted here, in a jiffy. From a quick haircut that'll have you looking and feeling good to shopping for smart business attire or grabbing some weekly groceries, Benmore Centre has it all.
Click here for more information about Benmore Centre.
PErfect for your everyday errands and quick pop-ins, Morningside Shopping Centre offers 62 stores offering quality products and personal services to cater for all your needs. Here, you can enjoy an exciting mix of high-end fashion, a wide variety of fine dining, an extensive range of exclusive shops and services which offer designer gifting, jewellery, health and beauty, pharmaceuticals, tailoring, dry cleaning, printing, medical suites and car wash.
Click here for more information about Morningside Shopping Centre.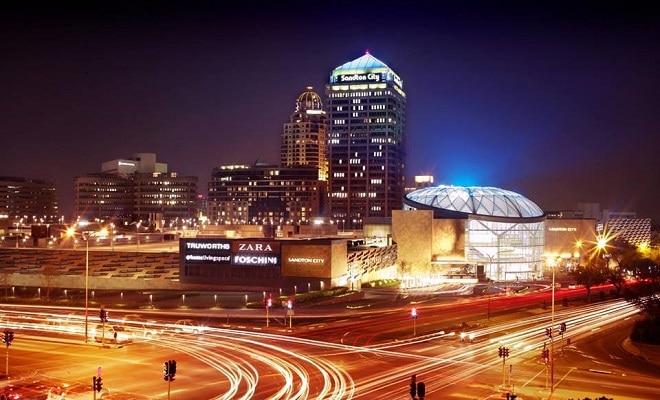 Malls in Randburg
The newest addition to Randburg's retail offering, Ferndale on Republic (formerly known as the Randburg Waterfront and Brightwater Commons) boasts a selection of stores catering to all your retail and everyday needs. Here, you can enjoying dining out with your family at well-known restaurants including Spur, Ocean Basket and Panarotti's, then shop for all your necessities at various lifestyle franchises such as Dis-Chem, Mr Price, Checkers, Ackermans, Pick 'n Pay Clothing, Pep, Jack's Paint & Hardware, Food Lover's Market, Volpes and more.
Click here for more information about Ferndale on Republic.
One of Randburg's most popular retail centres is Cresta Shopping Centre. Offering everything from home and décor, fashion and accessories, beauty and health to everything kids, tech, and indulgent, you're sure to find whatever you're looking for here. There's even the unique Crest Aquarium to entertain and educate spectators of all ages on ocean life and the effects of littering. Their Food Court offers guests and shoppers a delightful variety of unique cuisines to satisfy any craving, whether it's on-the-go or for sit-down.
Click here for more information about Cresta Shopping Centre.
Offering visitors over 70 stores in the heart of Randburg CBD, Randburg Square is a bustling retail destination, offering everything you need, all under one roof. This shopping centre is just the space to visit whether you're in search of an unmissable deal or need to shop your weekly groceries. The centre's anchor tenants include Shoprite, Pick 'n Pay, Mr Price, Truworths, Foschini, Dis-Chem, Clicks, FNB, Nedbank and Capitec Bank.
Click here for more information about Randburg Square Centre.
Malls in Fourways
Visit the bigger, better, and improved Fourways Mall for all of your retail needs. Here, you can expect an exceptional shopping experience. Featuring over 400 stores and ample parking, you'll find everything from fashion and footwear, beauty and health to audio and tech, groceries, and more. Watch the latest movies on circuit with the family at Ster-Kinekor Classic, grab something delicious from their variety of fast food spots and restaurants, or just explore and shop the latest trends and fashion from their wide retail offering.
Click here for more information about Fourways Mall.
When it comes all your design and decor needs, there's only one place you need to visit for the latest trends, furnishing and accessories for your home, and that's Design Quarter. This oh-so unique centre offers plenty of style and design inspiration and makes for a lovely day out in the area with its delightful selection of restaurants and eateries located on their lovely open air piazza.
Click here for more information about Design Quarter.
Fourways Crossing is an upmarket lifestyle centre that covers all retail aspects to ensure a one-stop retail experience. The centre hosts a wide selection of stores including Pick 'n Pay, Sportsmans Warehouse, Viva Gym, Mr Price Sports and Cotton On, Hi-Fi Corporation, Bargain Books, Identity, Spec-Savers and many more. After shopping up a storm, why not sit down at one of their restaurants to relax and enjoy a meal? The centre's variety of restaurants includes Eagle Falls Spur, Fournos Bakery, Wimpy and Naz Cuisine.
Click here for more information about Fourways Crossing.
Cedar Square Shopping Centre is a retail destination with a strong focus on convenience and lifestyle. Enjoy a unique shopping experience with a wide variety of stores catering to all of your retail and entertainment needs. Walk through the centre and shop all things clothing, dining, leisure and entertainment, electronics, health and beauty, kids, homeware, groceries, accessories and more. There's also movies on show and an abundance of restaurants that's sure to delight your palate after a fulfilling day of retail therapy.
Click here for more information about Cedar Square.
Malls in Midrand
The Mall of Africa is a shopping destination you truly need several days to fully explore! This massive retail space is home to over 300 stores, many of which are flagship shops of many well-known and beloved brands. The shopping mall also hosts a variety of events, activations and promotions for their tenants. When you visit, be sure to wear your comfortable shoes, as you're going to be doing plenty of walking at this exciting retail space!
Click here for more information about Mall of Africa.
Boulders Shopping Centre offers a large and exciting shopping experience, perfect if you're looking to do some daily errands, weekly grocery shopping or simply just need to add something trendy and fashionable to your current wardrobe. The centre provided shoppers with over 100 stores to explore and enjoy. There's also free undercover parking and open air parking bay for nearly 2 000 vehicles!
Click here for more information about The Boulders.
Blue Hills Shopping Centre is a single-level, spacious and convenient retail space offering nearby residents and visitors over 45 stores ranging offering everything you need all under one roof, as well as easily accessible free parking! Locals in the area will love the convenience of having healthcare facilities right around the corner from the Clicks Pharmacy, and all other essentials to do their daily errands in one place.
Click here for more information about Blue Hills Shopping Centre.
Carlswald Lifestyle Centre is an open mall complex that offers a great space filled with café-style restaurants. Here, visitors, shoppers and diners can do all of their shopping from various brands and stores, then grab a seat outside in the sunshine and enjoy the beautiful African weather. Carlswald is all about a comfortable, enjoyable experience, as well as convenience.
Click here for more information about Carlswald Lifestyle Centre.
Malls in Rosebank
Rosebank Mall offers a world-class retail and leisure experience for local shoppers, residents and international visitors. The shopping centre boasts everything from fashion and accessory outlets and gourmet dining venues, to Cinema Nouveau showing the latest blockbusters and their unique rooftop Sunday Market. Big brands that anchor the centre includes Edgars, Clicks, Pick 'n Pay, Dis-Chem and Woolworths. There's ample parking space, as well as easy access the Gautrain on Oxford Road, which is just a minute's walk from the centre.
Click here for more information about Rosebank Mall.
The Zone @ Rosebank can be found right next to the adjoining and inter-leading Rosebank Mall. The Zone is considered the "fashionable favourite", providing a diverse and relaxed environment, celebrating a multitude of cultures. And for your entertainment, visit the the Walking Gallery at The Zone, a permanent art exhibition showcasing South Africa's diversity, beauty, nature and culture through street art.
Click here for more information about The Zone @ Rosebank.
The Firs is an upmarket niché retail centre that's located just across from The Hyatt Regency Hotel. The complex offers a unique retail experience, featuring an impressive restaurant piazza, an exclusive selection of shopping outlets, as well as beautiful views of Rosebank. This centre has become a landmark and a lovely spot to enjoy a meal with loved ones. Dining options include Doppio Zero, Fishmonger, Nonna's Italian Kitchen and Nikos, while retail stores include Rockets Man, Vendange, Veronica Anderson Jewellery and Matis Beauty Institute.
Click here for more information about The Firs.
Malls in Bryanston
Hobart Grove Centre is a little local shopping haven offering a mix of tenants, ranging from the practical and convenient to the quirky and charming. Stores in the centre include fashion outlets such as Frank Bespoke, Out of the Blue and From Twain with Love; lovely dining spots such as Doppio Zero and Barazza; and beauty and pamper services from Urban Escape, The Hair Colonel and Renaissance Hair.
Click here for more information about Hobart Grove Centre.
Complete with three supermarkets and over 86 shops focusing on health, beauty, décor and more, Nicolway Bryanston is just the place to get your monthly groceries or retail therapy sorted. Also enjoy something tasty with their carefully hand-picked selection of restaurants and coffee shops if you're looking to rest your feet. Nicolway Bryanston offers convenience, quality products and services in an exceptional setting.
Click here for more information about Nicolway.
With over 40 stores to wander, Bryanston Shopping Centre offers everything you may need, all under one roof. Enjoy a superb shopping experience in a tasteful, relaxed and beautiful environment. Discerning shoppers will enjoy the centre's selection of designer goods, fashion and footwear, grocers and restaurants, and much more. There's also offers free parking, 24-hour security, well-maintained and equipped restrooms and baby changing facilities, paraplegic parking, as well as wheelchair ramps.
Click here for more information about Bryanston Shopping Centre.
Malls in Melville
27 Boxes is a unique shopping centre located on 4th Street. Created from recycled shipping containers, 27 Boxes offers shoppers a vibrant and trendy blend of local businesses that they're certainly love. Shop a variety of artisan foods, local fashion and curated design, while enjoying the splendid views. And if you're looking for some fresh air or need to entertain little ones, enjoy the onsite children's park and the open air amphitheatre. Secure public parking can be accessed via 4th Avenue.
Click here for more information about 27 Boxes.
The Bamboo Lifestyle Centre is a petite shopping centre overlooking the Melville Koppies. It is one of the first buildings you will see as you enter Melville. Enjoy browsing for a good read at Love Books, or sit down for a coffee and a bite at Service Station. Or enjoy some fashion shopping at Convoy, who will be sure to have clothing or accessories to suit any taste.
Click here for more information about the Bamboo Centre.