This popular entertainment hub is just the place if you're looking to find family fun, Lady Luck, delicious cuisine and much more, all under one roof! If anything, this casino is a little city all on its own, bringing the excitement, thrills and feel of bello Italy to the heart of Johannesburg. Not matter what you're looking for, there's sure to be just the thing for you and your family to enjoy, savour, explore and experience! Here's what you can find and expect to see at Montecasino on your next visit.
What Are You Looking For? 
Restaurants
Shopping
Hotels & Accommodation
Gaming
Family Entertainment
Theatre
Movies
Conference Venues
Contact Details
Restaurants
Montecasino offers a wide selection of cuisines from their range of restaurants, catering to all tastes and cravings. Whether you're looking for something on-the-go or would like to sit-down and enjoy, there's sure to be a restaurant to delight. Think restaurants, bars, sidewalk cafés, fast food joints, and vino hot spots. Here's just a few must-mentions worth visiting when you're at Montecasino.
Fireroom
For flaming sushi like you've never experienced before, The Fireroom is a must-visit when you're at Montecasino. Their menu is filled with unique textures and unexpected flavour combinations that you simple need to try. And if you're craving something more meaty, then be sure to order the Fireroom's signature beef specialty, the 850g Tomahawk steak.
Donatellas
Craving a little bit of Italian flare? Then be sure to grab a table at Donatellas. This popular restaurant just off the casino floor is just the place if you're looking to tuck into some authentic, hearty and oh-so delicious Italian didhes including pizzas, pastas, amazing signature dishes, seafood delights and indulgent desserts to end your meal on a sweet note.
La Rosa Mexican Grille & Tequileria 
In the mood for some of the best Mexican cuisine in town? Or looking for a great place to enjoy a fun night out on the town? Be sure to visit La Rosa Mexican Grille & Tequileria. Indulge in a true Mexican experience, complete with sombreros and a wide selection of drinks from their extensive cocktail and tequila menu. As for delightful dishes, take your pick from an array of tacos, burritos, quesadillas, enchiladas, fajitas and more.
Visit La Rosa Mexican Grille & Tequileria.
Verdicchio
Plan a special date night for two at the romantic Verdicchio restaurant. This is the perfect spot if you're looking to spend some quality time with your sweetheart, while tucking into delectable Italian cuisine and sipping on fine wine from their cellar. This impressive cellar offers diners over 300 labels of assorted varietals, vintages, rare wines and champagnes to enjoy.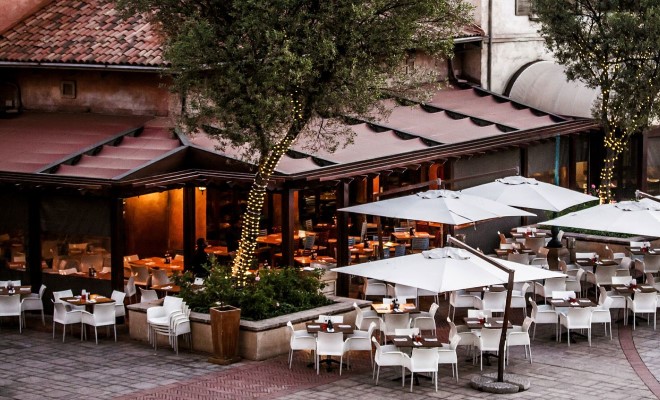 Shopping
Did you know that Montecasino offers a selection of unique and interesting stores just off of the casino floor? From clothing and fashion outlets, foreign exchange and golf specialty to beautiful jewellery, geek merch, sweet galore as well as gift and novelty stores, Montecasino has something that'll spark your interest. Here are a few stores to keep an eye out for on your next visit to this exciting entertainment hub.
The Dark Carnival
For all things anime, comic, gaming, merch and more, brought together under one roof, be sure to visit The Dark Carnival! Once an online store, The Dark Carnival has found a home at Montecasino, allowing fellow geeks, nerds and gamers to come together, share their love and passion for various fandoms, shop for merch and more while enjoying the buzz and excitement at Montecasino. Click here to find out more about the opening of the Dark Carnival at Montecasino.
Earthstone Fire & Ice
Whether you're a collector, esoteric healer or novice, Earthstone Fire & Ice offers an extremely impressive selection of semi-precious stones and mineral specimens from all over South Africa. This is just the place if you're looking to buy items such as rough or shaped crystals, colourful beads, pendulums, jewellery, singing bowls, wind chimes, gifts and lots more. This is truly a unique store that you need to visit, even if you just want to take a look at all of the interesting bits and bobs they have on their shelves.
Jewel Africa
This is just the store to visit if you're looking to get some advice on diamonds and jewellery. At Jewel Africa, you can browse and shop through a vast selection of loose diamonds, dazzling tanzanite and fine jewellery if you're looking to spoil someone with a gift someone special, as well as an array of African artefacts.
Big Blue
Offering freehand dye work, attention to detail and signature brands, Big Blue is just the clothing and merch store if you're looking to get your hands on the finest local design. This brand is well-known for its T-Shirtium, which boasting plenty of locally inspired and manufactured t-shirts. This store is a must for all your authentic South African gifts, clothing items, footwear, cool gadgets, novelty products, trendy bags, interesting books, stationery or just something out of the ordinary.
Hotels & Accommodation
Why not make the most of your visit to Montecasino with a stay at one of their four onsite hotels? Each hotel boasts its own unique character, so you can take your pick from accommodation that's either opulent, contemporary, eclectic, business oriented, family-friendly or even romantic. Book your stay at one of Montecasino's hotels below and enjoy a wonderful escape from the rush of the city.
The Palazzo
The award-winning Palazzo Hotel is known to be one of the most romantic and elegant hotels in the country, boasting a reputation for opulence and luxury. Here, guests will enjoy accommodation, attentive service, and superior amenities. The Palazzo is an ideal choice for business executives as well as leisure travelers looking to experience only the best that Montecasino has to offer.
The Southern Sun Montecasino
The Southern Sun Montecasino offers its guests not only stylish and comfortable accommodation, but also easy access to the entertainment and indulgence that Montecasino has to offer. It's also within close proximity to other local attractions including he Cradle of Humankind, Cradlestone Mall, Rhino & Lion Nature Reserve, and the ever-popular Sandton City.
Visit Southern Sun Montecasino.
SunSquare Montecasino
The SunSquare Montecasino on the Piazzo boasts 179 room that offers visitors the perfect combination of hospitality, service and comfort. Just like the Southern Sun hotel on the premise, guests will be able to access the Montecasino entertainment hub with ease, as the hotel is just a short stroll away.
hi Monte
Affordable, modern and stylish, hi Monte is just the place if you're looking for a quick weekend escape that will not bust your entertainment budget. The hotel's rooms have luxurious walk-in showers, big windows, blackout curtains, coffee and tea stations, laptop-sized safes, USB ports and 48-inch TVs. The 'living lobby' provides space to work and play, and a convenient deli offering for a quick snack or coffee on the run. Click here to find out more about this new accommodation offering at Montecasino.
Gaming
Montecasino offers visitors a non-smoking and two smoking casinos, complete with more than 1 860 slot machines and 70 tables. You can expect to find everything from American Roulette, Craps, Poker and Blackjack to novelty games like Wheel of Fortune and Life of Luxury. There's something for all tastes and pockets. Click here to take a look at their range of slot machines and click here to see what table games they have available.
Visit Montecasino's casino floor. 
Family Entertainment
Other than all the amazing restaurants, unique stores and thrills on the casino floor, Montecasino also offers a wide variety of family entertainment perfect for both young and the young at heart. From a game arcade filled with the latest exciting games and the stunning Bird Gardens just outside the entertainment complex to ten pin bowling, laser tag and more, you're sure to find something that'll entertain and delight ever member of the family. Click here to see what Montecasino has to offer families.
View family entertainment at Montecasino.
Theatre
Looking for a little bit of comedy to brighten your week with loads of laughter? Or are simply in the mood for a thrilling theatrical experience you'll never forget? Montecasino is home to two theatres – Pieter Toerien's Theatre and Studio and The Teatro – that has hosted many world-class theatre productions over the years. This includes some of the best loved and most popular musicals (think the Rocky Horror Show, Chicago and Rock of Ages), drama, comedy shows and a long list of other local and international performances.
Movies
Located between the game arcade and the food court is [email protected] Montecasino! Here, you can catch the latest blockbusters with your family and friends. Grab a box of popcorn along with a slushie, and have a movie night out with your kids watching the newest animation on circuit, get your heart racing with an epic action or horror, or just laugh yourself silly with a side-splitting comedy. There's sure to be a movie for all.
Conference Venues
Montecasino offers 15 upmarket, multi-purpose function venues throughout the complex. Function venues range from the elegant Executive Boardroom which accommodate 16 guests to the exquisite Montecasino Ballroom that offers capacity for larger groups of up to 1 000 people. Also, with a variety of on-site entertainment and other offerings, this is the ideal location to impress your delegates.
View Montecasino's conference and meeting options.
Contact Details
Website: www.tsogosun.com/montecasino
Email: [email protected]
Tel: 011 510 7777
Address: Montecasino Boulevard, Fourways, Gauteng, South Africa