Destination Christmas
Date: 02 November 2018 – 16 December 2018
Venue: Melrose Arch, Corlett Drive, Birnam, Melrose North, Johannesburg
Melrose Arch has been transformed into a festive wonderland with their annual and highly-anticipated Destination Christmas. While already started, the festive fun is still going! Don't miss out on the Vino in Piazza Italian Wine Festival which will be taking place on the Piazza from 30 November to 02 December 2018. The Jeppe Pipe Band will be performing on 30 November. Enjoy the merry sounds of the Johannesburg Festival Orchestra with renowned conductor Richard Cock on 07 December. Be mesmerised by beautiful ballet on the Piazza on 08 December. And treat the kids of plenty of fun festivities from 10 - 16 December. It's an exciting line-up!
Bryanston Organic & Natural Market's Moonlight Markets
Date: Every Tuesday night from 20 November 2018 to 18 December 2018 from 17:00 – 21:00
Venue: Bryanston Organic & Natural Market, 40 Culross Road, Bryanston, Johannesburg.
Looking to get started on your festive shopping sooner rather than later? Then make sure you don't miss out on the Bryanston Organic & Natural Market's stunning Moonlight Markets. Every year, this is a festive season must! There's nothing more cheerful than strolling, shopping, relaxing and doing a little feasting under the stars and twinkling lights. This year, the market will focus on children and their Christmas experience. There'll be plenty of entertainment lined up for them including magicians, jugglers, buskers, a Christmas-themed puppet show and of course, Christmas carols because Christmas isn't Christmas without carols! As for the shopping aspect, there'll be 120 carefully selected vendors showcasing beautiful, original gift ideas, wholesome food and authentic crafts. R20 gets the adults in (get your tickets here) and children under the age of 12 get in FREE. Parking is very limited, so rather take an Uber if you can.
Garden of Lights
Date: 30 November 2018 – 02 January 2019
Venue: Emperors Palace, 64 Jones Road, Kempton Park, Johannesburg
It's that time of the year yet again! Emperors Palace will be hosting their dazzling Garden of Lights. It's a winter wonderland, light extravaganza and festive adventure all rolled into one exciting outing in celebration of all things Christmas. There will be fun activities perfect for the whole family, and both the young and young at heart will be inspired to take a stroll through the picturesque gardens of the D'oreale Grande Hotel where the Garden of Lights is taking place. It will be open daily from 19:00 to 22:00, depending on the weather and the entrance fee is R25 per person. Treat the family with the Festive Family Package at R100 for a family of five. All proceeds will go to charity.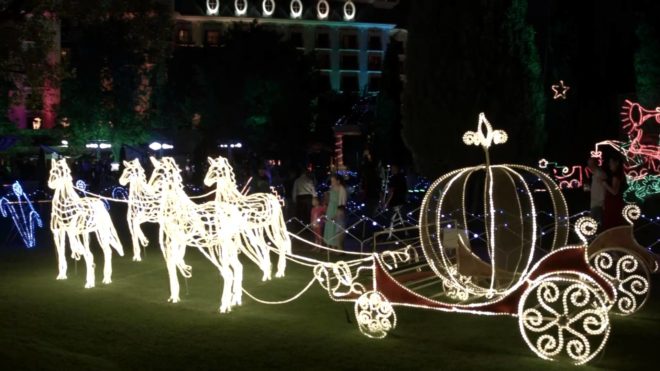 Christmas Fairytale Festival
Date: 01 December 2018 from 10:00 – 16:30
Venue: 2 Aloe Ridge Drive, Walkerville, Johannesburg.
For a festive celebration in the forest, make sure you don't miss the Christmas Fairytale Festival, hosted by the In The Forest Venue out in Walkerville. Tip-toe through the magical Faerie Trail adorned with twinkling Christmas lights. There'll also be princesses, fairies, pixies and elves joining the celebrations, along with Tinkerbell and Peter Pan. Little ones will also get the opportunity to shoot an arrow or two with Robin Hood. And the festive season would not be complete with a special visit from the one and only, jolly old Father Christmas! Mom and Dad, they didn't forget about you. Spend the afternoon browsing the small selection of beautifully handcrafted gifts at the stalls under the trees. Feeling a little peckish? Artisan food trucks will serve something delicious for everyone! Get your tickets for this holiday spectacular at Nutickets.
The Beach Festival
Date: 13 December 2018 – 06 January 2019
Venue: The Square at Silverstar, R28, Muldersdrift
When December rolls around, we all know what that means. No, not just the festive season but also the summer holidays where some do the tedious and exhausting trek down to the coast. But what if you've decided to not go this December? Well, that's okay, because Silverstar is bringing the beach to you with their Beach Festival 2018! The Silverstar square will be transformed into a beach holiday paradise right on your doorstep. Expect beach fun for the kids, refreshing sunset cocktails for adults, sun-sational food specials and live entertainment to get you into the summer groove. Don't miss out on this 'staycation' fun.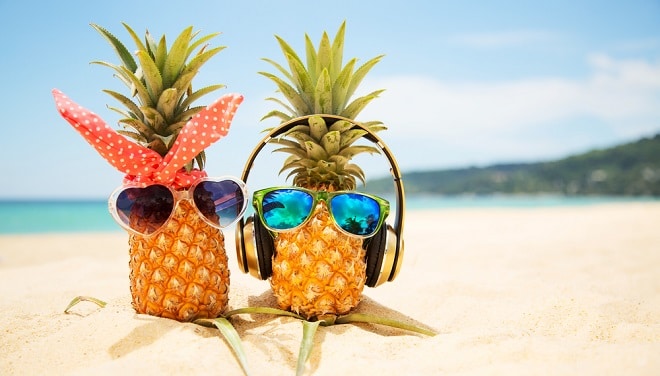 Montecasino Christmas Village
Date: 12 – 17 December 2018
Venue: Montecasino Boulevard, corner William Nicol and Witkoppen, Fourways, Johannesburg
Montecasino's Piazza will once again be transformed into a magical European-style Christmas market offering everything festive, merry and tasty! The Christmas Village will host 60 exhibitors, who will be selling a wide selection of goodies from fairy lights, decorations and festive musts to Christmas treats like cakes, roasted nuts and decorated biscuits. There will also be plenty of gift ideas to inspire you. And that's not all! The little ones will enjoy family-friendly outdoor movies that'll be screened on the Piazza's big screen. As for the parents, you can take a well-deserved break from all the festive retail therapy at the gin bar. This is the perfect opportunity to get caught up in the festivities.
Mary Poppins Returns
Date: From 25 December 2018
Venue: A cinema near you
This classic is getting a sequel and we can't wait! Mary Poppins Returns will be making its way to the big screen this Christmas. It's been 54 years since the original and there's sure to be more thrills and magic than before! With a new original musical, Mary Poppins is back to help the next generation of the Banks family find the joy and wonder missing in their lives after a loss. Emily Blunt plays the role of the practically perfect nanny with wonderful magical skills, who can turn any ordinary task into an exciting adventure. And Lin-Manuel Miranda stars as her friend, Jack, an optimistic street lamplighter who helps bring light – and life – to the streets of London. This one is a movie-must for all ages!