The Victorian Secret
If there is only one high tea venue you visit in the east, let it be The Victorian Secret. Famous for their bright and chewy macarons, TVS is a high tea lover's dream. The restaurant is housed within a renovated Victorian-style home, offering visitors an air of old-world charm. Take your tea out in the gardens. With an ancient tree providing ample shade, this is the ideal spot to indulge. Tuck into English scones served with strawberry jam and cream, cucumber and cream cheese sandwiches, and those famous macarons. Host your next birthday party, kitchen tea, or get together here.
Details: 140 Woburn St Cnr Russel St, Benoni, Gauteng | 011 420 1912 | [email protected]
Harpers Restaurant
Harpers Restaurant at Eastgate Shopping Centre is a local favourite coffee shop and cakery. Their high teas offer a glorious combination of savoury and sweet. Giving you the very best of the Harpers confectionery table. Choose from a selection of Twinings herbal teas to go with your afternoon delights. Or, try out one of their gourmet 'adult' coffees! Harpers host high tea from 14:00 - 18:00 each day, so you can enjoy a little sophisticated snacking whenever you feel that sinking feeling.
Details: Shop U28C, Entrance 1, Eastgate Shopping Centre, 43 Bradford Rd, Bedfordview, Johannesburg | 083 503 1607 | [email protected]
Happily Ever Laughter
For a good dose of childlike joy, visit Happily Ever Laughter in Bedfordview. This dedicated family-friendly venue offers a high tea menu to rival any other. Catering to moms, grannies and everyone in between, this quaint venue is ideal for small birthday celebrations, baby showers, or Sunday brunch with friends. Happily Ever Laughter's set high tea menu features mini quiches, fruit kebabs, chocolate brownies, cucumber and cream cheese sandwiches, mini cupcakes, mini lemon meringue, scones and tea or coffee. Bring the little ones along for a play date while you sit back and enjoy this array of finger snacks.
Details: 24A Riley Rd, Bedfordview, Johannesburg | (011) 450 0711 | [email protected]
The Tea Room
The Tea Room delivers exactly what its name promises, high tea opulence with a flair of contemporary dining! Housed at the Red Door Cafe in Edenvale, the Tea Room is the quintessential East Rand high tea venue, offering 'tipsy tea', G & Tea and classic afternoon tea. Hire out the Tea Room for your next special occasion. Seating up to 70 guests, this venue is perfect for engagement parties, cocktail parties, or intimate wedding receptions.
The Tea Room offers savoury platters and sweet treats from the Red Door Bakery. Their mini croissants are almost too adorable to eat, filled with chives, cream cheese, and salmon; cheese and hickory ham; bacon and scrambled egg or a sweet version with Nutella and fresh strawberries. The Tea Room also knows that not everyone can indulge themselves in the sweeter side of life without a massive dose of guilt. That's why they also offer Banting options on their platter menu. Featuring beef sosaties, caprese skewers, prawn skewers, vegetable sticks, and spicy chicken wings served with siracha mayo and smokey BBQ, it's high tea with a health-kick!
Details: 26 Fifth Avenue, Edenvale, Johannesburg | 011 453 1926 | [email protected]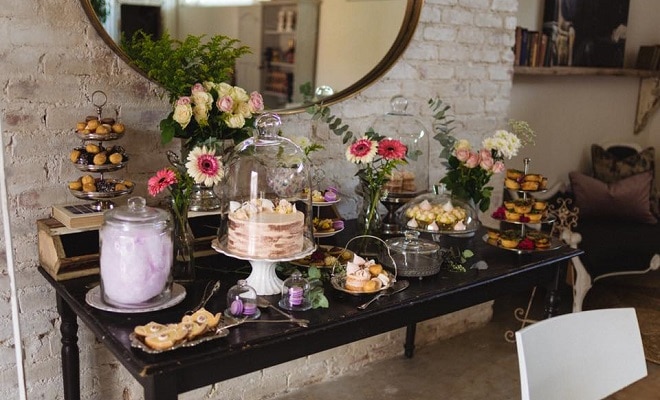 Do you know of any other fantastic high tea venues in the East Rand? Let us know about them!