Mom, I'm Bored! 
Schools are expected to reopen in phases from 01 June 2020. But this does not mean that your child will be returning to their normal routine any time soon. As kiddies may not fully understand the implications of the outbreak, it is imperative that parents speak to their children about the virus, its symptoms and how to prevent infection through good hygiene and social distancing before school begins. However, for the time being your little ones may become restless, feeling cooped up and lonely without their friends.
Nevertheless, during this time of urgency, we suggest that you find fun ways to keep the kids entertained at home rather than risk infection by visiting parks or attending play-dates. Besides, there is some benefit to isolation - bonding with the family! Put the electronic devices to rest, detach from the constant influx of media information and reconnect with the people you love most. Here are a few suggestions for having a whole bunch of fun while in lockdown:
Build A Fort
When COVID-19 first broke out in Wuhan, China in late 2019, its citizens were quarantined to prevent the spread of the virus. South Africans living in Wuhan took to social media to find connections and comfort from their fellow countrymen. To keep themselves entertained at home, many of these expats attempted to build blanket forts in their apartments. Since then, a number of fun isolation challenges have emerged, as people seek to find the brighter side of the COVID-19 pandemic.
Get the kids involved in a fun challenge by transforming your living room into a wonder-filled world of imagination! Stack up blankets, sheets and pillows against the furniture and let the kids create their own secret nooks and crannies on the inside of your make-shift indoor tent. Or, build up a space big enough for yourself to crawl into and have a much-needed rest. Gather up a few good story books and huddle up inside together for a day of reading. Don't forget to bring along a couple of tasty snacks!
Play A Board Game Or Build A Puzzle 
Give the video consoles and computer games a break for a day. Bring out great old-fashioned board games! Playing games as a family can be a wonderful bonding experience and may become a household tradition. We recommend the classic Cluedo, which is available in a junior edition online at takealot.com. The snooker-inspired fingerboard game, Shoot, is also tons of fun for all. However, if you and your little one prefer a more relaxed style of gaming, why not build a puzzle together? Puzzles are proven to be a great fine-motor skill development tool, and they are loads of fun for adults, too.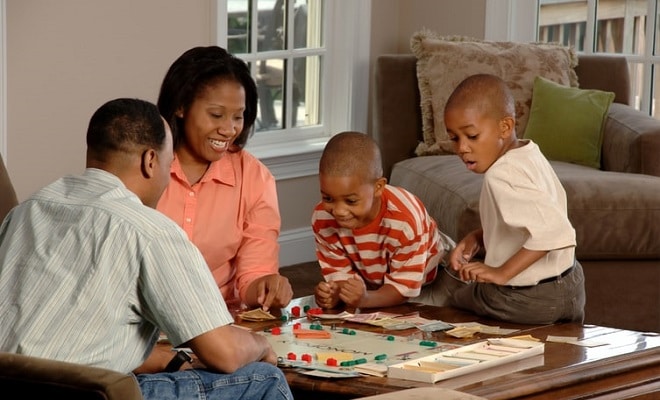 Picnic In The Backyard
A good dose of sunshine has been proven to boost your immune system. If you are lucky enough to have a garden, get the kiddies outside during this time for some much-needed fresh air and vitamin D. Joburg autumn weather is ideal for an outdoor garden picnic with the kids. Rope them in to whipping up a selection of finger sandwiches, or spend a little extra time baking with them. Lay out a blanket and tea set in the yard to make this activity a special treat. Invite your children to bring along their favourite toys to add to the whimsy of the afternoon. Remember to wash your hands before and after eating! 
Arts And Crafts
Get your arts and craft materials out these holidays and be as creative as you can. Drawing, painting, sculpting and origami are proven to decrease stress levels. In these trying times, activities such as these can calm both you and the kids. For artsy inspiration, check out these nifty Pinterest boards.
Dress-Up Party 
Dig through your cupboards to find old and interesting items of clothing worthy of a fancy dress party. Invite the kids to join in on the fun. You can dress up too (if that's your kind of thing). Try out different accents or character skits for a good laugh, or even go as far as organising a family play. Remember to take loads of photographs along the way - they'll bring huge smiles to your faces in years to come.
Stay-In Movie Day 
Kids love movies and can undoubtedly be entertained by a television for hours on end. Take advantage of this by giving yourself and the kids a day off, to binge and bond over your most beloved movies. If you've had it up to your ears with Frozen and Peppa Pig, check out these awesome alternative animated movies for kids. Create the in-house movie theatre atmosphere by drawing the curtains and making a bucket load of popcorn (give everyone a separate bowl to avoid the germies!) You can add to the fun by making it a compulsory pajama and slipper day.
If you have any suggestions on how to have fun with the kids while at home, please share them with us in the comments section below.