Primers
Let's start at the very top - primer, AKA "the base for the base". Now, this isn't absolutely necessary, but if you would like to create a smooth surface for your foundation (think minimal fine lines, less noticeable pores and a baby soft skin) and want to prolong the wear of your makeup, then you best get your paws on a good primer. Sadly, high-end brands that work wonders can cost an arm and a leg (I've spent a pretty penny on primers, I know the pain), but don't fret, there are alternatives!
Splurge
Looking to treat yourself to high-end options? The Benefit POREfessional Primer (R475 at Red Square) is definitely one of the most reliable primers out there. This primer is silky and lightweight and can be worn on its own 0r under makeup. It complements all skin tones and contains a Vitamin E derivative and helps makeup stay put ALL DAY LONG! I swear by it! Another high-end and highly recommended option is the Smashbox Photo Finish Primer (R470 at Woolworths). This beaut creates the perfect canvas for foundation, filling in fine lines and pores for a flawless finish.
Save
A great dupe for the Benefit POREfessional is definitely the Maybelline Baby Skin Pore Eraser (R99.95 at Clicks). It looks, feels and works just as well as the POREfessional and best of all - it's a lot cheaper. Another affordable option is the L.A. Girl Pro Prep HD Clear Face Primer (R79.99 at Dischem). Longwear, light on the skin and comes in under budget!
Foundation
There's a lot of qualities that we look for in a foundation: coverage, staying power, how blendable it is, the perfect finish and how it feels on our skin. And believe it or not, you can find the perfect foundation without having to spend a bunch of cash on it. Yes, the high-end brands offer better quality for your money, but there are also some amazing finds amongst the more affordable brands too.
Splurge
Foundations are different for everyone. As the rule goes, "use a mousse for oilier skin, use a foundation for drier skin". First on my list for drier skins is the Estée Lauder Double Wear Stay-In-Place Makeup (R585 from Foschini Beauty). It comes in 32 shades, is long wearing, blends like a dream and makes skin look flawless. Another fave is the Clinique Beyond Perfecting Foundation and Concealer (R540 from Edgars). To me, it can feel a little tacky, but the overall look - STUNNING! It's moisturising, makes your skin look radiant and allows the skin to breathe.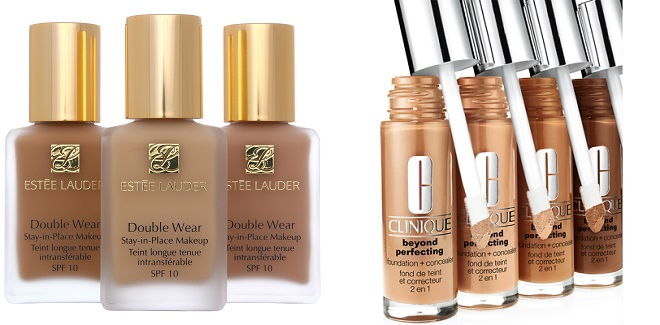 Save
L'Oréal True Match Foundation in Vanilla Rose (R185 from Dischem) is a perfect match for my very fair complexion. As for the quality, it's medium to full coverage, blendable, long-wearing and light-weight. AKA everything you want in a foundation! A close second is the Revlon ColorStay Foundation (R299 from Dischem). It is a little pricey for a cheaper alternative, but worth every penny. You can build it up and blend it out, depending on what level of coverage you're going for. It's a goodie.
Eyeshadow
Now for my favourite part - eyeshadow! I spend thousands on eyeshadow palettes just to stare at them, never mind use them. But when I eventually do use them, it's like heaven on earth. There are so many different palettes to suit all budgets, and here are a few of my favourites.
Splurge
I have been in love with the Anastasia Beverly Hills Modern Renaissance and HUDA Beauty Desert Dusk palettes lately. I seem to love pink, terracotta, brown and mauve eyeshadow looks lately, and these palettes fit the bill.
Save
I have discovered a brand that creates affordable dupes of the abovementioned palettes! With almost the exact same colours, the Bad Habit palettes offer you similar colours to the Modern Renaissance and Desert Dusk, but at a fraction of the price. And the quality is amazing - blendable, smooth and pigmented.
Mascara
The best thing about mascara is the fact that there's a formula for every effect you're looking for, from lengthening and volumising to lash separating and building. Amazing!
Splurge
A wonderful mascara that does wondrous things to lashes is definitely the Clinique High Impact mascara. It volumizes, separates and lengthens lashes, leaving them looking oh-so-beautiful. This is one of my go-to products and I couldn't recommend this one enough. It's R310 at Red Square.
Save
For a beauty product that needs to be replaced every three months, it may be better to stick to less pricey options. A firm favourite for everyday wear is the Yardley Volume Lash Mascara. Why do we love this one? Because it volumises, the colour is bold, and it looks good on the lashes. Enough said. Oh, and it's R75 from Dischem.
Eyebrows
If like me, you have the fairest brows of them all, I feel your pain. Filling in eyebrows should be considered a fulltime job, but the result is stunning! Who doesn't love a bold and shapely brow to frame the artwork you've just created on your eyelids? Exactly!
Splurge
Go all out on brow products at Benefit Cosmetics (found at Red Square). They're the best in the brow business and have just about every type of brow product imaginable. A few options include the Benefit Gimme Brow, 3D Browtones, Brow Zing, Browvo! Conditioning Primer, the Foolproof Brow Powder, Goof Proof Brow Pencil, High Brow pencil and the Precisely My Brow pencil (R175 – R475 depending on the item). Worth every penny!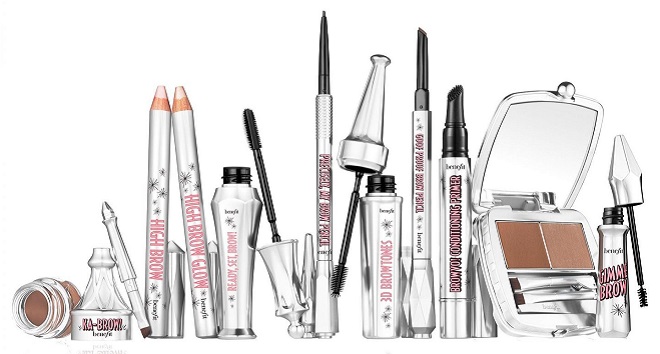 Save
Maintaining and beautifying brows doesn't need to cost a fortune though. There are a few affordable brands that offer great alternatives, including Catrice (all under R100), Essence (under R100 too), Eylure (R145 max), L.A. Girl (R120 for the Inspiring Eyebrow set) and Maybelline. The options are endless!
Lipstick
Lipsticks are life! From nudes and mattes to shimmers and vibrant colours, lipstick brings the whole look together, which is why we need to get our hands on the best of the best formulas, finishes and colours.
Splurge
When budget allows it, MAC Cosmetics lipstick is amazing! Not only do they have an amazing variety of shades, formulas and finishes to suit your style and look, but they also have a sweet deal if you have plenty of empties. If you return six MAC packaging containers to a store, you'll get a free MAC lipstick of your choice. How cool is that? Colours we think every gal (or guy) should have are Ruby Woo (a striking true blue red) if you're feeling bold and Velvet Teddy (a deep-toned beige with a matte finish). These retail at R220 each.
Save
Don't have the cash to splurge at MAC? Don't worry, there are dupes for the two above-mentioned colours. Firstly, Wet n Wild's Spotlight Red is a close (and cheaper) match to Ruby Woo. And for Velvet Teddy, Wet n Wild's Bare It All looks exactly the same! What I have noticed is that many MAC shades can be found with Wet n Wild, so if you happen to be looking for a certain lippie at MAC, try the Wet n Wild makeup section at Clicks first. About R50 per lippie. Bargain!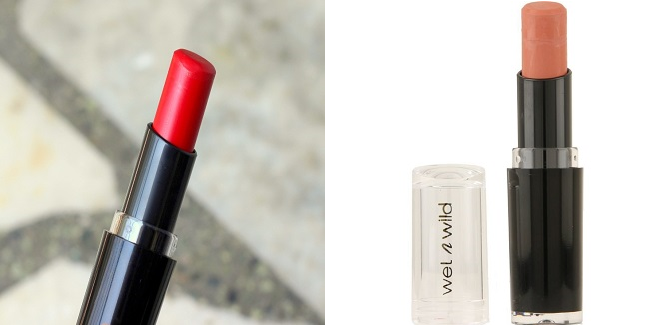 Setting Spray
Now to lock it all in! Setting spray is a must if you want to keep your makeup in place all day. Just make sure you shake the bottle EXTREMELY WELL. It's no fun spending all that time creating the perfect look then spraying unmixed setting mist on your face and getting those clumpy white specks all over the place!
Splurge
One of my all-time favourite setting sprays is the L'Oreal Infallible Fixing Mist. You can get it for R190 at Dischem and it works like a dream. A few sprays of this in the morning after applying all your makeup and you'll be set for the entire day. It's light and comfortable on the skin and prevents your makeup from fading, melting and cracking throughout the day.
Save
Setting sprays can be pretty pricey, but if you're looking for an alternative to the Infallible mist, then Essence Keep It Perfect Makeup Fixing Spray is just the ticket. Same qualities, same purpose, just a different price that won't leave you feeling light in the pocket. You can get your hands on this goodie at Dischem for R60.
Do you have any makeup dupes that you'd love to share with us? Leave a comment below!