Sandton City 
Imagine a place where the best international brands and everyday leisure and entertainment meet. A place rich in Afro-cosmopolitan glamour, with a distinct South African flair. This is Sandton City. With over 300 local and international retailers, this retail destination is a must-visit for fashionistas and foodies.
While it may be difficult to believe, just over half a century ago the Sandton CBD was nothing more than farmland and estates. With the development of Sandton City in the early 1970s, the suburb began its transformation into the richest retail mile in Africa. The original mall covered only 50 000m² (that's a quarter of the space it now occupies).
In 2011, the mall underwent massive reconstruction, bringing Sandton shoppers more glitz, glamour and gourmet food. Three years later, the Diamond Walk premiered. This exclusive retail space sits between Sandton City's upper level and the Sandton Sun and InterContinental Johannesburg Sandton Towers hotels. Showcasing all things glittered and gold, this stylish walkway features some of the world's most coveted brands.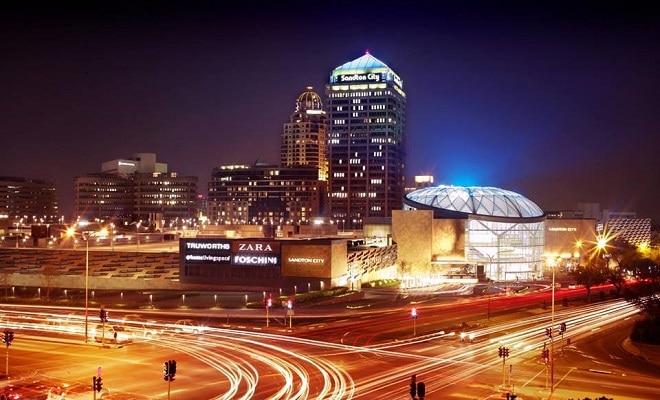 Eating & Drinking
Of course, Sandton City wouldn't be worth visiting without a few great restaurants. Luckily, this premium mall boasts more than just a few impressive eateries to enjoy in between shopping sprees. Here are our top three picks:
Doppio Zero 
Doppio Zero makes real food, real good. Serving up artisan breads, pizzas and Mediterranean fare, as well as an array of vegan meal options. The restaurant recently underwent a makeover - debuting a new interior design concept and a sweet range of Belgian chocolate desserts and treats, delightfully dubbed 'Coco-Me'. If you haven't visited the upgraded restaurant yet, be sure to stop by on your next trip to Sandton City.
JB's Corner
JB's Corner is a firm Sandton City favourite. Offering patrons everything from steaks, to salads and gourmet burgers, this restaurant is always abuzz. They also pride themselves on having the best sushi in Sandton. Don't take our word for it, pay them a visit to determine your own verdict.
https://www.instagram.com/p/B1iafE2jiap/?utm_source=ig_web_copy_link
Walnut Grove
Officially Sandton City's longest-running restaurant, Walnut Grove is famous for their cakery and confections. Red velvet, chocolate, rainbow or cheesecake, they have it all. Paired with one of their gourmet coffees, teas or milkshakes, this is sweet tooth heaven. Walnut Grove's main menu is quite alluring too, featuring a feast of Mediterranean-inspired dishes. Bring the kids along, as there is a special menu just for them.
Retail & Entertainment
Hugo Boss, Louis Vuitton, Carrol Boyes and Apple, all under one roof. Sandton City is the premiere shopping destination for international style in Johannesburg. Visit Calvin Klein Jeans, D'ORÉ, Diesel, Dolce & Gabbana, Giorgio Armani, Armani Jeans and Billionaire Italian Couture for your runway-inspired threads.
Get the kiddies fashion sorted at Earthchild, Koco Bino or Naartjie. These top children's fashion brands will have your little one looking super stylish, but without compromising on comfort or durability.
In terms of entertainment, Sandton City offers shoppers family-friendly excitement and experiences which you wouldn't find anywhere else. Spend a day exploring all that the mall has to share, including BT Games, Toy Kingdom, Hamleys, Heroes of Games and Comics and the only LEGO certified store in the country. Afterwards, you can wind down at Ster-Kinekor with a family fun movie and loads of popcorn.
Nelson Mandela Square
Nelson Mandela Square adjoins Sandton City, together making up the largest retail complex in Africa. While much smaller in size than the mall (only 1,000sqm), the Square still attracts over one million local and international visitors a month. Offering shoppers a taste of heritage, culture and fine dining, Nelson Mandela Square is undoubtedly one of our top tourist destinations. The open-air European style piazza is a great place to take a snap shot of yourself with the iconic Mandela statue. Or, you can shop till you drop at their 88 retail outlets. Refresh your spirits with glorious South African steaks, curries and desserts, or take a trip around the world, indulging in French wines, tapas and Italian coffee.
Fine Dining
Celebrating a milestone birthday, anniversary or achievement? The Square should be your go-to dining destination. Meat lovers are well treated here at The Butcher Shop & Grill, Trumps Grillhouse and Rocomamas. There are also a couple of family-friendly eateries, so you can bring the whole brood along for a fancy dinner out.
For fine Italian dining there is Septimo, with fresh pasta, bread and coffee to keep you going. They make everything from scratch here, including their famous sauces. This is the perfect date night restaurant. With the awesome Sandton vibe and twinkly city lights, you will fall in love (whether it be with the food, the Square or your partner) in no time.
Couture
Nelson Mandela Square takes international fashion to another level. Their list of retailers features only the best from Europe, Asia, the USA and Africa. But, don't fret too much about your pocket - there are some budget friendly options here too, including Factorie and Forever 21. This is the ideal shopping complex for a mom and daughter bonding session or girls shopping spree. It's also a wonderful window shopping destination, it never hurts to look and dream does it?
Check out our article on the best places to shop at Nelson Mandela Square before heading out with your credit cards at the ready.
Theatre on the Square
Finally, there is the pinnacle of entertainment and culture at Nelson Mandela Square - the Auto & General Theatre. Hosting numerous theatre shows, music performances and comedy skits throughout the year, this is one of Joburg's best theatre venues. The ambience of this theatre screams classic cabaret - with a wine bar, red carpet and intimate stage, it's the best alternative to popular theatre. There are also a number of children's shows to take the kids to during the holidays.
And the winner is...
We could never pick a top dog between these two prime shopping centres. They both offer world-class fashion, food and entertainment. So, be like everyone else and stroll between the two! The Gautrain station is just a few metres away, so you really have no excuse not to visit both Sandton City and Nelson Mandela Square.