Edenvale has become somewhat of a restaurant town in recent years. Known for its diverse selection of cuisine offerings, the area is a great spot to explore new tastes and flavours. All we can say is come hungry, because there's a lot to be explored here!
What Are You Looking For?
Asian
American and Fast Food
Italian
Mediterranean
Portuguese
Vegetarian/Vegan
Coffee Shops and Cafes

Asian
Saengcha Thai Restaurant
Experience authentic Thai cuisine without leaving Edenvale at Saengcha Thai Restaurant. Come and enjoy fragrant curries, broths and various other Thai specialties at this much-loved restaurant. Their red Thai curry is said to be the perfect balance of sweet, sour and umami. Book a table as soon as you can or miss out!
Visit Saengcha Thai Restaurant.
Curry Lounge
In the mood for a fiery Durban curry? Stop by the Curry Lounge in Edenvale. From the classic bunny chow to hamburgers, this Indian fusion restaurant has all you need to satisfy those curry cravings. This is the perfect spot to pick up a quick Friday night takeaway. Their menu features child-friendly and vegetarian options, so the whole family can tuck in!
American and Fast Food
RocoMamas
Come and sink your teeth into a juicy smashburger at RocoMamas. Located at Stoneridge Centre, this American meets South African burger joint is a must-visit for anyone with a love of gourmet grub. Try their turbo-charged cheese fries with chilli for a taste explosion!
Visit RocoMamas at Stoneridge Shopping Centre.
Krispy Kreme
Start off your morning the right way with a classic glazed doughnut and piping hot coffee from Krispy Kreme at Greenstone Shopping Centre. This American doughnut shop has been in the business of putting smiles on their customers faces since 1937. Join the long legion of Krispy Kreme fanatics and indulge in the sweeter side of life.
Visit Krispy Kreme Greenstone.
Italian 
La Cucina at Cremalat Cheese
La Cucina is at the top of our list of the best Italian restaurants in Johannesburg. Tucked away within an industrial park on the border of Edenvale and Kempton Park, this family run Italian deli and restaurant makes some of the freshest and most authentic pasta dishes in the city. Served with a crisp glass of white wine, you'll feel transported straight to Tuscany. Be sure to book ahead as the restaurant can be get busy.
Papachinos
Italian cuisine is all about sharing with the ones you love. This ethos is shared by Papachinos restaurant - undoubtedly one of the best family-friendly restaurants in Edenvale. Kiddies absolutely love it here thanks to the large play areas, designer pizza menus and fun atmosphere. If you're ever looking to host a birthday party for the litte ones in Edenvale, this is the place to do it.
Mediterranean 
Cafe Billi Bi 
Brunch lovers, this is the spot for you. Cafe Billi Bi at Stoneridge Shopping Centre is an eclectic Mediterranean eatery offering delicious breakfast spreads, gourmet open sandwiches, wholesome salads and the best smoothies in Edenvale. Cafe Billi Bi is also dog-friendly, so bring your pooch along to enjoy a casual dining experience overlooking the Greenstone Hills.
Piatto 
Piatto's Mediterranean-inspired menu is a sight to behold. Featuring everything from sumptuous pastas to succulent grills, this menu offers a delicious taste experience. The restaurant is a go-to for romantic evenings out as it boasts quite an impressive view and secluded dining options. So come and wine and dine your sweetheart at Piatto Stoneridge or risk getting the silent treatment.
 
Portuguese
Malagueta
Malagueta is a Brazilian/Portuguese restaurant located at the edge of Horwoods Farm in Edenvale. This top family-friendly restaurant offers the little ones ample space to play about while parents can sit back and soak up the sun on the large deck. The menu features an array of authentic Brazilian and Portuguese dishes, including chicken and steak espetada and generous seafood platters.
Mozambik 
Mozambik is another top family-friendly Portuguese restaurant located in Edenvale. Their Afro-Porto fusion cuisine is one-of-a-kind. Infused with all the flavours of Mozambique, their food transports you to a whole other place and time. Plus they've got a ton of fun activities to keep the little ones entertained, while you sip on a cocktail (or two).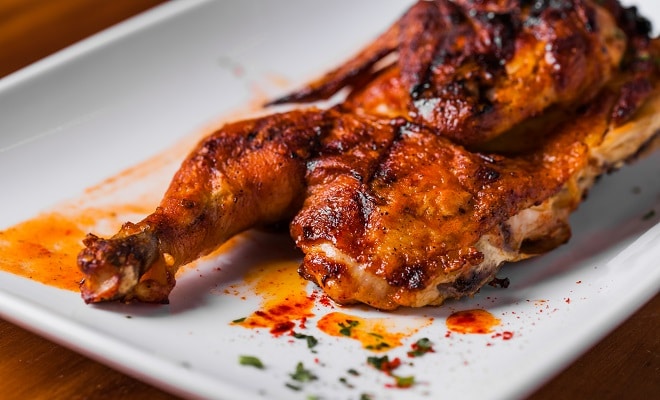 Vegetarian/Vegan
Sprout Cafe 
Sprout Cafe is a health food lover's dream. Their Paleo, vegan-friendly menu offers meals and snacks filled with all the nutrients you need to get through the day. From their juices and smoothies to Keto brownies, Sprout Cafe is all about conscious and healthy eating. If you're considering a few food lifestyle, stop by here to experience just how healthy eating can be.
Coffee Shops and Cafes
The Red Door Cafe
Edenvale is littered with coffee shops and cafes along its sprawling avenues. However, none stands out quite like The Red Door Cafe. You'll find the best French toast in Edenvale here, as well as Paleo menu options, scrummy scones and delicious main meals. Look out for the tiny red scooter to find the Red Door. It's very well hidden!
De Molen Pancake House
Edenvale is famous for one particular landmark - the Dutch Windmill! But did you know that there is a coffee shop and restaurant hidden inside it? De Molen Pancake House serves up authentic Dutch pancakes, stroopwaffles and poffertjies among other delicacies. If you've never dined here before, you've been missing out. So, climb up the winding windmill and take a seat inside to enjoy a truly unique dining experience.