Pimped Up Beans On Toast
There's nothing worse than a plain old can of baked beans smeared on toast. If this is all you have left in your pantry cupboards, we have a way to turn this drab meal into something spicy and satisfying:
Ingredients:
1 can of baked beans
2 cloves of garlic, minced
Half an onion, chopped
2 tablespoons of garam masala
1 green chilli or a teaspoon of chilli flakes
Salt to season
Method:
Heat a teaspoon of oil in a small saucepan
Toast the garam masala until it reaches a dark brown colour. Add the chopped onion and minced garlic, making sure not to burn the spices or garlic.
Add a tablespoon of water to the spice mix, forming a paste. Let it simmer for about a minute on low heat.
Add the sliced green chilli or chilli flakes, before spooning in the can of baked beans.
Stir occasionally and add salt to taste. Let the beans simmer for about 10 minutes before serving on a crisp piece of toast.
Dress with fresh coriander (if you have).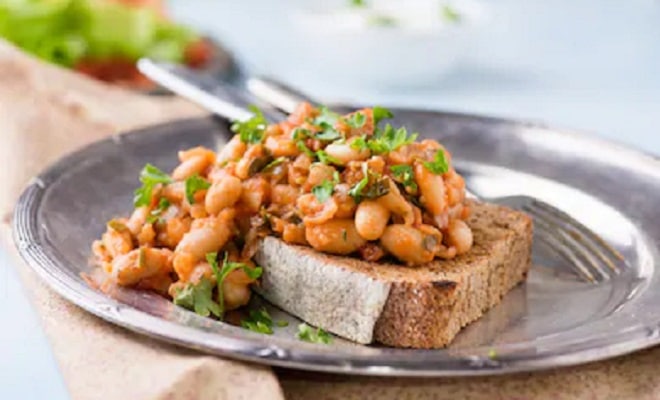 Easy-Peasy Noodle Bowl
Can't stomach another bowl of watery 2-minute noodles? Create your own ramen noodle bowl using staple Asian cuisine ingredients that you most likely have hidden away at the back of your pantry.
Ingredients:
2 packets of 2-minute noodles
1 teaspoon sesame oil
1 teaspoon olive oil
2 cloves of garlic, minced
1 carrot, grated
4 cups vegetable broth
1/2 cup of chopped mushrooms
1 tablespoon rice vinegar
1 tablespoon Sriracha sauce
3 tablespoons low-sodium soy sauce
1 egg, soft boiled
1 spring onion, diced
Method:
Heat the sesame oil and olive oil in a medium-large saucepan over moderate heat.
Add the garlic and simmer until fragrant, about 2-3 minutes. Do not brown the garlic, or you'll get a bitter flavour.
Add the carrots and mushrooms if you have these available, and simmer until they soften, about a minute, stirring frequently.
Add the broth, Sriracha sauce, rice vinegar and soy sauce. Stir and let simmer for about five minutes. Taste, and adjust heat and taste to your liking by adding more Sriracha and soy sauce if needed.
Carefully place the 2-minute noodles into the pot of simmering broth and allow to cook for approximately 2-3 minutes, or until cooked and tender.
Carefully transfer the soup and noodles to bowls, and allow to cool. Top with a soft-boiled egg and spring onion.
Adapted from www.killingthyme.net/2015/10/30/easy-homemade-ramen-bowls.
Cake In A Mug
When those sweet cravings start to kick in, turn to your pantry for a super quick and easy fix. If you have never dared to make a microwave cake in a mug before, now's the perfect time to test this inventive recipe.
Ingredients:
1/4 cup all-purpose flour
2 tablespoons unsweetened cocoa powder
1/4 teaspoon baking powder
2 tablespoons castor sugar or white sugar
Pinch of salt
1/4 cup + 1 tbsp. milk
2 tablespoons vegetable or olive oil
1 tablespoon hazelnut chocolate spread or mini chocolate chips (if you have)
Method:
In a medium bowl, whisk together dry ingredients.
Whisk in the milk and vegetable oil until all ingredients are combined and batter has no clumps.
Pour batter into a microwave-safe mug. Leave enough head space for the cake to rise without pouring over.
Add hazelnut chocolate spread or chocolate chips in the middle of the batter.
Place a paper towel into the microwave and set the mug on top (this is to catch any batter if your mug cake overflows).
Microwave mug cake for 70 - 90 seconds on high.
Sourced from www.tablefortwoblog.com/the-moistest-chocolate-mug-cake.
If you are in dire need of pantry staples and other groceries to see you through self isolation, check out these grocery delivery services. Stay safe!