The estate's vision is to create a vibrant recreational, social and community hub that will become the key destination and gathering space for Eye of Africa's residential community. At Eye of Africa, the standard of living is only rivaled by the sense of community and facilities available to all residents.
Freehold Stands
Luxury Homes
Cluster Homes
Luxury Apartments
Complex Vs Estate Living
A Better Way Of Living
Estate living is so much for than a lifestyle choice. Estate living offers a chance to really get to know your community in a way that a traditional neighbourhood may not. They are often designed in a way to encourage interaction between their residents, and when combined with an added sense of security people are much more inclined to engage with their neighbours.
Along with a long list of leisure activities, estates offer immediate access to wide-open spaces packed full of nature. Many have forests, lakes or stunning mountain backdrops, and are home to many different animal species. Residents are provided with a chance to safely enjoy the great outdoors and reconnect with the natural world.
The Eye of Africa Golf & Residential Estate ticks all the boxes and offers four main housing solutions to new and prospective buyers:


Freehold Stands
Build your dreams and see your vision come to life at the Eye of Africa. The estate's new phase of Freehold Stands is an opportunity to start building from the bottom and living at the top in a secure and luxurious atmosphere. Stand sizes measure from 794m² to an outstanding 3 052m². The destination is spectacular and your future at the Eye, bright.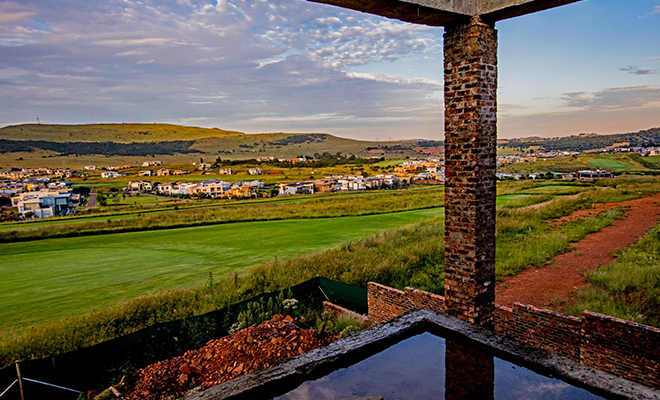 Luxury Homes
Being an original has a certain appeal, but owning an Origins luxury home appeals to each and every sense. The sublime north-facing full title homes that make up the Origins can only be described as architectural perfection. With configurations from four bedrooms up to seven, these homes reign supreme.
Cluster Homes
The estate's single- and double-story Stone Quarter clusters promise a unique living experience that effortlessly fuses elegant designs with the tranquility of nature. Owning a Stone Quarter cluster home offers residents the perfect home within the Eye, combining functionality and gorgeous architectural lines with a central location within the estate.
Luxury Apartments
The modern Village apartments are perfect for those who crave the bustling nature of the city, but still wish to retire at night to the quiet, countryside appeal of the Eye. Set in the heart of the Estate, The Village luxury apartments sit comfortably in the landscape and create a wondrous, village-type atmosphere. Designed to make the most of the Eye's glorious, outdoor-oriented lifestyle that its residents enjoy each and every day, these apartments boast sweeping views of the beautiful Eye of Africa.
The Advantages Of Living At The Eye Of Africa Golf & Residential Estate

Choice of residence and residential location play an incredibly big role in citywide development and land usage trends. Housing Estates are not new in this equation: even in a developing country like Tanzania golf and lifestyle estates are making headway.
As human beings, we yearn for a safe and secure place to rest our heads and provide for our families. Unfortunately, life in clusters or complex developments isn't cutting it anymore. Lack of security, breathing room, and functionality are dampening new and existing buyers' choice of residence.
In recent years estate living has become a new and exciting territory for homeowners. Lifestyle estates are no longer only the stomping ground of the wealthy and have seen more affordable developments being introduced into some of the province's top estates.
As much as we love our beautiful City of Gold, it's a sin for us to pretend that it's a safe place to be. With that in mind, people have been trading in their sectional title woes for secure estate living.
Here are four quick and easy advantages living in an estate in Johannesburg offers you and your family:
Freedom and Security
Estate living gives you the chance to live in a space where you have the freedom and security to be in the streets. You can go for a morning run or enjoy an evening walk. You are free to enjoy your community and still feel safe.
Higher property value
Because of the pros of secure estate living, the value of your home is higher than a normal house. This means that you have made a sound investment and will probably ensure that you'll get great market value if you ever want to sell.
Community
In a secure estate, people are in the streets more and this allows you to develop relationships with your neighbours. Estate living is all about community and you can enjoy getting to know the people who live nearby.
Peace-of-mind
If you have kids, the security offered by estate living gives you the peace of mind you need to let them enjoy being young. They have a safe place to ride bikes and play with other kids in the neighbourhood.