It's always so cool to do things with the kids, but it can be hard when you don't know what they will like or what you will both enjoy so we have just the solution. We have found the perfect spots in Joburg for little manis and pedis that you can pay a visit.
So we have checked out some awesome places where you can have a bonding session, or have their next kids party.
A Cute Paint
These spots will make sure that those little nails look cool and age appropriate so don't you worry mom (or dad), we've got you covered. Keep reading.
Sorbet - Sorbabies
Your little miss's has found the spot where they can get a little pamper session and have their nails done. Sorbet created a something called the Sorbabies which are pamper treats for the little ones.
Here, the little one's can have their manicure and pedicure done some the best nail technicians around. Maybe they can bring along friend for extra fun or better yet, tag along mom (and dad). They have amazing treatments for everyone.
Side note for dad: do check out Sorbet Man.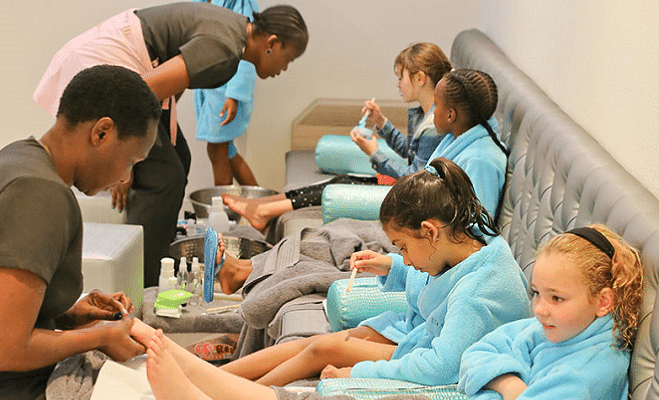 Life Day Kids Spa
You heard right, a kids spa. Life Day Kids Spa is an actual spot for the little ones to have some fun and be treated to something different and super cool.
They have amazing packages that you can choose from. These include cute fizz ball treatments, nail art for the extra cuteness overload. If the plan is to go for the standard paint, they also have those.
Life Day Kids Spa also has a kids party venue so this is great if you are planning a unique kids party that the children can enjoy (maybe also add a few of the cool treatments they have on their menu).
They also have vouchers, so you get to give an unexpected gift.
Mangwanani African Spa
If your plan is to add a twist with something awesome, Mangwanani awaits and is ready to treat your little one with their generous offering (and for you too - mom and dad).
They have treatments like Splish Splash Foot, Twinkle Toes and Frockling Fairy treatments, to name the least. So make sure that check them out and see what works for you.
The added incentive about this one is that you get to pick a branch of your convenience.
Buff
So now that you have explored the options, it's time to make the fun decision to your little ones unique experience. Fun times await.
Let's get those nails a good paint!