Things To Take With You
When planning your hiking adventure anywhere in Gauteng, be sure to prepare and pack these essentials into a backpack to take along with you. Rather be over prepared than under prepared!
The necessary precautions: hand sanitiser/wipes and face masks (just in case)
Sunscreen, sunglasses, and a hat
Plenty of water
Snacks/food to replenish your energy
Weather-appropriate clothing (a jacket just in case)
Comfortable shoes with soles that have grip
First-aid kit
Knife or multi-tool
Navigation tools
Lots of energy!
Rustig Hiking Trails
Out in Hekpoort, Rustig Farm offers hiking trails that are perfect for all experience and fitness levels. The sites and trails themselves are well worth the 90 minute drive from the city! Due to the lockdown regulations, you'll need to book your hiking adventures well in advance so they can regulate their numbers. There are three different hiking trails available on the property – the Olivenhout Hiking Trail (3km, easy route ideal for beginners, takes about an hour to complete); the Witstinkhout Hiking Trail (5km, medium difficulty, takes about three hours to complete); and the Karee Hiking Trail (13km, challenging route, and takes five to six hours to complete). Click here to find out about Rustig Farm.
Cost: R65 per person for the 3km and 5km trails. Kids under 12 are R30 per child. R75 per person for the longer trails.
Modderfontein Nature Reserve
The 275-hectare Modderfontein Nature Reserve is just the place if you're looking to stretch those legs and enjoy nature. The reserve boasts amazing birdlife around its three large dams, perfect for bird watching. Be sure to keep an eye out for Fish Eagles and Long Crested Eagles. Hikers can take their pick between the reserve's 8.3km hiking trail or one of the shorter walks. There's also a 10km, 18km, 32km and 42km mountain-biking route for those keen on taking their bikes out for a spin. However, keep in mind that a max of four people per group are allowed. Due to the lockdown regulations, no leisure activities such as fishing and picnicking are allowed (yet). The reserve is open daily from 06:00 to 18:00. No bookings are required.
Cost: For hiking and running: R30 per person, R15 per child. Cycling: R50 per person, R30 per child.
The Hennops Hiking Trails
The Hennops Trails, 30km from Pretoria and Fourways, offers nature lovers and hikers four different trails setting out from Hadeda Camp – the 1.5km River Trail, 2.5km Dassie Trail, 5km Zebra Trail and 10km Krokodilberg Trail. No bookings are required. There are also some exciting en-route features along the way, such as the two suspension bridges, old dolomite mines and a cable car running across a river. You'll also see an underground cave where "Pruimpie" lived as well as traces of old settlements. Let's not forget to mention the natural features too, like the indigenous trees along the river, gorges and plateau areas. On weekends, hiking starts at 07:00. All trails must start before 14:00. On weekdays, hiking starts at 08:00 and all trails must start before 13:00. All trails close at 17:00.
Cost: Entrance is R80 per person and R40 per child. Pre-school aged children get free entry.
Cradle Moon Lakeside Game Lodge Trails
Spend the day at Cradle Moon Lakeside Game Lodge in Muldersdrift. Located on the 1 500-hectare Cradle Moon Conservancy, the game lodge offers visitors over 50km of mountain biking and running trails. Don't have a bike of your own? Not a problem, they also offer bike hire! Click here to take a look at their various trails. The trails are open to public everyday of the week, from 08:00 to 17:00 Monday to Friday and 07:00 to 17:00 over the weekend. No booking are required for a day hike. And you're looking for a bite to eat after your exciting hike, the lodge's restaurant is open for pizza and burger takeaways. Click here to find out more about Cradle Moon Lakeside Lodge.
Cost: Activity rates are R50 per person for hikers and cyclists. For bike hire, cost is R200 per bike.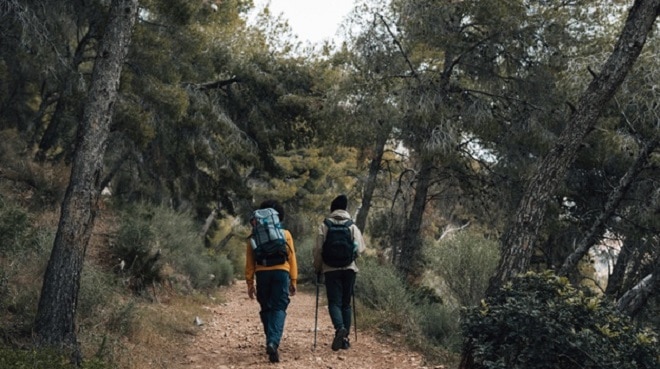 Sable Ranch Hiking Trails
Gather family and friends, take a short road trip close to Hekpoort in Magaliesburg and spend the afternoon trekking the Sable Ranch trails. Hikers have a choice between the 8km, 10km and 12km trails, which will take you through farmlands and rocky paths, until you reach the plateau which offers stunning views. The ranch only allows a maximum of 50 hikers per day, so ensure you book your spots well in advance to avoid disappointment. Also, groups will be staggered as a precaution during the pandemic, but you're allowed to hike with the people who arrived with you in the same car. Just a tip: call the ranch ahead to check if hunting will be taking place on the day you want to visit. As a safety precaution, trails are shortened on hunting days.
Cost: Tariff is R70 per adult and R30 per child.
Remember that our "Top Picks" are not paid for and are compiled at the discretion of the journalist. We only write about what we love.
Loved out list of hiking trails? Why not check out these getaway spots within driving distance from Joburg?