For exhilarating entertainment in Joburg South, be sure to visit the bustling and thrilling Gold Reef City Casino & Theme Park! Here, there's sure to be something exciting and fun for all ages. From the latest blockbusters and theatrical productions to great dining hot spots for any occasion, family entertainment and much more, this is a must visit for the whole family! Here's what you can look forward to when you next visit Gold Reef City.
What Are You Looking For? 
Restaurants
Shopping
Hotels & Accommodation
Gaming
Family Entertainment
Theatre
Movies
Conference Venues
Contact Details
Restaurants
Vigour & Verve
Visit the hip Vigour & Verve for a variety of great burgers, cheesy pizzas, signature sarmies, hearty pastas, decadent cakes, desserts and pastries, and so much more! You can find this coffee bar-style café at the newly refurbed area at Gold Reef City Casino.
Billy G Buffet
Gather the whole family and make your way to Billy G Buffet to indulge in an all-you-can eat buffet delight! Once you have gotten your table, take a stroll through the different counters offering everything from hot and cold starters and a wide variety of main courses and decadent desserts to see what's on offer. There will most definitely be something to delight your palate.
Calisto's Portuguese Restaurant
Craving some delicious Portuguese cuisine? Then be sure to stop by Calisto's! They specialise in delectable seafood as well as the best chicken dishes you'll ever find. All in all, this restaurant offers an amazing dining out experience that will bring you back for more.
Shopping
Although Gold Reef City is all about the entertainment, dining and thrills, there's also a handful of retail stores that you can explore withing the precinct, offering everything from mementos to novelty gifts and a few goodies to nibble on. These include Candylicious which is jam-packed with a wide selection of sweet treats that's sure to delight, Copper Africa offering a wide range of South African souvenirs, and the Old Mine Shop that sells everything from African beaded dolls and Big Five printed T-Shirts to fairy and angel ornaments.
Visit Gold Reef City's stores.
Hotels & Accommodation
Southern Sun Gold Reef City
Offering historic charm and warm hospitality, the Southern Sun Gold Reef City is just the place to book a stay if you're planning a lovely weekend away with the family. The hotel offers guests a choice from 38 comfortable well appointed rooms,complete with complimentary Wi-Fi, DStv, tea and coffee station, mini bar, electronic safe, and more. There is wheelchair-enabled access available, as well as smoking rooms upon request.
Visit the Southern Sun Gold Reef City.
Gold Reef City Theme Park Hotel
Take a trip back into the past at the Gold Reef City Theme Park Hotel. This hotel is situated right in the middle of the bustling theme park and is an authentic portrayal of a turn-of-the-century mining town hotel. Take your pick from 75 luxurious en-suite rooms, enjoy the hotel's private pools and gardens, and have a blast with free access to the bustling theme park. There's also a host of family-friendly dining options to choose from when you're all ready for a bite to eat, including Barney's Restaurant and Bar and several other well-known franchise restaurants, all located within the precinct.
Visit the Gold Reef City Theme Park Hotel.
Gaming
Gold Reef City's casino arena boasts over 1 700 slot machines and 50 tables, offering guests a wide selection of games and thrills to enjoy. This is the ideal place to see if Lady Luck is on your side! The main casino floor accommodates both smokers and non-smokers in divided sections while the recently renovated Privé now includes a lavish reception, lounge and a private gaming room. Click here to see what slot machines you can expect to enjoy on the casino floor and click here to take a look at their variety of table games.
Visit the Gold Reef City Casino.
Family Entertainment
The Gold Reef City Theme Park
One of the main reasons families visit Gold Reef City is to enjoy a day out at the thrilling theme park! Here, families can enjoy a wide range of exciting rides, from the daring Tower of Terror and the winding Anaconda, to the relaxing Lazy River and the Giant Wheel offering stunning sights of the city. Although there are age and height restrictions when it comes to the various rides available within the theme park, there are plenty of fun things that visitors of all ages can enjoy. Click here to see a full list of all the rides at Gold Reef City Theme Park.
Visit the Gold Reef City Theme Park.
The Magic Company
Offering a wide selection of classic and old school arcade games, fun activities and exciting crane machines, The Magic Company will certainly keep the kids entertained for a couple of hours. Best of all, most of the machines will issue tickets which can be exchanged for cool prizes to take home after all of their gaming (and pocket money) is all gone.
Créche
Keep the children secure and entertained at Gold Reef City's Créche. Here, parents can let their children enjoy a fun experience at the casino with peace of mind, without having to worry about their safety. There will be a wide variety of fun activities and things to do that'll keep your little ones busy, while you head off to one of the many restaurants for a well-deserved date night for two or try your luck on the casino floor.
Visit the Gold Reef City Créche.
Theatre
In mood for a little bit of theatre? Gold Reef City Casino plays home to the luxurious 1100-seat Lyric Theatre, complete with rich decor and atmosphere, plush fittings and elegance. This theatre caters to all performance preferences, from large Broadway shows making their debut to ever-popular musicals, hilarious comedy skits and much more.
Movies
Looking to treat the family to an on-screen adventure at Gold Reef City? Then be sure to visit Movies @ Gold Reef City to see what's on circuit on the big screen! There's sure to be the perfect film on show, whether it's something to delight the little ones or a movies that'll scare the you out of your seat. Don't forget to visit the kiosk to grab a few snacks to enjoy while watching the big screen.
Visit Movies @ Gold Reef City.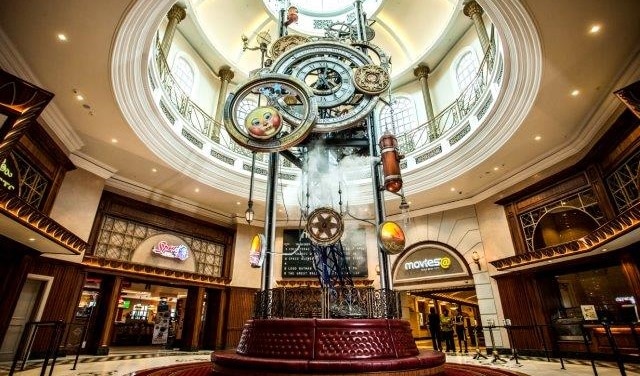 Conference Venues
Need to host a productive business meeting with various delegates? Or are planning a big celebration that's going to bring people from far and wide? No matter what the occasion, Gold Reef City is sure to have the space for you. Their conference venues include a Conference Centre offering a variety of setup options to suit all meetings, conferences, product launches, exhibitions and team building requirements. Formal banquets and beautiful weddings are also catered for, complete with customised menus with the very best in taste and suitability to your individual requirements.
Click here for more information. 
Contact Details
Website: www.tsogosun.com/gold-reef-city-casino
Tel: 011 248 5000
Address: Corner of Northern Parkway and Data Crescent, Ormonde, Johannesburg, Gauteng, South Africa