Last year, Chef James Diack took members of the media on a tour around his family farm, Brightside and gave them some insight into his plans for 2018: "Since we opened in Melville in September 2016, we've noticed a change in what people are eating and what they're spending. And, in today's fast-moving restaurant industry, we have to adapt," explains James. "We've also seen how successful the food and environment at Il Contadino in Parktown North has been, and so we're going to make La Stalla a mini version of that."
The industrial-chic pizzeria will be open Wednesday through Sunday from 07h00 until 10h00 and will serve three meals a day. For lovers of The Federal's brunch – don't despair – a range of farm-fresh breakfasts will be available for R75 each. For lunch and dinner, La Stalla guests can choose from a selection of well-priced small plates, as well as a number of wood-fired dishes and pizza options, roasted chicken and fresh salads. Dessert will be delicious Italian gelato, served in either cones or bowls.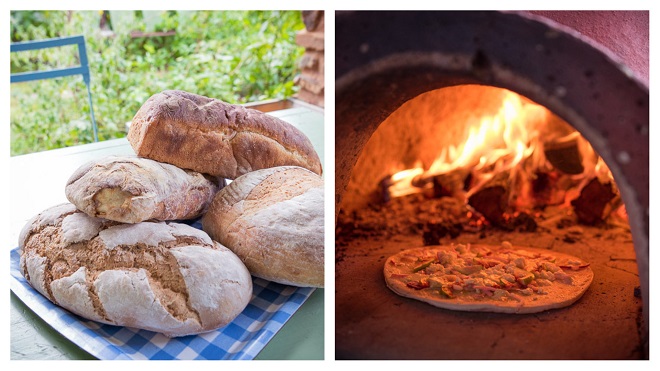 Two of the farm-fresh dishes that will be available from La Stalla are bruschetta with a variety of toppings, and arancini stuffed and dusted with wild-boar bacon (which we managed to sink our teeth into at La Stalla's launch). James will be working in partnership with Il Contadino's Head Chef, Rausharn Griffin to operate and manage the establishment. Rausharn has worked alongside James since 2014, first at Coobs and later heading up the team at Il Contadino.
Along with having a pizza oven installed into the space, James is also updating the façade and some of the décor – the trademark reclaimed wood-paneled wall and copper-piping will remain.
For drinks, expect OC Brewery craft beer, a wine list featuring some quirky and affordable boutique wines, and some interesting cocktails. Spending time with James Diack, you soon realise that he is passionate about wine (just have a look at our interview with James). "This will be my simplest restaurant to date, and I can't wait to share the experience with Rausharn, and with Melville," James concludes. With his almost 100% sustainability record, James remains the pioneer of provenance in South Africa and a serious purveyor of farm-to-table deliciousness.
Our first impression of the restaurant is nothing short of two thumbs up - it is James Diack after all. Patrons can expect a similar vibe to Diack's El Contadino in Parktown North mixed with his signature farm-style flare.
Details: [email protected] | 0109004876 | https://www.facebook.com/lastallajhb/
By Shawn Greyling