Troyeville Hotel
Of all Troyeville's attractions, the Troyeville Hotel has to be at the very top of the list, famous for their Portuguese prawns, baby chicken and a fantastic view of the city surrounds. First licensed in 1939, this little gem is a must-visit. The hotel attracts all sorts of guests, from artists, to musicians, cabinet ministers and sports stars, this is a reflection of the history of the suburb, which was once home to a multitude of artists and bohemian players. The Troyeville Hotel hosts regular book evenings and live music sessions, so pop by for a delicious Portuguese spread and good company.
Details: 1403 Albertina Sisulu Road, Corner Wilhemeina Street, Troyeville, Johannesburg | +27 11 402 7709 | [email protected]
Baptist Church of Troyeville
Spires and steeples characterise the Troyeville skyline. Established in the 1890s as the gold rush was taking place just beyond the city, Troyeville offered young families respite from the centre of mining. The suburb saw its boom as churches and middle-class homes popped up along the Dutch named streets.
The Baptist Church of Troyeville dates back to 1897. Founded by missionaries, Troyeville's oldest church was originally nothing more than a tin structure. The original structure was later built over to accommodate for the growing congregation. The church still stands today, boasting an impressive steeple, stained glass panels and ornate fixtures. It received Heritage Status in 2017, so make sure to pass by on your journey through the streets.
Details: 31 Op de Bergen Str, Troyeville, Johannesburg.
David Webster House
Troyeville was once home to a number of anti-apartheid activists, including David Webster. Gunned down by a government assassin in 1989, Webster's legacy can be felt at his former home on Eleanor Street. Now privately owned, the home has been decorated in colourful mosaic with the permission of the owners. Designed under the artistic guidance of Ilse Pahl, the work was completed by a community of Webster's friends. The design includes an outline of his daughter's hand, outstretched hands of friendship, local cattle and a football stadium. The message on the exterior wall reads: David Webster 19 Dec 1945 – 1 May 1989. Assassinated here for his fight against apartheid. Lived for justice, peace and friendship. 
The David Webster House is also an official Heritage Site, the perfect spot for anyone with an interest in history or design.
Details: 13 Eleanor Street, Troyeville, Johannesburg.
Ghandi House
Another political activist who called Troyeville home was Indian peacemaker, Mahatma Gandhi. He lived in the suburb with his wife and children between 1904 to 1906. The Gandhi's Victorian-style double-storey, 8 bedroom home with sprawling verandah is one of the many mansion style homes situated in Troyeville. While you cannot enter the home to explore its history, its exterior offers a reflection of the quiet beauty of the area.
Details: 11 Albemarle Street, Troyeville, Johannesburg.
Mansion On Hillier Street
Make your way from the Gandhi home towards Hillier Street. Here lies a sleeping relic of bygone times. An Art Nouveau style mansion built by Swiss architect, Eugene Chappuis Metzler. The influence of the Art Nouveau movement emerged throughout Europe between 1890 and 1905. Inspired by Parisian and Venetian architecture, this home is a marvel to behold. While it is slightly run-down, it is nevertheless worthy of a visit.
Details: Hillier Street, Troyeville, Johannesburg.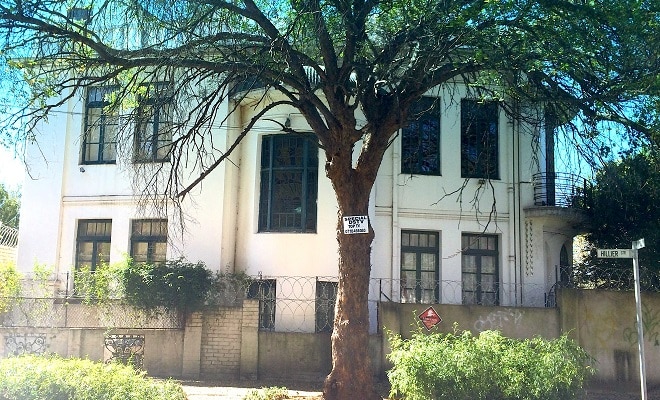 Fairview Tower
Driving along Commissioner Street into Troyeville, you will find the Fairview Fire Station where Johannesburg's first fire tower was built in 1906. The 35-metre tower was used as a lookout for spotting fires and for drying out fire hoses. It is Johannesburg's only remaining fire tower and the highest of a group of towers in the area. Unfortunately, visitors are not permitted to climb the tower, as it is a national monument. 
Details: Commissioner St, Jeppestown, Johannesburg.
Spaza Art Gallery
Finally, there is something for the art lovers. Spaza Art Gallery is a much beloved Troyeville hot spot for upcoming artists, sculptors and poets. Established in 2001, it is a symbol of the 21st-Century Troyeville. Operating as a non-profit organisation, Spaza Art Gallery provides an exhibition and networking hub for artists working in the community. Describing themselves as an eccentric backyard gallery, utilizing recycled materials with a plastic radio tower and garden café. This place hearkens back to Troyeville's bohemian roots while addressing the very real socio-economic struggles in the area.
Check out their Facebook page for upcoming events.
Details: 19 Wilhelmina Street, Troyeville, Johannesburg | 011 614 9354 | [email protected]
Have you explored Troyeville before? Let us know if we have left out any awesome spots!