Vilakazi Street
Soweto is undoubtedly one of the most culturally diverse and historic spaces in Johannesburg. If you have never taken a trip down the iconic Vilakazi Street, there is no better time than now. Littered with heritage, Vilakazi Street played home to former president Nelson Mandela and struggle stalwart Winnie Madikizela Mandela, as well as Archbishop Desmond Tutu. Pop into the Mandela House museum or visit the Hector Petersen Memorial to learn more about the rich history of Soweto and its people.
What's the best way to get around Soweto? Bicycle of course! Join Soweto Backpackers for a bicycle tour around Soweto. Their knowledgeable tour guides will guide you through the busy streets, stopping at the most important sites along the way. Click here for more information.
Ditsong National Museum of Military History
If you have ever visited the Johannesburg Zoo, we can bet that you have seen the signs directing towards the Museum of Military History. However, many of us rarely stop to explore their range of military memorabilia. Featuring 44,000 items related to South Africa's military history, this museum is a must-visit. Originally established to acknowledge South Africa's contribution to the First World War (1914 - 1918), the Museum of Military History is now the symbolic home for all veterans in South Africa. All soldiers are recognised here for their efforts - from WW2 generals through to guerrilla fighters in the Angolan War and Umkhonto weSizwe soldiers.
Come and celebrate our country's expansive, yet often overlooked military heritage. The museum is child-friendly, so you can bring the whole gang along.
Click here for more information.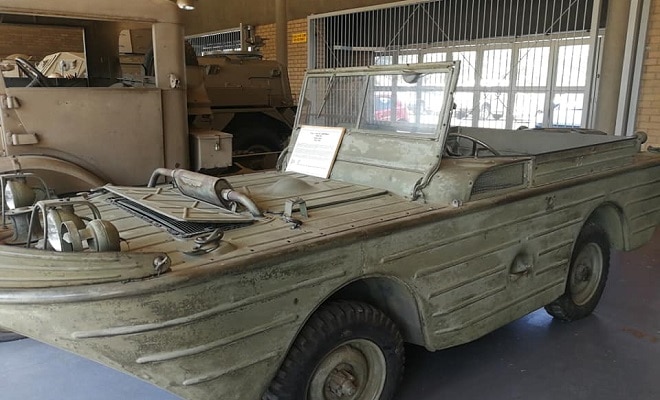 Kensington Scottish War Memorial 
The Kensington War Memorial once stood in homage to the Scottish Horse regiment which fought in the South African War (1899 - 1902), as well as both World Wars. Overlooking what was once one of the largest camps of the South African War, this statue on a hill has come to take on new meaning. It now stands as a multi-cultural heritage monument, reflecting on the lessons learnt from a dark period in history. The War Memorial has recently undergone much-needed restoration and is again open to visitors. From the peak of Caledonia Hill, where it is built, you can take in the fantastic view of the suburb below.
Lesedi Cultural Village 
Lesedi Cultural Village is nestled within the Cradle of Humankind World Heritage Site. Showcasing five traditional homesteads inhabited by Zulu, Xhosa, Pedi, Basotho and Ndebele tribes. Stop by here on your way back from a visit to the Sterkfontein Caves or Maropeng Visitors Centre. While it may be slightly 'touristy', Lesedi Cultural Village is nonetheless a wonderful place to celebrate your heritage. Join in on a song or dance performed by village residents, or pick up a memento from the market. Or, tuck into some authentic South African cuisine at their restaurant. Either way, you are sure to have a great time!
Click here for more information.
Heidelberg Heritage Museum
Heidelberg borders Gauteng and Mpumalanga. One of Gauteng's oldest established towns, Heidelberg has played an important role in South African history. The Victorian style of this quaint dorpie will have you travelling back in time to when ox wagons roamed the streets. Visit the Heidelberg Heritage Museum to discover all the town has to offer. Check out the Old Station Building - a National Monument completed in 1896. Or, sit down for a meal inside a restored locomotive dining coach. The museum also showcases some of Heidelberg's most famous visitors, including Winston Churchill, Former President Nelson Mandela and Mahatma Ghandi.
Click here for more information.
The Pioneer Museum
Finally, we have the Pioneer Museum. Situated in Pretoria East, this national museum features typical pioneer furniture, original homesteads and super cool interactive activities. Churn your own butter or make a candle out of animal lard. Alternatively, you can sit back and relax while the kids have turns feeding the farm animals. We guarantee that you will leave with a greater appreciation for modern technology.
Click here for more information.
Do you know of any other great heritage sites in Joburg worth visiting? Let us know about them!
Please note: Due to lockdown restrictions, please contact the venues above to enquire if they're open and operating, and receive information on dates and times for tours.