Ditsong Museums of South Africa
The Ditsong National Museum of Military History is the only museum of its kind in South Africa. This military history memorial is one of eight world-class museums situated in Gauteng. Managed by the Ditsong Museums of SA Institution, it stands alone as Joburg's only Ditsong Museum - the remaining seven are located in Pretoria.
The formation of a Historical Research Committee in 1940 ensured the preservation of documents and South African military memorabilia. This committee was also to lay the foundation for the establishment of the National Museum of Military History. The museum officially opened on 29 August 1947. Originally named The South African National War Museum, this memorial responded to the lack of acknowledgement of South Africa's involvement in the First World War (1914 - 1918).
In 1975, the museum expanded to include the history of all military conflict in which South Africans have played a part. It is now considered as the spiritual and symbolic home for all soldiers and veterans in South Africa.
Special Features 
The museum boasts an impressive collection of more than 44 000 items. It is divided into 37 separate categories, including the official South African war art and photograph collections. The aviation collection contains some of the rarest aircrafts in the world. For example, the Me 262 B-1a/U1 on display is the only night fighter version of this aircraft still in existence. Other categories cover such diverse fields as ordnance, armoured fighting vehicles, medals, uniforms, small arms and edged weapons. You can also marvel at displays of barrack and camping equipment, rations, religious items, gifts and comforts, military insignia, communications, medicine, propaganda and vexillology (the study of flags for those of us who are not Sheldon Cooper). Some of the most poignant displays feature military music, graves and memorials.
Another special feature is the museum library. Featuring a unique collection of books, journals and archival material, this library is a researcher's dream. Museum archivists conduct veteran interviews regularly in the library as part of an ongoing oral history collection project. This project ensures that previously unrecorded experiences of ordinary servicemen and women will not be forgotten.
An estimated 80,000 people visit the Ditsong National Museum of Military History each year. So, the next time you pay a visit to the Johannesburg Zoo, spare a thought for this iconic memorial. You may be surprised by what you find, as one of our writers was. She visited the museum on an overcast day with the kids in tow. Click here to find out what they thought of the museum.
*Entrance costs R20 for children under 12 and R40 for adults.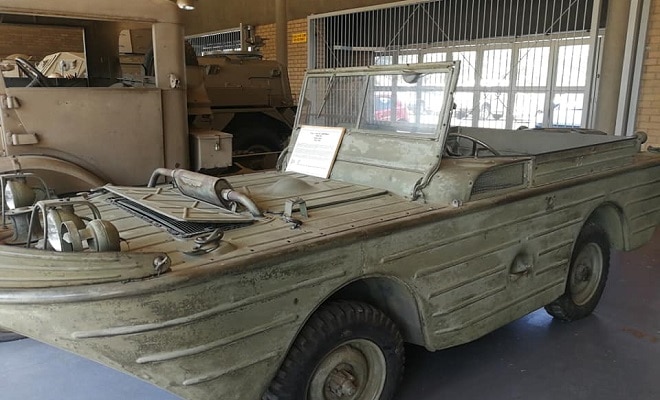 For more information
Visit the Ditsong Museums of SA website for more information - ditsong.org.za/museum-of-military-history.
You can also follow them on social media for updates on events, special exhibitions and new features:
Facebook - facebook.com/DITSONGMuseumsSA
Twitter - twitter.com/hashtag/ditsong
Instagram - instagram.com/ditsongmuseumsa
Details: +27 12 492 5744 | [email protected] | 22 Erlswold Way, Saxonwold, Johannesburg.