Modderfontein Nature Reserve
The Modderfontein Nature Reserve is a hot spot for weekend braais and family get togethers. While it does tend to get busy over weekends, the reserve is expansive enough to escape for a few hours. There are various walking and hiking trails, which take you on a tour of the reserve dam and plant life. If you are weary of walking alone, join the Modderfontein ParkRun event which takes place every Saturday morning. This 5km timed run (or walk) is a great way to get your weekly dose of sunshine, good exercise and a chance to meet new friends.
The Modderfontein Nature Reserve also offers guided walks and tours, which extend a little further into the park. Here, you can spot a number of wildlife species, including buck and rare species of birds. Once you have worked up an appetite on your walk, take a short drive over to Hops End Brew Pub. With craft beer on tap, awesome live music and a spectacular view of the reserve, this is the ultimate place to unwind over a weekend.
Details: 1 Arden Rd, Modderfontein Reserve | +2787 288 1904 | [email protected]
Farmers Market at the Franz Hoenig Haus
The Modderfontein Farmers Market takes place on the last Saturday of every month. Hosted in the tranquil gardens of the Franz Hoenig House, here you can enjoy delicious fresh food, family fun and the outdoors. The spectacular architecture of this home is well worth the visit. One of the oldest restored houses in Gauteng, the Franz Hoenig Haus is now used as a private business centre and events venue.
The next Modderfontein Farmers Market takes place on Saturday, 30 November 2019 at 09:00, bringing you Christmas time cheer, stocking fillers and yummy, wholesome treats. Bring the whole family along. Entrance is free and there is ample parking available.
Details: Modderfontein Farmers Market, Franz Hoenig Haus Gardens, High Street, Modderfontein, Johannesburg | 073 234 9994 | [email protected]
The Dynamite Company

Museum
Modderfontein was originally a dynamite mining village. Established in 1894, it had the first dynamite factory in the country. Today, the AECI dynamite factory continues to operate. You can visit the AECI Dynamite Company Museum, which is located on Modderfontein's quaint Main Street in the original home of the first factory manager. Housing historical artifacts and plaques that tell the explosive story of dynamite, starting with its invention in 1867 by Swedish scientist Alfred Nobel, the museum tracks how the industry evolved. The museum sits on the property of the grand Franz Hoenig House. Unfortunately, the museum isn't open to visitors over weekends, but you can stroll through the scenic gardens, admiring the details of the house.
The Museum is open on Monday, Tuesday, Wednesday and Friday from 08:00 - 12:00. Bring the kids along for a fun adventure during the school holidays.
Craft Beer & Gourmet Burgers
The Green Craft Bar at Modderfontein Golf Club is the place to visit with a group of friends over the weekend. Think craft beer and cocktails, gourmet burgers, epic pizzas and an awesome view of the golf course. If there is one menu item which you must try, it's the Peanut Butter Burger - honeyed back bacon, with a peanut butter marinated patty, onion, avo, tomato and cheddar. Don't knock it, till you've tried it. Green Craft often screens big sports matches over the weekends too, so come through for an electric atmosphere, lots of shouting and good company.
Details: Modderfontein Country Club, 1 Centenary Rd, Modderfontein, Johannesburg | +27 82 446 3768
Go Ape 
Aerial parks are all the rage right now. So, why not bring the kids to Modderfontein's Go Ape branch over the weekend? They can let out some steam and brimming energy while you sit back and enjoy the fresh air. There are four courses to choose from, sorted according to age appropriateness and difficulty. Kiddies aged 4 - 8 can test their balancing skills on the Green Course, which features 21 obstacles. The most popular course caters to 8 - 12 year olds, offering 22 aerial challenges. Teens can have their fill of fun here too, on the Blue or Purple courses. The course can fill up quickly over weekends, so it's best to arrive early.
Details: Corner of Valley Rd & Johannesburg Rd, Modderfontein, Johannesburg | 072 5440 415 | [email protected]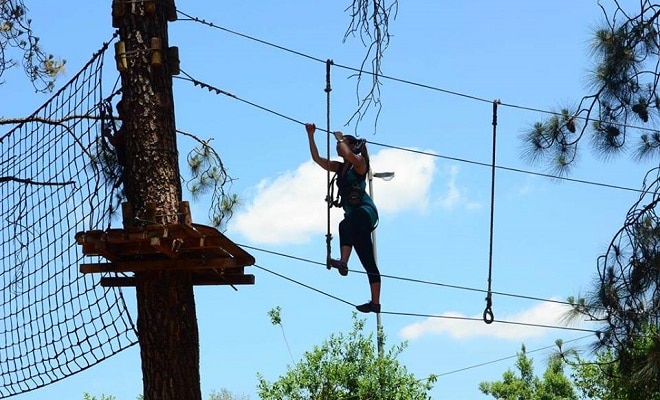 Do you know of any other awesome weekend hangouts in Modderfontein? Let us know about them!