There's nothing quite like sipping on a cocktail while overlooking the Joburg skyline. The Ivy Champagne Garden in Bedfordview offers this amazing experience and so much more. The restaurant's relaxed and intimate atmosphere is ideal for romantic date nights, corporate functions and events. The Ivy is also now open for breakfast and lunch, making it the perfect spot to meet up with friends or family. If you live on the east side of Joburg, The Ivy is the place to be. Even if you don't call this side of the city home, it's still a great place to relax and have a good time. Let's take a closer look at what The Ivy Champagne Garden has to offer:
Spectacular views
The Ivy is located at the iconic HQ Building in Bedfordview. The rooftop venue overlooks most of the surrounding suburb, with spectacular views of the Joburg skyline in the distance. You can spot most of Joburg's landmark buildings from here, especially at night when the city lights create a brilliant twinkling backdrop. The sunset views from the Ivy are quite remarkable, too. If you've been searching for the perfect place to unwind after a long day's work, this is it.
Their drinks menu is extensive and caters to a wide variety of tastes. Whether you are a verified wine connoisseur, a whisky tippler or a champagne queen, you'll be well catered to here. We highly recommend that you give the Ivy's signature cocktails a try. The Cointreau Berry Basil Fizz packs a punch and will have you feeling mellow as the Joburg sunset in no time. Of course, there are an array of non-alcoholic drinks on the menu as well. Order the caramel popcorn and marshmallow milkshake if you're feeling indulgent. It's an absolute treat.
Tapas and tunes
The Ivy Champagne Garden knows how to throw an epic party. The host regular live music sets, private events and grand birthday bashes. Come out and enjoy their popular tapas menu while you soak up the warming sun and the sultry sounds of music and good conversation. The Asian meets Mediterranean inspired menu includes a tasty selection of "little plates", sushi, platters and hearty mains.
The sharing culture is great for family events as everyone gets a taste of what's on the table. If you're feeling collectively peckish, we recommend the Ivy Rooftop Platter - Panko crumbed chicken, salt and pepper calamari, halloumi and chorizo skewers, mozzarella peppadew balls, onion rings and skinny fries. You can easily feed up to four people with a platter like this, making it well worth your bank balance to order one or two for the table.
The Ivy is surprisingly a great venue to tuck into Sunday lunch with the family as well. Their mains menu offers a variety of steaks and grills, seafood and pasta dishes. Paired with one of their fresh salads, it's the ideal late afternoon meal. Finish things off with a dessert or two. We've heard a few raving reviews of their baklava cheesecake and Belgian waffles. We'll definitely be stopping by soon to try them for ourselves. If you happen to make it there before us, leave a comment below telling us about your experience!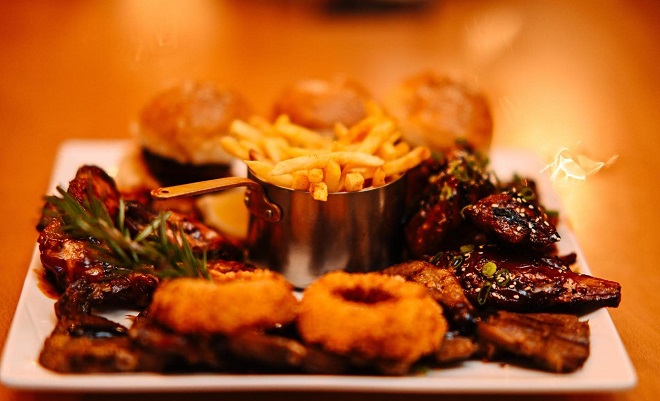 For More Information
Follow The Ivy Champagne Garden on Facebook or Instagram to stay up to date with events and menu specials. You can make a reservation on their website or by contacting them on:
(Tel) 010 203 9054 | [email protected]
Address: HQ Building, Block A, 3rd Floor, 2 Arbroath Rd, Bedfordview, Germiston.