1. Their Tea For Two Is A Must!
Looking for a spot to get together with a friend for a long overdue gossip session? Then why not consider visiting the Secret Tea Garden and indulging in their decadent Tea for Two offering! At R200*, the Tea for Two includes slices of cake, scones, a selection of biscuits and sandwiches, all beautifully displayed and served with your choice of either Ceylon tea or filter coffee. Best of all, other than all the delicious treats, this is an affordable high tea that's sure to delight.
Want something more filling? Their main menu focuses on a selection of breakfasts and light meals, as well as lovely salads, burgers and sandwiches.
Click here to view their menu.
2. Beautiful Event Venue
Now, if you're looking for a lovely space to host a baby shower, a bridal shower, a birthday celebration, picnics, christenings, corporate functions, whatever, the Secret Tea Garden offers just the space. Events at the Secret Tea Garden last for three hours and they supply the tables, chairs, gazebos, white table cloths, cutlery and crockery, as well as basic flower arrangements. Don't forget to arrange catering with them too.
Click here for more information about functions at the Secret Tea Garden, booking fees, booking procedures and more.
3. Plenty of Fresh Air!
What we love about the Secret Tea Garden is the fact that most of the seating is outdoors, meaning you not only get to enjoy the lovely Jozi weather, but can take in the fresh air, admire nature and unwind with your perfect G&T from their Gin Bar. Relax on their terrace overlooking the green manicured lawns, or why not lay on the grass and do some cloud gazing or bask in the sun for a little while?
4. It's An Escape From The City
You wouldn't think that you're in the heart of Fourways at this lovely hidden gem. Although it is located just off of busy and bustling William Nicol Drive, the Secret Tea Garden is a quiet, relaxing and tranquil space where you can escape the rush of the city and just spend time surrounded by nature and peace.
5. It's Family-Friendly
Not only is this a great space to escape the rush of the city, indulge in a Tea for Two, and host a celebration, but it's also child-friendly. They have a great kiddies menu with a selection of tasty dishes including spaghetti bolognaise, toasted cheese, burgers, hot dogs, and egg on toast. And that's not all! After they have had their fill, they can rush off to the impressive Play Park and amuse themselves, allowing parents a much needed break.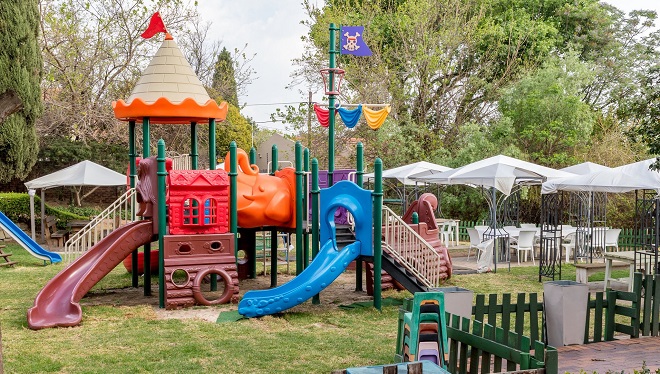 For More Information
For more information about the Secret Tea Garden in Fourways, visit www.secretteagarden.co.za.
You can contact them on 011 467 1191 or [email protected].
Don't forget to follow them on Facebook.
Operating hours: 
Monday: CLOSED
Tuesday and Thursday: 09:30 – 16:00
Wednesday and Friday: 10:30 – 17:00
Saturday and Sunday: 08:00 – 17:00
Address: 16B Penguin Drive, Norscot Manor, Fourways, Johannesburg.