A Countryside Escape
A must to add to your Harties bucket list, Almost Orange Tapas and Wine Restaurant nestled in a working citrus orchard is a beautiful spot that is most definitely worth the drive. Especially when the orange trees are in full bloom. It's a unique and stunning location, making it the ideal backdrop for a romantic date with that special someone or even for a birthday celebration or anniversary.
Here, you can enjoy tapa platters that are perfect for sharing with your companion or perhaps even try one of their scrumptious light meals from the menu. Also, don't forget to enjoy the beautiful scenery this spot has to offer! If you're not sipping on a G&T and delighting your taste buds with tapas, you're then walking the orchards, taking in nature, soaking up the Harties sunshine, and just enjoying the moment. We kid you not, it feels as if you have been teleported to heart of Italy. It's a absolute must, just for the visit.
The Menu
the menu offers a delicious selection of options that'll leave your taste buds wanting more. Also, everything sounds so delicious that you will feel spoiled for choice in choosing what you want to indulge and savour first. To start off your visit, a drink is most certainly in order. They offer a wide selection of refreshing gins, premium liquor, craft beer, crisp bubbles and hand-selected wines that's sure to suit and delight any preference and palate.
As for meals, you'll want to sample and savour everything on the menu. If you're dining out with your partner, friend or family member, start off your meal with the Almost Orange Platter (R318*) – this treat includes duck and fig samoosas, chickpea fritters, tempura zucchini, tzatziki, spanakopita, and fillet skewers. You can also order this in a half portion for R205*. Next up, are the small plate items on the menu. We had a difficult time picking what we wanted, but finally settled on the Biltong & Butternut Tart (R79*) – butternut, biltong and feta in herb pastry crust – and the Pulled Pork Belly Springrolls (R79*) – pulled pork belly, vegetables and teriyaki sauce, Absolutely delicious!
And no meal is complete without some dessert! If you're craving something rich, dark and decadent, the Belgian Chocolate Tart served with vanilla ice cream (R85*) will have you coming back for more. The Classic Crème Brûlée (R64*) is perfect for those who enjoy traditional delights. But, if you'd like to enjoy and sample a selection of desserts, the Dessert Platter (R190*) is a must, offering three different desserts of your choice from the dessert section.
To see what else you can expect to find on the menu, click here to view the full menu.
Please note: All salads and platters serves two.
Operating Times
Mondays to Fridays, they host beautiful weddings. But on weekends, you can pay them a visit and experience Almost Orange yourself. Just be sure to book your table well in advance, as this is a very popular spots over the weekend.
Click here to make a booking at Almost Orange.
Operating times are as follows:
Kitchen: Saturday 11:00 – 16:00 | Sunday 11:00 – 16:00
Bar: Saturday 11:00 – 16:00 | Sunday 11:00 – 16:00
Please note: No tables larger than 20.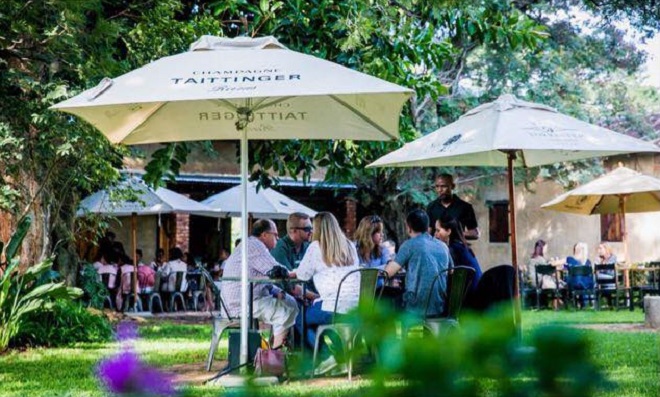 For More Information
For more information about Almost Orange Tapas and Wine Restaurant, visit their website at almost.silverorangebistro.co.za.
You can also contact them on email at [email protected] or by calling 072 462 1891.
Please note: Bookings are essential. No under 16s are allowed at the restaurant.
Don't forget to follow them on their social media platforms – Facebook and Instagram – to keep up to date with the latest news, offers, food inspo and more.
Images from Almost Orange Tapas and Wine Restaurant via Facebook.