Johannesburg has a rich, diverse and unique history, beginning with being founded in 1886 as a 19th-century gold-mining settlement during the Witwatersrand Gold Rush. And most of the city's well-known tourist attractions are centred around our eventful past and how our beloved Jozi came to be.
There are many must-visits you need to add to your to-do list when visiting the city of Johannesburg. Take a trip to the Nelson Mandela Square in Sandton and take pictures standing next to the 6m tall, bronze statue of former President and anti-apartheid activist, Nelson Mandela. Go an a safari drive at a nearby game reserve merely minutes away from the city and have fun spotting the Big 5. Even visit Gold Reef City, not just for their thrilling theme park, but also for their insightful guided heritage tour that'll take you through the history of the Gold Rush and let you explore an actual gold mine!
What Are You Looking For? 
Heritage Points of Interest
Heritage Tours
Museums
Game Reserves
Points of Interest
Orlando Towers
One of the top highlights of visiting the city of Johannesburg is heading to the iconic Orlando Towers in Soweto. Not only are they a beautiful spectacle of street art, but this spot also offers thrilling activities that'll get your heart racing. Pluck up the courage, get strapped up and secured, and do a 100m bungee between the cooling towers. You can also brave a SCAD freefall or base jumping. Looking for something a little less terrifying? Spend your afternoon enjoy a few rounds of paintball, wall climbing, or taking in the stunning 360 degree views of the city from the top of one of the towers.
Mandela's House
8115 Orlando West, corner of Vilakazi and Ngakane Streets, Soweto. An address that has been woven into South Africa's history. This is where former President Nelson Mandela lived from 1946 to 1962, and where you'll find the Nelson Mandela National Museum today. This world-class attraction preserves the historical heritage and legacy of the Mandela family and presents it with a collection of memorabilia, photographs, paintings and research within the four inter-leading rooms of the home.
Constitution Hill
Take a journey back into South Africa's turbulent history and travel through the transition into our democracy at Constitution Hill in Braamfontein. Also known as Con Hill, this space is a museum and is the site of the notorious Old Fort prison, Number 4 prison and the Women's Gaol. It's also home of the Constitutional Court of South Africa. Apart from the exhibitions, the public can also get the opportunity to explore with guided tours. This venue has become an important platform in preserving and showcasing our heritage through education and tourism related programmes.
Johannesburg Art Gallery
Being the largest gallery on the continent, the Johannesburg Art Gallery (JAG) located in the centre of Joubert Park boasts over 9 000 artworks, displayed across 15 exhibition halls and sculpture gardens. Here, you can expect to see everything from artefacts, sculptures, drawings, paintings, prints and lacework to 17th-century Dutch paintings, 18- and 19th-century British and European work, as well as contemporary South African art. Keen on exploring this space? Tours through the gallery are available, but ensure that you make your bookings in advance.
Visit the Johannesburg Art Gallery.
Nelson Mandela Bridge
When travelling into Johannesburg Central, be sure to take a drive along the Nelson Mandela Bridge. Linking bustling Braamfontein to vibey Newtown, this is the largest cable-stayed bridge in the country, crossing over the 42 railway lines and carrying two lanes of traffic, two sidewalks, and a bicycle lane. It's a lovely sight by day, but come night, this bridge lights up the Johannesburg cityscape!
Johannesburg Botanical Gardens
Get a little fresh air and stretch those legs at the Johannesburg Botanical Gardens at the Emmarentia Dam. It's a lovely space to explore, view and admire all the greenery, fauna and flora. It boasts one of the finest plant collections in the world, complete with over 30 000 trees, a large rose garden, indigenous variants and succulents, and herb garden. It's also a lovely spot where visitors can get their daily dose of exercise, enjoy a lovely picnic with the family, or even watch the Summer Sunset Concerts featuring a lineup of local and international acts that's sure to delight.
Sandton City
One of the most visited and prestigious shopping destinations on the continent, boasting world-class shopping, amazing restaurants and only the best in local and international brands, the ever-popular Sandton City Shopping Centre is an absolute must on your to-do list when visiting Johannesburg. This retail hub attracts visitors from across the country and the world, all within close proximity to busy business centres, top-notch accommodation and other nearby entertainment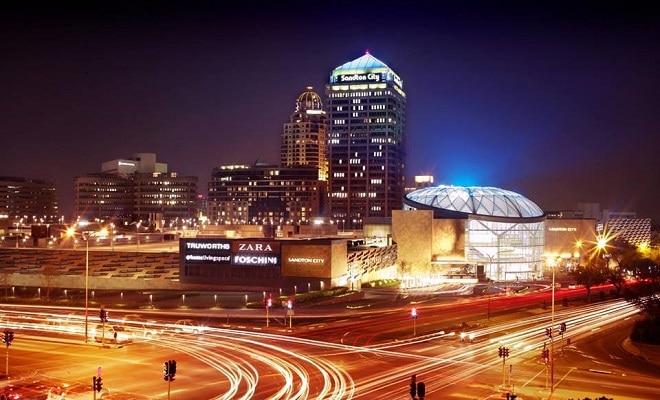 Nelson Mandela Square
Adjoined to the well-known Sandton City Shopping Centre is Nelson Mandela Square, which is home to a 6m tall bronze statue of former President and anti-apartheid activist, Nelson Mandela. This statue attracts visitors from all over the world, just for the opportunity to get a picture standing next to this popular feature on the square. After taking photos of and admiring the statue, why not dine out at one of the lovely restaurants scattered around the square?
Heritage Tours
City Sightseeing Johannesburg & Soweto
One of the best ways to explore Johannesburg and all of its unique points of interest is hopping on and off the red double decker City Sightseeing bus! There's a variety of ticket options for you to choose from, ranging from one day trips to combo deals, ensuring that you experience the exciting parts of the city with ease. with over 16 stops and over 20 of Johannesburg's top attractions to visit, City Sightseeing Johannesburg & Soweto is a safe, fun, educational and convenient way to venture into the city.
Visit City Sightseeing Johannesburg & Soweto.
Gold Reef City
Other than the buzzing casino and thrilling theme park, Gold Reef City offers local and international visitors the opportunity to explore a Joburg's heyday. Joburg is known as being the hive of activity during the 1886 Gold Rush, and what better way to get insight into and explore this exciting period of our past than with Jozi's Story Of Gold heritage tour? Descend into an old gold mine and discover the riches of our country's history. Plus, you'll also get the opportunity to experience the magnificent glow of a live gold pour.
Cycle In Soweto
Explore the famous Soweto township by bicycle with Cycle in Soweto. These private bike tours allows tourists and locals to experience the area in a whole different way, give the opportunity to have real personal interactions with the Soweto locals, enjoy some fresh air and sunshine, and even get a little bit of exercise while pedaling from one stop to the next. This is a unique township experience that you certainly need to add to your adventure bucket list.
Museums
Wits Origin Centre Museum
For a unique history lesson, the Wits Origin Centre Museum explores and celebrates the history and evolution of modern humankind. Visitors will be able to explore and view collections of ancient stone tools, artefacts of symbolic and spiritual significance, and visually striking rock art.
Visit Wits Origin Centre Museum. 
Lindfield Victorian House Museum
The Lindfield House Victorian Museum in Auckland Park will take you back in time to the days of a bygone era, offering a unique and interesting tour you won't experience anywhere else in the city. This is one of Joburg's best-kept secrets and an absolute must-visit if you're looking to do a little time travelling! And as if the tour of this 'time capsule' isn't amazing enough, you'll get to enjoy delicious sausage rolls, fluffy scones with jam and cream, and scrumptious cake at the afternoon tea. Click here to find out what more to expect.
Visit the Lindfield Victorian House Museum.
Absa Money Museum
Explore the history of money in South Africa at the Absa Money Museum situated in the Johannesburg CBD. This is home to the most complete collection of South African numismatic items in the world. The museum's history goes back to the beginnings of trade in the city. Displays include ranges of early money forms such as Cowrie Shells and Venetian glass beads, as well as golden coins retrieved from sunken ships.
The Ditsong National Museum of Military History
The Ditsong National Museum of Military History is a treasure trove of military-related journals, weapons and photographs from a number of wars in South African history. There's also an impressive collection of fighter planes, tanks and even a submarine for you to view. The museum is also regarded as the spiritual and symbolic home and memorial for all the brave South African soldiers and veterans.
Visit the Ditsong National Museum of Military History.
James Hall Museum of Transport
The James Hall Museum of Transport in La Rochelle is the largest and most comprehensive museum of land transport in South Africa. This museum offers motor enthusiasts and inquisitive children insight into what transportation in early Johannesburg was like. Once you have thoroughly explored the displays, head over to the museum's gift shop. Here, you can find postcards and transport-related trinkets to take home.
Visit the James Hall Museum of Transport.
The Adler Museum of Medicine
Have an interest in medicine and its history? Then be sure to visit The Adler Museum of Medicine, housed at the University of the Witwatersrand's Medical School Campus in Parktown. This museum preserves the history of the health sciences in South Africa and showcases interesting and invaluable collections of medical items from the fields of medicine, dentistry and pharmacy.
Visit the Adler Museum of Medicine.
Cradle of Humankind
The Cradle of Humankind offer visitors plenty of activities and exhibits to explore. Start off your visit at the world-class Maropeng Visitor Centre, that will take you on a journey through mankind's development over millions of years. This offers visitors the chance to view world famous fossils and interesting stone tools discovered in the Sterkfontein Caves. Famous fossils includes the discovery of Mrs Ples and Little Foot. You can also explore these caves for yourself!
Visit the Cradle of Humankind.
Game Reserves
One of the most popular tourist attractions in South Africa involves travelers and locals alike, heading out into the bushveld and enjoying safari drives, spotting the Big 5 and reconnecting with nature. For all of your outdoor and safari needs, take a look at our extensive destination lists below: