Protea Hotel Fire & Ice By Marriott Johannesburg Melrose Arch
There are few places offering as decadent milkshakes as Protea Hotel Fire & Ice at Melrose Arch. With more than 30 milkshakes gracing their menu, you'll be spoiled for choice. Options come in crazy and interesting flavours and include alcoholic options. Some of our favourite options include Ouma en Oupa (carrot cake and rooibos) and the Bee's Knees (dark chocolate, orange and honeycomb). For an alcoholic option, try the Russian Roulette with a dash of caramel vodka.
Details: 011 218 4000 | Protea Hotel Fire & Ice! by Marriott Melrose Arch, 22 Whitley Street, Melrose Arch, Johannesburg | www.marriott.com
Craft
For a yummy Freak Shake that is worth every calorie, head to Craft in Parkhurst. Available in four decadent flavours, these are a must-try. Sip on the Candy Carnival, Turkish Delight, Chocolate Overload and Salted Caramel Delight, all piled high with desserts, sweets, chocolate and sprinkles. If these are a little too over the top and sugar loaded for you, worry not. Craft also has a selection of 'regular' milkshakes, such as the Oreo Cookie and the Rolo Shake.
Details: 011 788 7111 | 33 4th Avenue, Corner 13th Street, Parkhurst, Johannesburg | [email protected] | www.craftrestaurant.co.za
Kota Joe Roadhouse
This roadhouse has always been famous for their fabulous and interesting milkshakes. Having recently launched a new menu, they'll definitely have something to keep your sweet tooth coming back for more. Popular options on their milkshake menu include Nutella, Cookies & Cream, Ferrero Roche and Oreo & Peanutbutter. But their newer menu items include such gems as Black Forest, Peppermint Oreo, Top Deck, Milk Tart and Custard Crunchie.
Details: Branches can be found in Boksburg, Edenvale and Auckland Park | [email protected] | www.kotajoe.co.za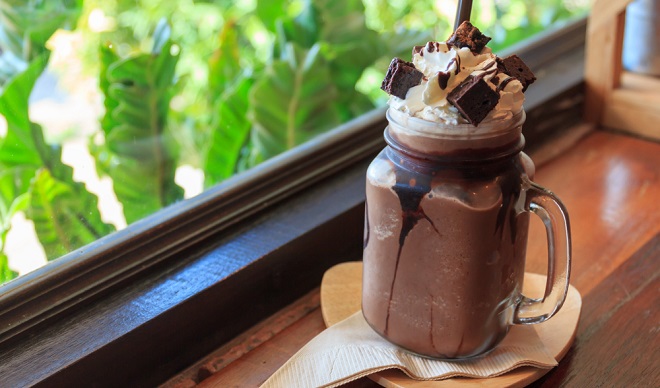 Hudsons The Burger Joint
If you're close by, do yourself a favour and stop by Hudsons and order one of their magnificent milkshakes. Their milkshake selection features varieties such as the Chocolate Brownie, Salted Caramel Popcorn, Cookie Monster, Nutella Waffle and Strawberry Candyfloss. Pair this with any one of their gourmet burgers and you're in for a treat. And, if you're vegan, you can delight in the yummy Vegan Oreo Shake with a delectable side of vegan Panko Crumbed Wings.
Details: Branches can be found in Parkhurst and Bedfordview | theburgerjoint.co.za
Brooklyn Brothers
Another burger spot makes it onto this list in the form of Brooklyn Brothers. Milkshakes and burgers has got to be one of the best combos of all time, wouldn't you agree? Crazy Shakes on offer include the Brooklyn Heights (topped with choc fudge icing, whipped cream, a Kit Kat finger and a toasted doughnut), the Harlem Split (caramel and custard blend, choc icing rim, whipped cream, banana, cherries and sprinkles) and the Red Hook (berries, cream cheese icing, candy coated mini chocolates, whipped cream and a sour belt skewer).
Details: 011 615 0536 | Bedford Centre, Corner of Smith Road and Van der Linde Road, Bedfordview, Johannesburg | [email protected] | brooklynbrothers.co.za
Dukes
Dukes is yet another spot on this list that pairs burgers and milkshakes. Their range of milkshakes include regular options like Vanilla, Bubblegum and Strawberry as well as gourmet milkshakes like Strawberry Cheese Cake, Nutella & Pretzel and Chocolate Ganache. If it's been a rough week, you can also opt for the alcoholic concoctions, which include the James Dean, Marilyn Monroe and John Wayne.
Details: Branches can be found in Greenside and Melville | dukesburgers.co.za
Burgerack
There are four mouthwatering Monster Shake options to choose from at Burgerack – The Waffle Shake (waffle, peanut butter, honey and banana), The Candyfloss & Bubblegum Shake (candyfloss, bubblegum and Astros), The Caramel Popcorn Shake (caramel popcorn and chocolate sauce) and The Choc Crunchy Shake (honeycomb, Astros and chocolate sauce). Apart from these, they also offer eight regular milkshake flavours.
Details: Branches can be found in Klerksdorp, Rosebank, Alberton, Sandton, Benoni and Johannesburg South | [email protected] | www.burgerack.co.za
Walnut Grove
Walnut Grove has been a go-to destination at Sandton City for many years, and for good reason. Their shakes are made with real Italian gelato and comes in nine flavours - Strawberry Cheesecake, Milk Tart, Walnut Brownie, Malva Pudding, Black Forest, Choc Mint, Iced Coffee, Chocoholic and Snowball. If this isn't enough to get you into a sugar coma, then order a decadent cake slice to pair with your drink.
Details: 011 783 6111 | Sandton City Shopping Centre, Corner 5th and Maude Streets, Sandton, Johannesburg | [email protected] | walnutgrove.co.za
Mike's Kitchen 
Mike's Kitchen may not be the first place that comes to mind when thinking of decadent and indulgent milkshakes. But all that is about to change. Mike's Kitchen offers eight Original Milkshakes, four Supreme Milkshakes and four Over 18 Shakes. Little ones will delight in the Peppermint Crisp Caramel shake (vanilla shake loaded with crushed Peppermint Crisp and caramel sauce) while the adults sip on the Springbok Penalty (vanilla ice cream, mint liqueur and a double tot of Amarula).
Details: 010 492 3793 | Branches can be found in Boksburg, Bryanston, Florida Glen and Parktown, among others | mikeskitchen.co.za
Want more? Check out our vegan milkshake article to find the most delectable vegan shakes in the city.
Remember that our "Top Picks" are not paid for and are compiled at the discretion of the journalist. We only write about what we love.
What is your favourite spot to grab a milkshake? Let us know in the comments section below!