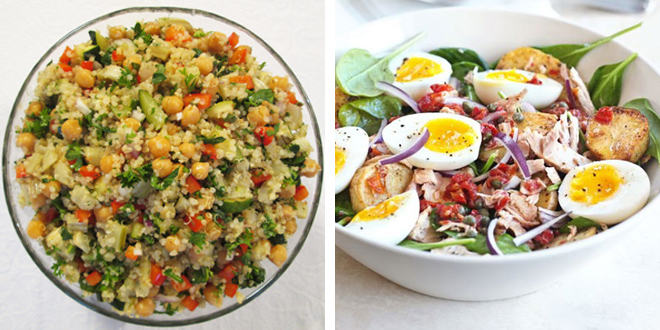 Life Grand Café
Life's Grand Café's salad bar is amazing enough to turn any die-hard carnivore into a veg lover (for one meal, at least). Here's how it works: you get a base of lettuce, tomato and cucumber and can then pick four toppings. It's always a tough choice deciding what to fill your bowl with. From beetroot and olives to veggie chips and Danish feta, there's plenty to choose from. You can also add a protein to your salad if you like (for a bit extra).
Where: Waterfall Corner Mall, Corner of Maxwell and Woodmead Drives, Woodmead, Johannesburg.
Hyde Park Corner, Corner Jan Smuts Avenue and William Nicol Drive, Hyde Park, Johannesburg.
Mall of the South, Corner Swartkoppies Road and Klipriver Drive, Aspen Hills Near South, Mulbarton, Johannesburg.
For more information, click here.
Rockets Express
Rockets Express is also a build-your-own salad bar. You choose everything – base, toppings and dressing, but if you don't want to make your own, they've got some options on the menu that have been thought out on your behalf. The Veg Loco, with grilled vegetables, cherry tomatoes, olives, feta, red onion and mixed peppers, dressed with an olive oil and balsamic vinegar sounds like the perfect pick if you ask us.
Where: 24 Central, Corner of Gwen Lane & Fredman Drive, Sandown, Sandton, Johannesburg.
Melrose Arch, Corner Corlett Drive and M1 Highway, Melrose, Johannesburg.
For more information, click here.
La Vie En Rose
La Vie En Rose is great for two reasons (okay, more, but we're going with two for now): their lush, outdoorsy setting… and their salads. They've got a range of options, but the one that sticks out most (for us, anyway) would have to be the Bunny Hop, which is sweet oven-roasted butternut with Danish feta, avo, couscous, walnuts and honey mustard dressing. Yum!
Where: 60 5th Street (Killarney Country Club) Johannesburg , 2196
For more information, click here.
JB's Corner
The menu at JB's Corner really has something for everyone – and that goes for their salad department, too. From grain-free options to meaty delights and even a calamari salad, you're certainly spoilt for choice here.We love Shoot The Breeze, which is your grain of choice (quinoa, please) with balsamic roasted butternut, feta, Parmesan shavings and avo. Just a warning: their salads are huge!
Where: 3 High Street, Melrose Arch, Johannesburg.
For more information, click here.
Krunch
You don't normally think of healthy foods when you think of a food court, but Krunch is an exception. This place screams health and their salads are nothing short of fab. You can design your own salad if you like… they have a fantastic range of options, including seared tuna, cottage cheese, sundried tomatoes and rare roast beef. Our top pick would have to be one of their pre-made salads – the Seared Salmon and Almond one, to be exact. It comes with baby spinach, cucumber, red onion, Danish feta, sundried tomatoes, seared salmon and roasted almonds.
Where: Food Court, Sandton City, Corner 5th and Maude Streets, Sandton, Johannesburg.
For more information, click here.
Tashas
Tashas is one of those something-for-everyone places… and their salads definitely don't fall short in this regard. From Thai beef options to Nicoise creations, it's easy to feel overwhelmed when choosing! May we suggest a salad? Okay, great! Have the Heirloom Halloumi – heirloom tomatoes, Middle Eastern spiced halloumi, fennel, cucumber, red onion, pomegranate, mint and pomegranate dressing.
Where: There are many Tashas branches, follow the link below for more info.
For more information, click here.
Thyme On Nicol
Thyme on Nicol is a great place to pop past when you're in need of a healthy on-the-go lunch or want to sit down and eat a nourishing salad. They offer a wide range, including sashimi salads if you feel like sushi without the carbs. Our pick at this place has got to be the Salmon and Avo salad, which is smoked salmon and avo on Asian lettuce with red onion, sweet potato strings, capers and a lemon mustard dressing.
Where: Corner William Nicol and Republic Roads, Bryanston, Johannesburg.
For more information, click here.
Salvationcafe
Situated in a stunning courtyard, Salvationcafe's food offerings are drool-worthy. Pull up a chair and get ready for some tough choices. Do you pick the Tuna and Chickpea Salad or the Classic Ceasar? We'd go for the Citrus and Almond Salad, with peppers, cherry tomato, cucumber, fresh beans, spring onion and avo… with added free-range chicken.
Where: 44 Stanley Avenue, Milpark, Johannesburg.
For more information, click here.
Kauai
Ever since Kauai revamped their look, feel and food offering, we just can't seem to stay away from them! We love that you can customise your salads to suit your personal taste – pick a base, four fillings, crunchy topping, dressing and add a protein if you like. We like to make my own creation up, with house greens, rosa tomatoes, carrots, radishes, broccoli, seed mix, olive oil and a free-range boiled egg.
Where: There are plenty of Kauai branches, follow the link below for more information.
For more information, click here.
Doppio Zero
Doppio Zero has got plenty of options, from classic capreses to rump and rocket options… chances are whatever you're in the mood for is already on the menu. The Prawn, Avo and Pawpaw salad is simply divine – served with grilled prawns, pawpaw, baby greens, avo, red onion and a red wine vinaigrette.
Where: There are plenty of Doppio Zero branches, follow the link below for more information.
For more information, click here.
Greenside Café
Greenside Café is a haven for salad lovers. This vegan restaurants serves up super-filling and well thought out healthy options. Check out their salad offerings – you won't be sorry. The Wakame Seaweed Salad is a must-try… with rice noodles, tomatoes, carrot, beetroot, cucumber, gamasio and sesame oil, the gluten-free goodness is as tasty as it is nourishing.
Where: 34 Gleneagles Road, Greenside, Johannesburg.
For more information, click here.
By Nikki Samakosky