Vegan Bowls 
The Fussy Vegan
When driving through Jan Smuts Avenue in Blairgowrie, it's easy to pass by The Fussy Vegan without a second glance. But this vegan eatery, hidden away at a petrol station, is certainly worth another glance, and a visit. Serving up a delightful range of vegan snacks, burgers and confectionery, this is a one-stop vegan haven. Their menu boasts several bowl options, but we are enamored with the Poke Bowl. With sushi rice, mango chunks, cashews, creamy avo, edamame beans, teriyaki soy sauce, sushi ginger and carrot roses, this is a must-try vegan delight.
Contact details: The Fussy Vegan | 060 716 6029 | Caltex Waterfall, Jan Smuts Avenue, Blairgowrie | [email protected] | Facebook
Doppio Zero
Doppio Zero has become the go-to for vegan and vegetarian meals. With the wide and delicious vegan offerings, we are not surprised. One of the items on their vegan menu is the Rainbow Bowl. Served with a trio of quinoa, pearled couscous and buckwheat, lightly tossed with chimichurri tofu, roasted beetroot, blistered cherry tomatoes, avo and nigella seeds. This delightful bowl is dressed with a creamy green hummus and an earthy tahini drizzle. The nuttiness of the grains combine beautifully with the sweet vegetables and the nigella seeds add a finishing touch that perfects the dish.
Contact details: Doppio Zero | 011 486 4119 | Various locations | [email protected] | https://www.doppio.co.za
Kaylee's Eatery
This vegan eatery in Bedfordview has grown in popularity since its initial opening. Serving an all day breakfast, thick and creamy milkshakes, gourmet burgers and indulgent hot drinks, this is a must visit for any vegan or vegetarian. They prepare six sumptuous Power Bowls that are all worth a try. We recommend the Falafel Bowl, with deconstructed falafel mix, cherry tomatoes, marinated cucumber brunoise, red onion, olives and grilled aubegine. All of this is lightly tossed in a creamy coriander and tahini dressing.
Contact details: Kaylee's Eatery | 011 524 7603 | 147 N Reef Rd, Bedfordview | Facebook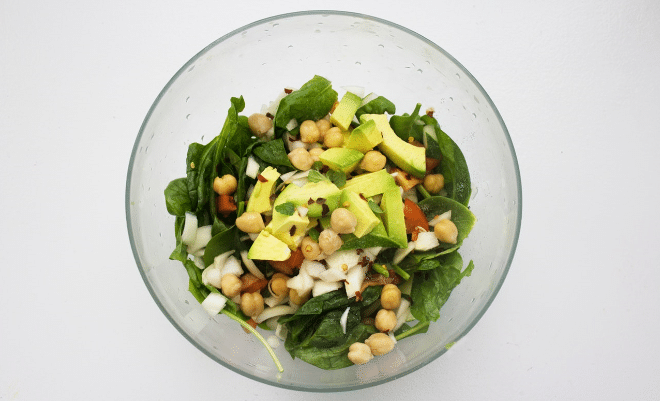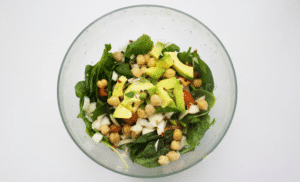 Vegetarian Bowls
Mugg & Bean
Mugg & Bean has long been a South African favourite. With their giant muffins, bottomless coffee and generous cake displays, we can see why. The restaurant now serves a selection of salads, smoothies and summer slushes in an effort to bring healthier options to their menu. One of our favourite bowls is The Benedict Bowl. This delight features fluffy cous cous, wilted baby spinach, roasted baby tomatoes and slivers of avocado topped with poached eggs, hollandaise sauce and basil pesto.
Contact details: Mugg & Bean | 0860 672 326 | Various Locations | https://themugg.com
Lexi's Healthy Eatery
This restaurant caters to all dietary requirements, from vegan and vegetarian to meat eaters. This makes the eatery a go-to for any group of mixed eaters. Often left out vegetarians will adore the many options to choose from. One such option is the Farmer's Breakfast Bowl. This early morning meal is a mishmash of grilled mushrooms and tomatoes, roasted potatoes and avocado, blanketed in vegan hollandaise and sumac. All this is topped with a poached egg, but vegans may opt for a tofu scramble instead.
Contact details: Lexi's Healthy Eatery | 083 300 1210 | Various Locations | [email protected] | https://lexiseatery.com
tashas
Another restaurant accommodating all dietary requirements, tashas is a solid choice for any vegetarian or health fundi. The focus of this restaurant is simple food made with simple and good quality ingredients. The freshness of the ingredients can be tasted in every bite of the Feta Quinoa Fritter Salad. Comprising of quinoa, feta and pea fritters served on a bed of labneh, mixed seeds and nuts, gem lettuce, cucumber, chives and cauliflower, all drizzled in a lemon vinaigrette.
Contact details: tashas | 011 883 0389 | Various Locations | https://www.tashascafe.com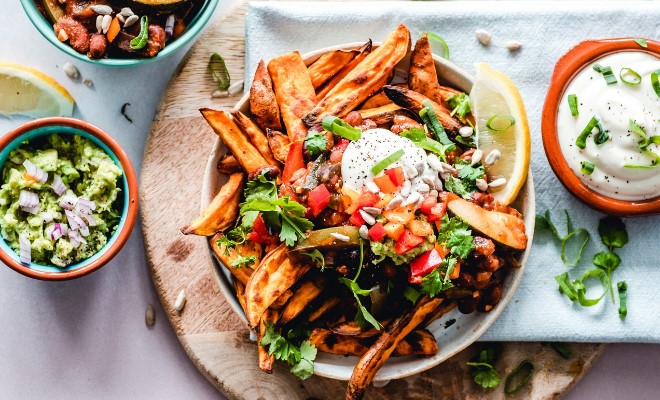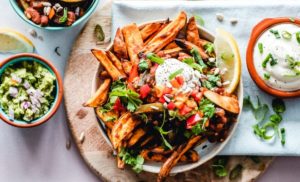 What's your favourite vegan or vegetarian bowl? Let us know in the comments section below!