FireRoom Sushi & Grill
For one of the most delicious and theatrical sushi experiences you'll find in the city, head to the FireRoom Sushi & Grill at Montecasino. It's a must for your foodie bucket list. As for meetings and date nights, hell yeah, it's a must-do for sure. They prepare and serve sushi like you've never seen it before – ON FIRE! Literally. But if you're not too keen on the flaming Fire Roll or Sushi Braai, they have a selection of traditional options and of course, their signature dishes. The African Platter is scrumptious and offers a little bit of everything in 18 pieces — Springbok Roses, Fire Rolls, Sweet Tiger Rolls and Dragon Rolls.
Special Alert: From Tuesday to Thursday during lunchtime all traditional sushi is HALF-PRICE.*
Details: FireRoom | 011 465 0587 | [email protected] | Shop no. 64, Montecasino, Montecasino Boulevard, corner William Nicol and Witkoppen, Fourways, Johannesburg.
John Dory's
You CANNOT go wrong with sushi from John Dory's. Not only do they offer a wide variety of sushi but they also have plenty of other delicious goodness on the menu for those who don't appreciate good sushi. Sorry, we're a little biased. But back to the sushi! A few of our favourites we recommend are the Prawn Avalanche — a California roll with prawn filling, topped with half a tempura-rolled prawn and spicy mayo sauce; the Snow Crab Rolls — crab tempura rolls with mayo and sweet chilli topped with avo, Sriracha mayo and caviar and last but certainly not least, the C & C Bombs — crab and cream cheese bombs crumbed, deep-fried and topped with smoked mayo and caviar. Yum!
Special alert: It's HALF-PRICE sushi on Wednesdays! This offer is only available for eat-in. Terms and conditions apply. OR on Mondays, Tuesdays, Thursdays and Fridays from 11:00 to 16:00, choose any three green plates from the sushi belt for R99.
Details: John Dory's | Branches nationwide | Joburg office: 011 287 5300
The Big Mouth Sushi & Grill
It's all about the sushi at The Big Mouth Sushi & Grill at Nelson Mandela Square in Sandton. It's slightly more expensive here, but believe us, it's SO worth it! You can expect to tuck into a wonderful selection of world-class sushi, no matter which kind you prefer. Take your pick from moreish poké bowls, new-style sashimi, a few traditional classics and plenty of interesting signature choices. One of the signature sushi options that really caught our attention was the Chicago Roll — Panko rock shrimp, cream cheese, tobiko, teriyaki, sweet chilli jam, tempura chilli, kewpie mayo, garlic flakes and spring onion. Sounds quite different, right?
Details: The Big Mouth | 011 783 4097 | [email protected] | Nelson Mandela Square, 5th Street, Sandton, Johannesburg.
The Blackanese Sushi & Wine Bar
If you happen to be in the inner city when your sushi craving hits, then make your way to The Blackanese Sushi & Wine Bar in the hip and happening Maboneng Precinct. This place fuses African flavour with Japanese cuisine and creates mouthwatering dishes that'll keep you coming back for more. Sushi is on the menu throughout the week and on the weekends, guests can enjoy a delicious prawn braai. And if you're REALLY into sushi, you can take a sushi-making master class with their very own Vusi Kunene and The Blackanese chefs.
Special alert: 50% Tuesday Sushi Special where selected sushi is available at HALF-PRICE.
Details: The Blackanese Sushi & Wine Bar | 072 729 6456 | [email protected] | 299 Fox Street, Maboneng Precinct, Johannesburg CBD.
Yamada
If you're looking for sushi that will not bust your budget, then make sure you check out Yamada. They've got a conveyor belt so, if you don't feel like ordering from a waiter, you can just pull up a bar chair and help yourself to the variety that's spinning around and around! Once you're done, they stack up your plates and tally up the cost. Easy! We love their lunchbox, which comes with 15 pieces of mixed sushi but change it to salmon only. Trust us, it's a feast!
Special alert: All-you-can-eat sushi buffet, every day, all day, from R175 per person*!
Details: Yamada | Rivonia: 011 039 8188 or 011 047 8668; BluBird Shopping Centre: 011 039 6777 or 11 068 8888; Waterfall Corner: 011 075 7777 or 011 047 8668 | [email protected] | Click here for addresses.
Hashi
Hashi is a fab spot to head for fusion sushi with a twist. They've got all sorts of interesting creations that you need to try out like the Taku, which is tofu tempura, cream cheese, avo, spring onion with mango/strawberry/kiwi and wakame, on a bed of spicy sauce and Hashi's secret sauce. Another delicious option is the Udon Japanese Noodles (if you're not a sushi purist, that is), stir-fried with chicken, prawns or veggies. And a for dessert, make sure you try the chocolate spring rolls!
Special alert: On Wednesdays, it's half-price sushi! Valid on sushi only and selected items. Also, check out their lunch daily specials.
Details: Hashi | 011 888 0330 | [email protected] | 32 7th Street, corner 4th Avenue, Linden, Johannesburg.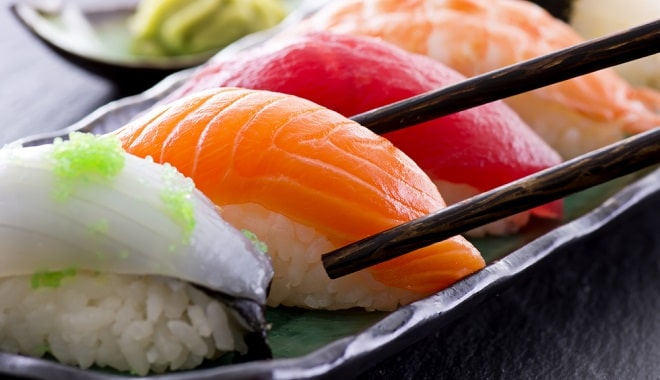 So Yum
After all the retail therapy in Hyde Park, surely you need to grab a bite to eat to replenish your energy levels? And we know just the place. So Yum has lots of dim sum on the menu — we like the pork and mushroom filled parcels. But that's not all! Their sushi is great, especially when eaten with a side of edamame beans. How about some tuna roses and a rainbow roll or two? The latter comes with crab, avo, salmon, tuna, caviar and mayo – basically, it's the works.
Where: So Yum | 011 325 5360 | [email protected] | Hyde Park Corner, corner Jan Smuts Avenue and William Nicol Drive, Hyde Park, Johannesburg.
JB's Corner
While JB's is not a sushi restaurant per se, they do have a menu dedicated entirely to the delicacy. What's really great about it is that you can swap the stock-standard white rice for healthier brown rice – health freaks, rejoice! Their fashion sandwiches are to-die-for. Another interesting option we found on the menu of the Melrose Arch branch was the Chirashi. It's a cake of sushi rice (looks like a rice cake almost) that has spicy salmon, avo, cucumber, caviar and sesame seeds stacked on top.
Details: JB's Corner | Melrose Arch: 011 684 2999; [email protected] | Sandton City: 011 784 1810; [email protected] | Click here for addresses.
Yamitsuki
Bedfordview's Yamitsuki has a conveyor belt, so you can choose whichever dishes catch your eye if you're too hungry to wait to be served (fair enough). The quality is great and their salmon and cream cheese fashion sandwiches are sublime. Another must-have is the Salmon, Strawberry & Cream Cheese Rainbow Philadelphia Roll... once you try it, you'll be hooked. And for dessert — dessert sushi! It's a crêpe sushi roll with fresh strawberries, Nutella, cookies, honey and your fortune!
Special alert: They offer quite a few specials during the week:
On Mondays, you can pick three same-coloured plates for the price of two.
On Tuesdays, all pink dishes are R48* and 48c from each plate will be donated to the Pink Drive.
Get a Sushi Lunch at R98* — two salmon roses, two rock shrimp tempura and two salmon fashion sandwiches
Get a Teppanyaki Lunch at R78* — three chicken dumplings and a chicken teppanyaki bowl
Details: Yamitsuki | 011 455 0380| [email protected] | 53 Van Buuren Road, Bedfordview, Johannesburg.
Japa Express Sushi Bar
Japa in Rivonia prides itself on fresh, authentic sushi made by masters. Their menu includes Tempura, Donburi Mono - Japanese specialities, and sushi, sashimi, main courses, salads, soups and much more. The space is stylishly decorated in the typically clean, minimalist Japanese style. This is the spot to visit for a truly memorable and authentic sushi experience.
Details: Japa Express Sushi Bar| 011 807 3999| No 1, First Floor, Rivonia Village, 9th Avenue, Rivonia Boulevard. (Above Woolworths & Red Square)
Please note all special were correct at the time of publishing, but are subject to change. Please confirm specials with the respective restaurant before booking.