Why You Need To Visit Shepherd's Fold Stables
Other than getting away from the hustle and bustle of the city, visiting Shepherd's Fold Stables is the perfect place to reconnect with nature and get some fresh air and sunshine. But if you're looking to do more than just relax and soak up the sun, then here's a few other reasons why you need to visit this little slice of countryside paradise when the nature bug bites.
Enjoy Nature With Their Horse Trail Rides
At Shepherd's Fold Stables, going on one of their horse trails with their lovely horses is an absolute must! There's something for all ages. The trails go through beautiful routes and the neighbouring farms, stopping along the way to take in the stunning views of Johannesburg, the Magaliesberg and Cradle of Humankind nearby. The stables can accommodate up to 8 riders at a time and each group trail ride is led by an experienced guide.Here's a list of horseback riding trails and activities you can look forward to when you visit:
Pony Rides for the kids: A little ride around the farm for children aged up to 6 years old, accompanied by a groom. Cost is R200 for 30 minutes.
Trail Rides for adults: Relaxing trail rides perfect for both beginners and advanced riders, but beginners will only be allowed to walk and trot. Cost is R350 per person for a one-hour trail ride, R450 per person for a one and a half hour trail ride, and R550 per person for a two-hour trail ride.
Trail ride and a lesson: Have an instructor teach you the basics of horse riding before heading out for a relaxing trail ride. Cost is R600 per person for a ½ hour lesson, plus a one-hour trail ride.
Your Trail Ride Requirements
The trail ride date and time that you booked.
The number of riders (maximum of 8 at a time)
Your riding experience
Your height and weight so suitable horses can be chosen for you (maximum weight limit of 90kg)
Bookings in advance only: Your booking will only be confirmed once payment has been made and received.
Please note: if you are late for the horse trail ride, they will only wait for 15-minutes after your scheduled departure time; after this, your booking will be cancelled and not refunded.
Book A Pony Party!
If your little ones love ponies and would love a pony party, then look no further than Shepherd's Fold! They arrange pony parties for children at the stables. But, do keep in mind that they are not a party venue and thus don't provide any entertainment that is not related to horses or horse activities or the swimming pool. However, you are welcome to take along your own picnic/braai/refreshments and watch the children as thy enjoy themselves around the ponies. And if you wish to have seating, a table or a braai, these can be arranged upon request.
Two Hour Pony Party
You can book your little ones a two-hour pony party for their birthday or any other occasions you would like to celebrate. With the pony party offering, you can expect mounted pony games (potato and spoon race; horseshoe; sack race; etc), and a mini trail ride for the kids to enjoy.
Costs for a Two Hour Pony Party:
15 – 20 children: R350 per child
10 – 14 children: R400 per child
5 – 9 children: R500 per child
All Covid protocols will be sent on confirmation of booking via email. Also, each child's parent or guardian will be asked to sign an indemnity form before they may ride. Hard hats will be provided.
Also keep in mind that pre-booking as well as payment in advance is essential and cash bank deposits will have a R60 surcharge to cover the banking fees.
Have any questions or what to get more information about the Pony Parties? Then email all enquiries to [email protected].
Enjoy A Country Escape
Want to escape the hustle and bustle of the city and enjoy a well-deserved countryside getaway to reconnect with nature? Then why not book a stay at Shepherd's Fold's cosy self-catering Sunset Cottage. Situated in Lanseria, just a five minute drive from the airport, this is just the place that will get you away from city living and into the farm lifestyle.
The house is set in the middle of the farm, and consists of two bedrooms, one bathroom, an open-plan living area, and a fully equipped kitchen. Relax on the patio overlooking the farm while watching the comings and goings of farm living. And as for entertainment, there is a selection of shops and restaurants within driving distance, as well as local attractions nearby, including the Cradle of Humankind, the Lion & Rhino Park, Hartbeespoort Dam, the Lesedi Cultural Village, Elephant Sanctuary and more.
Check Out Their School Holiday Pony Camps
For a fun learning experience for children of all ages – especially those who love horses – the School Holiday Pony Camps are a must if you're looking to treat the kids to something unique and different to do between the school terms. The programme is full of of riding lessons, outrides, 'hands-on' care of horses, exciting activities, interesting lectures, and plenty of games. And best of all, your children don't need any prior horse riding experience as all riding abilities will be catered to in a safe, supervised and controlled setting. Children aged between 6 and 16 years old may partake in the pony caps.
What You Need To Know: 
The camp starts daily at 08:00 and ends at 17:00.
Children may attend individual days or complete the entire camp.
Cost includes meals, juice and materials for activities.
An on-site tuck shop is available.
Bookings and payment must be made in advance.
A kit list for items needed at the camp is available.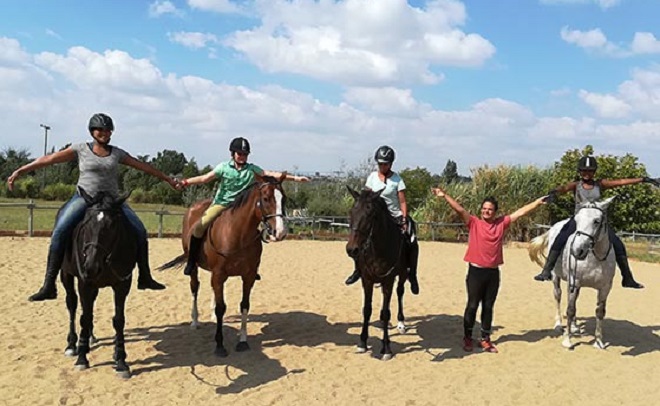 For More Information
For more information about Shepherd's Fold Stables, visit www.shepherdsfoldstables.co.za.
You can also contact them on 084 220 2657 or [email protected].
Don't forget to follow Shepherd's Fold Stables on their social media platforms – Facebook and Instagram – to keep up to date with the latest information, news, offerings and camps.