What Is It?
Higher Ground Restaurant, on the St Stithians property, offers a unique dining experience that you need to try at least once in your lifetime. Book your spots, gather your friends and family, and enjoy a delicious meal up in the sky. You read correctly – 30.48 metres in the air to be exact.
The lift accommodates 22 people around the table for every session, with three staff in the middle to ensure you're catered and tended to. There are a number of different sky dining options to choose from, and each ticket includes your meal, the sky-high experience as well as the spectacular views of Joburg. Drinks are not included, but a cash bar is available.
Guests need to arrive one hour prior to lift time booked in order to register.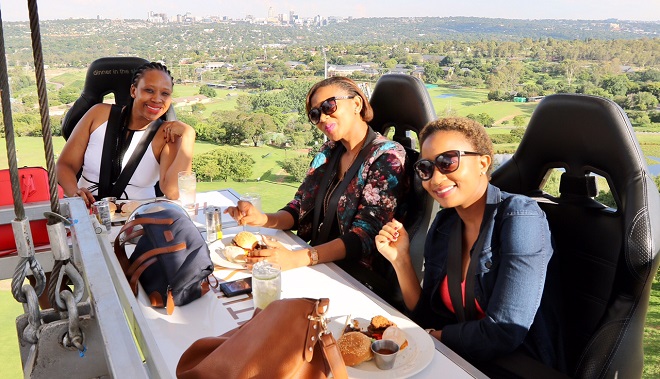 When Is It?
The Sky Dining events take place every Saturday, catering for breakfast, lunch and dinner. For further information on dates and times, click here.
Here's May 2022's event dates: 
Saturday, 07 May 2022
Sunday, 08 May 2022
Saturday, 14 May 2022
Saturday, 21 May 2022
Saturday, 28 May 2022
Please note: Booking are essential! To book your seat/s, contact [email protected] and 084 449 6040. Also, click here to see what's on the menu. 
Where Is It?
Higher Ground Restaurant, St Stithians College Property, 40 Peter Place, Bryanston, Sandton, Johannesburg.
How Much Is It?
This experience costs between R525* and R955* per person, depending on which option you pick.
Please note: prices are subject to change.
Contact them on 084 449 6040 or via email at [email protected] to book now. Or click here to book your seats online. There's limited space available (eight lifts each Saturday, catering to 22 people per lift), so hurry.
For More Information
For more information or to make a booking for the Higher Ground Restaurant Sky Dining, visit www.sky-events.co.za.
You can also contact them on 084 449 6040 or via email at [email protected].
Don't forget to follow them on Facebook for the latest news, announcements, Sky Dining events and more.