There's nothing better than tucking into a deliciously sweet waffle. I visited The Waffle & Pancake Café in Boksburg recently to sample their menu of sweet treats. I'd just come from a brisk ParkRun and was in desperate need of some sugary refreshments. That's the point of exercise anyway, right? There's no good reason to work up a sweat if it doesn't result in some kind of indulgence. The Waffle & Pancake Café delivered that in spades. Their family-friendly atmosphere and delightful service sealed the deal for me. The restaurant got its final stamp of approval from my eight year old cousin. Face covered in chocolate sauce, he happily declared that this was his new favourite breakfast spot. I couldn't have agreed more.
DIY Waffles
Set menus are a thing of the past. Being able to choose your own toppings and sauces is the norm at the Waffle & Pancake Café. Upon being seated at one of their rustic-style tables, you will be given a menu sheet and pen. Take your pick from plain waffles, a waffle cone, waffle stick or pancakes. Then, browse through the mighty list of toppings, sauces, and accompaniments. There's an array of sweet toppings, healthy options like fruit, and heavenly ice cream to top it all off. I went with the classic combo of Nutella spread, fresh strawberries and dark chocolate sauce. Paired with a strong cup of Five Roses tea, this was exactly the sweet treat I needed to replenish myself after all that hard running work.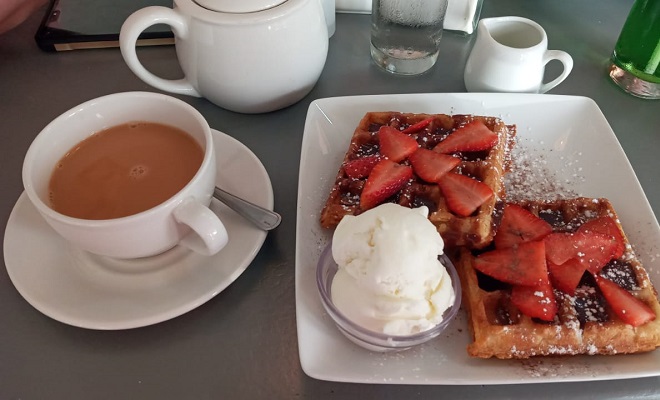 The eight year old chose a slightly more neo-traditional approach, decorating his waffle with sprinkles, jelly tots, sour worms, chocolate sauce and ice cream. Each topping comes at its own cost, so parents beware of letting your little one choose their own embellishments. The look of joy on my cousin's face was well worth the costs though. He had a fabulous time arranging the toppings on his waffle before devouring them with as much gusto as he could muster. Another warning - your kiddies will suffer major sugar rush from this outing, so be prepared to let them run wild for awhile afterwards!
The Waffle & Pancake Café is all about sharing. Their family sharing option is the ideal budget-friendly breakfast or brunch meal. The special includes four waffles with the option to add different toppings to each of them. There will be no arguing over what toppings to choose with this awesome deal. A family of four can easily customise their waffles, making sure that everyone is well fed and happy. Savoury lovers aren't excluded either. The menu includes a variety of savoury toppings, including biltong, bacon, chicken strips and egg. Kit out your waffle however you like because the possibilities here are endless.
Free WIFI
Finding a good coffee shop to frequent when loadshedding hits has become essential. The Waffle & Pancake Café knows that a strong internet connection is almost as important as a strong cup of coffee, which is why they offer free WIFI with your purchase. If you aren't a big coffee drinker, fear not. Their drinks menu features teas, cold drinks and gourmet milkshakes. You'll forget all about your loadshedding blues as soon as that Caramel Delight milkshake hits the table, trust me.
For More Information
Follow them on Facebook for more information or to see their menu.
Details: Summerfields Shopping Center, 31 Reier Rd, Atlasville Ext 1, Boksburg | (Tel)
078 485 9015 | [email protected]