Fun For Everyone At Sandton City
Sandton City is once again reinforcing its position as Africa's ultimate shopping experience by taking family fun to an entirely new level. This shopping hub is being transformed into a playground ideal for the whole family with a brand-new area dedicated to family fun, entertainment and food.
Construction of the new fun-focused mall is already underway and will be completed by May 2018. The exciting Sandton City family-focused area will attract families with children by giving them an opportunity to spend more time together in a unique environment.
Family Fun And Shopping – What More Do You Need? 
Other than the upcoming family fun area under construction, Sandton City offers an unparalleled retail experience with more than 330 shops in a contemporary and stylish setting. By boosting its youth appeal, and family and leisure options, its newest addition is perfectly complementary.
The new attraction will feature the first Hamleys World in South Africa. At 2 000m2  the store will be the country's largest Hamleys store by far. The finest toy shop in the world will continue to bring smiles and laughter to children with never-before-seen experiences and activations at its new Sandton City store.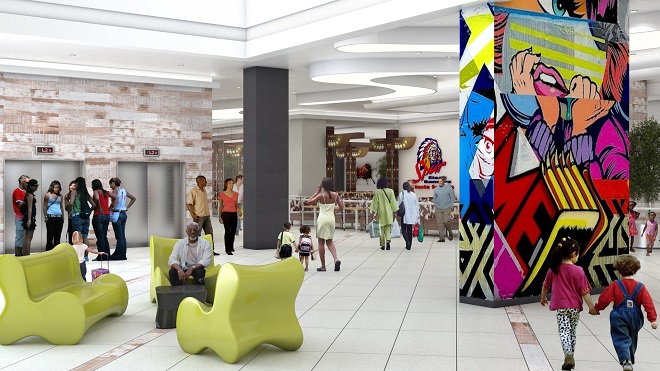 Families can also expect a sizzling new flagship Spur restaurant offering mouth-watering meals and a Halaal menu for the entire family to enjoy right next door to Hamleys.
All this is just for starters. Sandton City's latest addition will serve up even more food and fun to fit the entire family perfectly. There will also be a completely revitalised cinema level, which already offers the 11-screen Ster-Kinekor cinema including Cine Prestige, 3D, 2D and 4K experiences. The cinemas will remain open throughout the conversion project and will also soon introduce their own spectacular new experiences.
Sandton City has always offered a unique opportunity to amplify brands and experiences. This latest addition embodies the young-at-heart, playful, fun and unexpected nature of Sandton City, which is always ready to delight visitors with new ways to excite and engage. It is creating a one-of-a-kind adventure that combines shopping, entertainment and food to create a fun experience for the entire family that is unlike anything else.
For More Information
For more information about this new development, visit www.sandtoncity.com, www.liberty2degrees.co.za, www.pareto.co.za or www.jhi.co.za.