Are you looking for restaurants in Sandton? Good old Sandton offers everything your palate could ever desire, from fine dining to burger bistros and everything in between, there's something sure to be a restaurant to tantalise your taste buds.
What Are You Looking For?
African
Asian
American
Italian
Greek
Fast Food
Fine Dining
French
Mediterranean



African 
Parc Ferme
Mauritian Executive Chef Atmaram Mahadea brings diners a menu full of succulent flavours. The meat and poultry dishes; fillet, T-bone and oxtail are firm favourites but if diners are in the mood for a lighter dish, the whole baby fish or delicious tempura prawns will do the trick. The cocktails and wine selections present quite a fantastic way to end a long day. Parc Fermé is open seven days a week. Parc Ferme is also known for its wide selection of dishes from the African continent.

Asian
Saigon Suzy Cedar Square
Joburg's favourite mistress is ready to see you now. Known for putting their shoulder down and doing hard work to ensure that their ingredients are always fresh and their food is at its tastiest, Saigon Suzy Cedar Square is a destination restaurant of note. Complete with karaoke booths, beautiful cocktails and an exciting menu, we implore that you add Saigon Suzy Cedar Square to your bucket list.
Visit Saigon Suzy Cedar Square.

American
Hard Rock Café
This café in Sandton, offers American-style fare in the form of chicken wings, nachos, diner-style milkshakes, and smoky burgers. But the reason they are on this list is because of the music. Hard Rock Café is inspired by the theme of rock. They have a giant guitar above their door and their bar is lined with 7000 drum sticks that scream ROCK! in that guttural growl we love. The walls flaunt the legends of rock and other musical gizmos in shiny display cabinets. They also have a shop where you can purchase memorabilia of your favourite 80s hero or the hot bassist performing on stage.
Rockets
Rockets serves everything from pizzas to prego rolls. They offer reasonably priced fresh, healthy meals for meat lovers and vegetarians. For those with a sweet tooth, the dessert menu is short and sweet offering chocolate Bar One cake, triple chocolate and nut brownies, and ice-cream and home-made chocolate sauce. The restaurant also shows off a wine and cocktail selection, suitable to go with every meal.
The Big Mouth
The Big Mouth, located in Sandton by Nelson Mandela Square, is fast becoming one of Johannesburg's popular restaurants. They serve fresh and juicy sushi, sure to please any sushi lover. Their menu also consists of amazing grills, gourmet burgers, and seafood. The restaurant blends qualities from L.A., New York, London as well as South Africa to give you its unique space. With their signature cocktails and desserts, you might find it difficult to leave the restaurant altogether.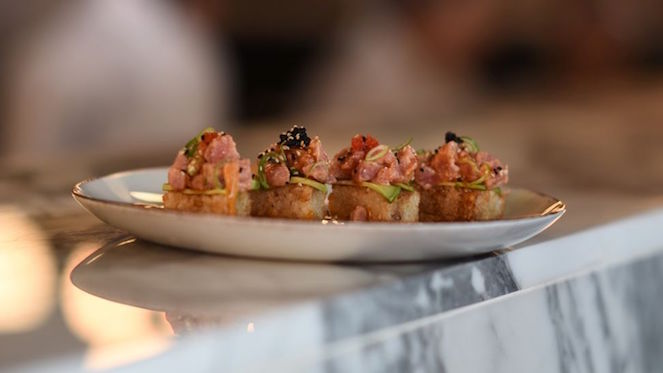 The Bull Run
While The Bull Run Restaurant in Sandton is known for its great meat options, it also has several seafood and vegetarian dishes. Even though this a steak house it still accommodates a variety of tastes. This is a great spot if you'd like to enjoy a steak and fillet mignon with some wine and some great company. The Bull Run has an extensive wine list, which wine connoisseurs can appreciate.
The Butcher Shop
For over 20 years, the Butcher Shop and Grill has been as much a part of SA culture as sunshine, red wine, and red meat. You could say it is a landmark on the culinary landscape. The Butcher Shop is also about family – and the laughter, memories, and conversations shared with special people over great food at a top steakhouse.
The Grillhouse Sandton
With an award-winning wine list, a bustling club-like atmosphere, and great food, The Grillhouse is the family's and the businessman's favourite steakhouse. With several restaurants in Joburg, one of their recommended dishes is fillet on the bone – two large medallions of tender-aged fillet. While the restaurant is best-known for satisfying carnivore cravings with steaks and ribs, there's also a variety of salads, chicken, seafood, and vegetarian options on the menu. And you'd better save some space for a sweet ending of baked cheesecake or brownies.
Wombles
No matter which cut you go for, there is no wrong choice, and if you don't like it then you're welcome to head to the nearest franchise and grab yourself a "taste for life" (yes, I like to poke fun, don't be so offended). Above and beyond the obvious choices, don't expect to find ribs on the menu - except for the prime rib, of course, but that's not quite a rack, now is it? Instead, try the roasted springbok shanks served in a peppercorn sauce with stewed fruit. For the daring, order the steak tartare from Wombles and watch as a well-dressed chef builds the dish in front of you - quite interesting, regardless of if you're into raw egg and beef brimmed with capers, gherkins, chopped onions and topped off with Tabasco sauce.

Italian
Saint
Higgs and Kyriacou gained the original inspiration for Saint during their visit to New York in early 2016, as part of their planning and research for Marble. For David and Gary, the restaurant they went to in Manhattan had an unbelievable atmosphere. And, when clothing designer Alexander Wang walked in with a troop of models and started ordering pizza and champagne, they knew this was a combination they wanted to bring home with them. The restaurant serves food from all over the world but prides itself on crafting some of the best pizzas in Sandton.

Greek
Pappas On The Square
As a second-generation owned authentic Greek restaurant, owner Charles de Olim goes out of his way to make sure that every nook and cranny of Pappas On The Square is running as smooth as possible - a feat he pulls off with great skill. The restaurant is built on family values and hard work and this shows in their food. Pappas On The Square is full of staple and signature dishes. The kleftiko's main opponent is not even on the mains section of the menu but lurks around the dessert side of life. The baked cheesecake is by far one of our favourites in the city and comes highly recommended.

Fast-Food
Pappas On the Street
Feel like checking out fast-food restaurants in Sandton? We've got you covered! The cool little brother of  Pappas On The Square, Pappas on the Street offers the best of Street-food made Pappas style. The restaurant wanted their patrons to enjoy many of the Pappas favourites made fresh, as always, served fast and either as a wrap or as a salad. Enjoy their Kleftiko as a pulled lamb wrap, the popular beef short rib or try the succulent fresh rotisserie chicken option.

Fine Dining
AURUM
AURUM's kitchen is headed up by Paulo's former chef colleagues at Cube Tasting Kitchen; Darren O'Donovan (Head Chef) and Lisa de Beer (Sous Chef and Sommelier). Inspired by Darren and Lisa's travels and favourite dishes, AURUM offers plates that are seen as epicurean, being contemporary European cuisine with a touch of local flair. AURUM has two seasonal menus per year; Spring/Summer and Autumn/Winter, with the majority of its ingredients being locally sourced.
The Maximillien
In the heart of Sandton, the DAVINCI hotel is a leading destination for locals and tourists and is home to one of the most celebrated Italian cigar and wine emporiums in the country. It is also known for exquisite dining at the Maximillien Restaurant where a notable wine list is paired with a well-crafted menu, refined by executive chef, Sylvester Nair.
Piccolo Mondo
Piccolo Mondo is an exclusive restaurant which is housed in the beautiful Michelangelo Hotel. This restaurant is known to offer a contemporary and creative twist to your culinary experience. They offer traditional Italian cuisine with a wide variety of dishes such as the Royal Pea and Prawn Risotto and Balsamic Roast Tomato Soup. Piccolo Mondo's main source of wine is from South African wineries, with a few select international wineries.

French
Lanser's On Main
Looking for fancy restaurants in Sandton? We've got you! It is evident that words such as decorum and chivalry are disappearing from the lexicon shared between Joburg restaurants. The culture of dining out has turned into something resembling an assembly line to convey guests into the one end and out the other. Enter Chef Lanser Fourie. Have you come face to face with a steak tartare before? It may seem daunting at first but you are here to explore; to taste things you've never experienced before. A rump steak minced with a swift chef's knife is topped with bright yellow egg yolk  - free-range, of course. Get your fill at Lanser's On Main in Bryanston.

Mediterranean
Nikos
Situated on Alice Lane, Nikos offers a selection of meze, together with our souvlaki, either plated (choices of skewered meat), or served as a yiro, (your choice of meat in a home-made pita bread lightly drizzled with olive oil, origanum and coarse salt). Nikos also has deliciously coal-grilled and oven-roasted mains, served with a variety of dips, fresh traditional salads and sides.
The Codfather
The Codfather offers diners a pretty wide variety of cuisines to choose from – they have Greek mezes, Italian, sushi, Vietnamese and Thai food – so every foodies' taste is accommodated for.
As the name suggests they also have an extensive seafood menu with Butter Fish, Yellowfin Tuna, Red Roman, Musselcracker and so much more. They also allow diners the opportunity to choose their own seafood from a display of local fish.
tashas Sandton City
The menu is uncomplicated. The food is unpretentious, honest and comforting. There are two menus: Classic Menu, and Inspired by Menu. Every year, the Classic Menu receives an update, so loyal customers can look forward to trying new things. Since the first tashas opened at Atholl Square in 2005, the restaurant has grown from strength to strength, attracting the elite and those searching for quality food in a fantastic location. Today, tashas is the place to be seen. One thing that sets this restaurant apart is that every dish is made fresh on order. The South African-Greek founder insists that nothing is pre-prepared, meaning that every meal you enjoy at tashas is made with love. Tashas is by far one of the most popular restaurants in Sandton.
The Rock
Situated at the Design Quarter in Fourways, The Rock has become one of the most popular after-work hangouts in the northern suburbs. The eatery's claim to fame is its open-flame style of cooking that borders with some of the best in Joburg. It is also known for its tapas, cocktails and beautiful design and decor. At the top of the interior design and layout game, renowned Greek designer Alexandra Nicolou took it upon himself to turn The Rock Diner into a fashion-forward wonderland. The main restaurant seats up to 60 and is a moody mix of parquet wood floor, dark green marble, heavy wood panels, exposed brickwork, high-gloss black ceilings and high window frames.
Looking for more tantalising restaurants to visit in the city? Visit Sandton's neighbours, Randburg, Roodepoort, and Fourways to see what they have to offer!