The Regency Group has announced the grand opening its 220-suite The Regency Apartment Hotel in Menlyn, Pretoria. With its ideal setting and premium facilities, this urban hotel offers both luxury and convenience to leisure and business travellers in the busy Menlyn district.
The Location Is Central
The Regency Menlyn is located within the city's newly developed business zone. The Menlyn shopping and office district is just 5-minutes away and the OR Tambo Airport a mere 35-minute drive. Beautifully designed by Archactive International, The Regency Menlyn boasts plenty of indoor and outdoor spaces, with a pool terrace that provides a serene oasis from the bustling city.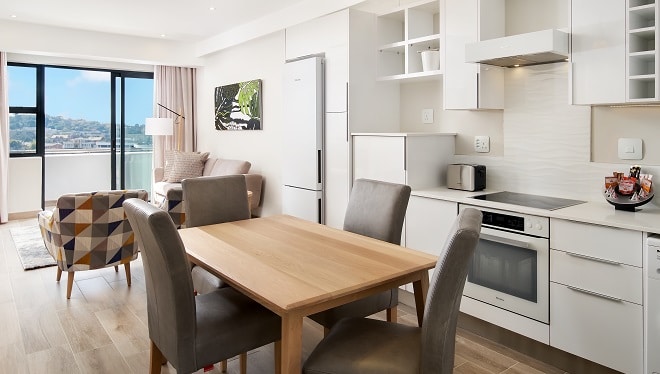 It's A Home Away From Home
The development consists of apartment-style hotel suites in one and two bedroom options, which provides a comfortable stay for all guests - business or leisure, short or long term. Each apartment boasts luxury finishes, including appliances by Miele and air-conditioning, as well as access to restaurants, the bar, bespoke gym and security.
As For Their Facilities
The Regency Menlyn offers a bespoke approach to dining with an on-site 24-hour restaurant, namely Plantina, and 24-hour room service. Expect to delight your senses with divine fusion and international cuisine. Other facilities include conference and meeting rooms that can accommodate 80 people.
The Cost?
The Regency Menlyn's opening rates start from R1 550 up to R3 750 per apartment and are available until 31 December 2018. The rates also includes daily breakfast and complimentary on-site parking with free Wi-Fi to ensure you're always connected, whether it's for business or leisure.
For More Information
For reservations and more information about The Regency Menlyn, visit www.theregencyhotels.co.za, call 012 003 4777 or e-mail [email protected].
Don't forget to follow them on Facebook.