The Living Room
We have such a beautiful city with its unique skyline and views, so why wouldn't you want to host an epic party at an inner-city venue such as The Living Room? This stunningly designed space makes for the perfect backdrop if you're looking to host a rooftop party. You can dress it up however you wish and add your personal touch to their boho, urban eco-style space. They're open to all kinds of events including weddings, product launches, corporate functions and of course, big birthday celebrations! They also have catering partners that can assist with all your catering needs and a fully stocked bar with some of the best cocktails in the city.
Katy's Palace Bar
Wide open spaces, beautiful architecture, the Sandton skyline in the background, and beautiful courtyards, Katy's Palace Bar is just the place if you're looking to host an unforgettable celebration, no matter how big or small. There is nothing more urban chic than this venue located in the heart of Kramerville in Sandton. Here, they cater to events of all kinds and sizes, ranging from exciting milestone birthday parties and urban weddings to private and corporate functions, exhibitions and even markets.
The Rooftop @ The Empire
If you're looking for a venue that boasts breathtaking panoramic views of the City of Gold, then be sure to plan your special event at The Rooftop @ The Empire in Parktown. The venue is the ideal space for a variety of event types, including sundowner and cocktail events, private functions, birthday and milestone celebrations, product launches as well as breakfast conferences. Guest capacity ranges from 160 max pax in a banquet setting to 300 max pax in a cinema or cocktail setting.
The Black Olive Weddings & Events
Specialising in phenomenal events in all shapes and sizes, Black Olive offers a wide range of services to make your special occasion a truly unforgettable day! Whether you are celebrating a milestone birthday, looking to plan a blessed christening luncheon, or a special anniversary, they have you covered! Providing full end-to-end eventing solutions is something that Black Olive thrives at doing. They will take your vision of your perfect event and magically turn it into reality.
Shepstone Gardens
Shepstone Gardens is a fairy tale venue boasting the most beautiful gardens and breathtaking features. The historical Herbert Baker main house is surrounded by lush greenery with massive trees, and it is perfect for all kinds of celebrations from birthday celebrations and bat mitzvahs/bar mitzvahs to engagement parties, weddings and much more. Hiring this venue doesn't come cheap, but it is well worth the spend for those extra special milestone celebrations. Whether you've got a formal or casual celebration in mind, they'll tailor-make a package for you.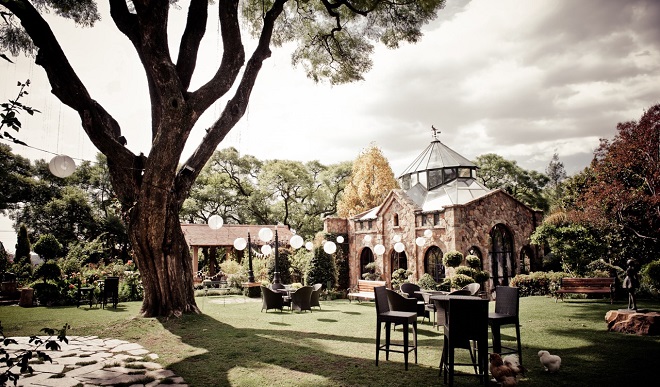 The Galleria
The Galleria is the perfect place to host any special occasion or party, whether it's big or small, formal or casual. When it comes to parties, they have three different settings: the Rooftop Terrace (another one to add to the rooftop venues section); the Mezzanine Level (first floor); and the main event space if you're looking to go big! The Galleria features breathtaking views of the Sandton skyline and incredible design and infrastructure that'll frame your special event beautifully. The spaces are fully equipped and offer a full range of technical, production decor and catering services.
Levelthree Premium Venue
Levelthree Premium Venue in Kramerville has everything you need to pull off an epic birthday party. Firstly, this place is a blank canvas, so you can get as creative as you'd like. Secondly, it has a number of services available including bartending, catering, sound and lighting, as well as decor hire. And thirdly, there's a rooftop deck upstairs which wraps around the entire building, offering a full view of the Joburg and Sandton skylines. We have been here several times for events, and we all agree that it's a versatile and beautiful space.
Any other venues you can recommend? Comment below with the details!