About The Egrek Cinema
Situated on 4th Avenue in the trendy and ever-popular suburb of Parkhurst, the Egrek Cinema is an independent 30-seat cinema, offering their movie-viewing guests a more intimate screening experience, complete with high quality sound and projection, comfortable seats, and the latest movies as well as a dash of the classics. This is just the place to visit if you're looking to get away from the commercial movie cinema setting and enjoy something different. And if you need a bit more convincing, here are a few reasons why you need to visit the Egrek Cinema this month.
It's Located In One Of The Best Restaurant Hotspots In Joburg
When you think Parkhurst, what comes to mind? For us, it's the strip of exciting restaurants along 4th Avenue. Add one of these restaurants to your unique movie screening and you have the perfect date night set! Here, you'll find many incredible foodie hot spots including La Parada, Embarc, Modena Italian Eatery, and Nice on 4th, just to name a few. Once you have delighted your taste buds with something delicious at your choice of the 4th Avenue dining offerings, make your way to the Egrek Cinema for your 8 o'clock movie. Click here to take a look at other restaurants in the area.
They Screen The Latest Movies From Hollywood
At the Egrek Cinema, you'll be able to catch not only a few classics on set nights during the month, but you'll also get to see some of the latest movies straight from Hollywood. So, whether you're looking for something that's perfect for date night, or simply just want to enjoy a good laugh with a good old comedy, they're sure to have something on circuit, no matter what you're in the mood for. Visit their website or Facebook events page to keep up to date with the latest movies they'll be screening and the show times. Be sure to book well in advance to avoid disappointment as seating is limited. Also, they serve snacks, drinks, fresh popcorn, wine, beer and cocktails to ensure you have some tasty refreshments to enjoy during your movie.
Don't Miss Their Mystery Movie Nights
How about an evening of spontaneity and mystery? then be sure to book your seat at one of the Egrek's Mystery Movie Cinema movie nights. For each Mystery Cinema experience, you won't know what to expect as the title of the movie is a mystery, but one thing is for certain: the movies are always classic, critically acclaimed, entertaining and universally appreciated. To book your seat at this exciting feature, click here to visit their website.
They Offer Private Screenings
Whether you're looking for a unique kids birthday party movie experience or would like to enjoy a Cinema-On-Demand private screening, the Egrek Cinema has just the thing! The birthday cinema hire (3 hours), offers a fun safe kids' and adult party idea, giving you access to the 30-seat cinema for an intimate celebration (contact them for details on pricing). Or, enjoy a Cinema-on-Demand experience (3 hours) from just R120 per person (from 10 to 30 seats). This means that the cinema is exclusively reserved for you and your loved ones to watch any movie, from the latest theatrical releases to your favourite classic movie. To make your booking, email to [email protected] or call 010 900 0833 with your desired date and time.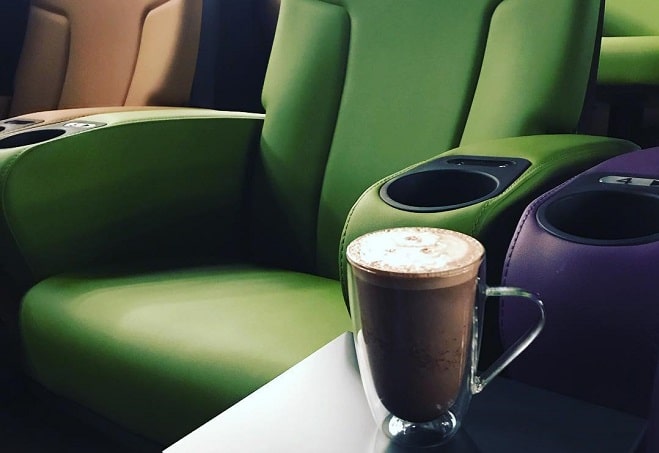 They're Covid-19 Complaint
We know that most of us are wary of the whole pandemic situation. Which is is why we either don't visit the more commercial movie cinemas around the city or simply just do not go at all. With the Egrek Cinema, they understand your concern and have gone above and beyond to ensure your safety and comfort. These are the precautions they have implemented at the cinema:
Every person entering the premises must wear a mask, which will be worn at all times but may be removed for eating and drinking.
Every person will have their temperature screened and registered.
Cinema seating is limited to 20 seats, to practise social distancing.
All the windows are open throughout the day and the ventilation system is switched on 15-minutes before screening and is kept on during the movie.
The cinema, foyer and toilets are cleaned and sanitised thoroughly after every screening.
Hand sanitiser is available throughout the premises.
Covid-19 prevention and protocol signage is posted through the premises, including 1.5m social distance markers.
For More Information
For more information about the Egrek Cinema, visit their website at egrek.co.za.
You can contact them via email on [email protected] or by calling 010 900 0833.
You can also like and follow the Egrek Cinema on Facebook and Instagram.
Address: First Floor, Parkhurst Square, 38 4th Avenue, Parkhurst, Johannesburg.
Opening Times: Monday to Monday from 12:00 to 21:00.
Images sourced from the Egrek Cinema via Facebook.