Ingram's Introduces A Brand-New Body Lotion Range
Can you believe Ingram's have been around for 80 years? If anything, it feels far longer than that, as if they have always been there, providing us with affordable skincare products that nourish, pamper and spoil our skin from the inside out. And now, on top of their most-trusted and favourite items, Ingram's has just come out with a brand-new range that's not only soothing and nourishing but also non-greasy and fast absorbing with a 48-hour moisture lock!
A Little Bit About The New Range
This year, the heritage brand has taken on the mission of adding body lotions with unique formulations enriched with natural goodness to care for and repair skin. Their female, family and male body lotions combine an array of natural ingredients, bringing South Africans a new range of rich, gentle, nourishing and refreshing products with protective active agents.
Created to provide protection, hydration and nourishment for all skin types, this new range of body lotions is testament to the brand's belief that healthy skin is beautiful skin. Ingram's new lotion formulas contain a moisturising emulsion combined with ingredients such as glycerine, creatine, argan oil and nature's richest moisturisers, shea and cocoa butter. These new lotions carry the credible traditional skincare promise to nurture, protect and maintain healthy skin with added new ingredients for that extra-nourishing feel.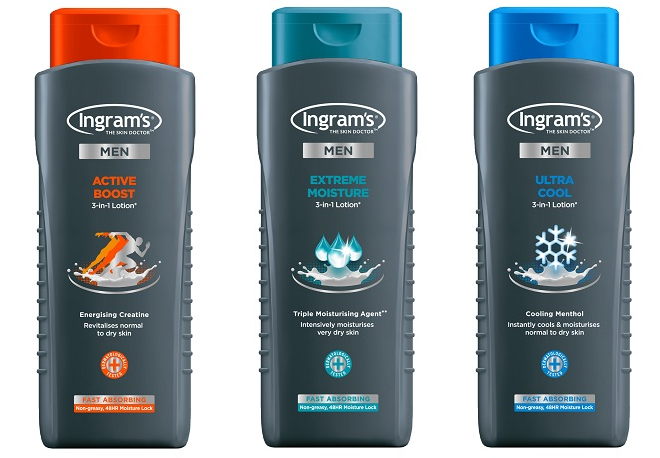 Share Your Ingram's Moments
Looking to become the authority in body care and to educate consumers on how to get beautiful skin, Ingram's introduces #IHEARTMYSKIN campaign, which supports the launch of this new range. South Africa's most trusted Skin Doctor invites the nation to join the conversation and share their Ingram's moments on Facebook and Twitter using the hashtag #IHEARTMYSKIN.
Ingram's new Body Lotions range, sure to keep skin healthy and glowing throughout the year, is available at leading retailers across South Africa.
For More Information
For more information about Ingram's and their range of skincare products, visit www.ingrams.co.za or call 0860 101 107.