The Woods Paintball 
Located on Riversands Farm, now known as Riversands Commercial Park, The Woods Paintball offers paintball enthusiasts or action-seekers four different fields to enjoy and explore, as well as a shooting range. The range is set in a pine forest, making it the perfect playing field for you and your friends. They strive to set an exceptionally high standard of safety, where parents will feel comfortable leaving their children for a day of action. Strict safety standards are adhered to at all times. The Woods Paintball caters to families and groups, and also offers corporate packages ideal for team building. And if you need to refuel, drinks and snacks are sold at their kiosk.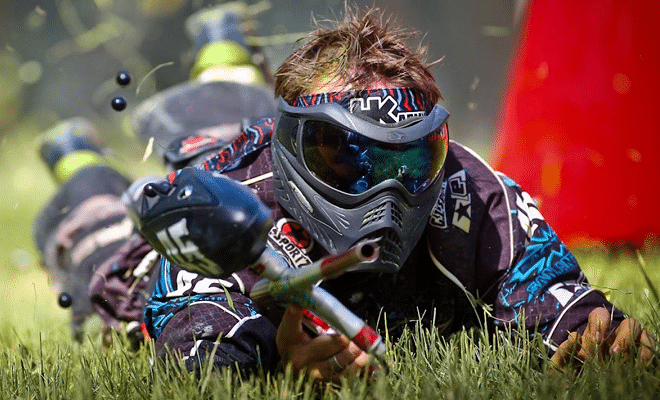 Battlezone Paintball
Situated in the heart of Bryanston, Battlezone Paintball offers its visitors plenty of outdoor fun while also upholding all Covid-19 protocols. There are five fields for you to choose from and enjoy. Depending on your budget, there are a number of paintball packages available to choose from. The Basic Package includes a gun, mask and jacket with 100 bullets; the Elite Package includes gun, mask and jacket with 200 bullets; and the Platinum Package includes gun, mask and jacket with 500 bullets. They cater to all types of occasions and events, such as birthday and bachelor/bachelorette parties, corporate team buildings and more. They also offer outdoor Laser Tag.
Soweto Towers
If you're visiting Soweto and are seeking a little bit of adventure and a whole lot of fun for groups, then be sure to book your paintball session at the Soweto Towers. You can play a round of paintball inside the bottom of the Western Cooling Tower. Cost is R160* per person (please note this price is subject to change) and includes 200 balls, one cylinder refill, one mask and overall rental. They take bookings for groups of 10 guests or more, and you'll receive a 20% discount if your group exceeds 10 individuals. Keep in mind that they don't take bookings for individuals or groups below 10 participants.
Paintball Place Krugersdorp
Out in the West Rand for the weekend and looking for something thrilling to do with your mates? Then be sure to visit Paintball Place Krugersdorp for a day filled with action-packed paintball. There's a variety of gameplay scenarios you can choose from, including VIP rescue; VIP elimination; capture the flag; and elimination. Click here to get more details and information on each of the gameplay scenarios and how they work. Also, there's a selection of paintball packages that you can choose from depending on your time limit and budget. They offer packages suitable for any level of experience. Click here to get the full list of paintball packages and what they include.
Hooyah Paintball Field
Situated in Ruimsig, Hooyah Paintball offers a safe and fun-filled paintball range that caters to groups from 8 players and upwards. This is the perfect place to host birthday parties, corporate events, bachelor parties as well as family get-togethers. And as for other entertainment, they also have an 80m zip line and inflatable slip 'n slide for rent to add something extra to your event with family and friends. Bookings only so are sure to book your group in advance.