Since 1974, the Oriental Plaza in Fordsburg remains one of the country's most iconic shopping malls in central Joburg. This is just the place if you're looking to escape the buzz of the city centre and enter Delhi, Nepal or even Indian without having to fly abroad. Not only will shoppers and visitors be spoilt for choice with a wide range of retail offerings, but they'll also enjoy mouthwatering foods, incredible deals, a vibrant atmosphere and much more.
What Are You Looking For?
Shopping
Restaurants
Services
Trading Hours
Contact Details
Shopping
Whether shoppers are looking to update their wardrobe with some of the latest fashion and footwear, refresh their home décor, or simply want to indulge in some tasty and traditional cuisines and foods and drinks, Oriental Plaza boasts over 300 exclusive stores for your to explore, browse, shop and enjoy. From fabric stores, bridal wear, Islamic wear, home and décor, fragrances and cosmetics to jewellery and accessories, luggage and linens, tailors, spices, toys and more, there's definitely something for every occasion, taste, and pocket. Click here to see what stores are available at the Oriental Plaza.
Explore Shopping at The Oriental Plaza.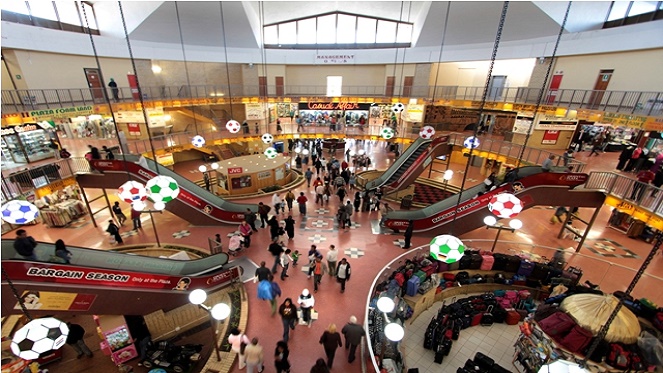 Restaurants
With so much shopping going on at the Oriental Plaza, surely you'll get peckish or hungry at some point during your retail therapy session. To ensure that you're hydrated and fueled during your shopping spree, Oriental Plaza also offers shoppers a selection of food outlets to delight your taste buds. Shop for some aromatic spices to add to your pantry from various stores throughout the centre, indulge in something spicy from Harry's Cafe (be sure to try one of their juicy burgers or the soya chip hotdog smothered in masala), or stop by World of Samoosas for crispy, golden fried samoosas for the perfect on-the-go snack!
Explore Restaurants at The Oriental Plaza.
Services
One of the services that stands out at the Oriental Plaza is tailoring and dress making. This is just the place if you're looking to get a certain outfit made to your specifications for a special occasion, want to create something unique or simply just need to take something in a little bit. The tailors and dress makers here cater to crafting bridal attire, fashion pieces and suits. Visit Oriental Plaza to find out how they can assist in your fashion creation needs.
Trading Hours
Monday to Friday: 09:00 – 17:00 (selected stores are closed between 12:30 to 13:30 on Fridays)
Saturday: 09:00 – 15:00
Sunday: Closed
Public Holidays: 09:00 – 15:00
Oriental Plaza extend shopping hours during common and religious festive seasons such as December and Ramadan. During these seasons, they may extend their trading hours to Sundays at the following: 09:00 to 15:00 (please note that selected stores may be open).
Regarding South African public holidays, Oriental Plaza also extends their trading hours for shoppers, however they will be closed on the following public holidays: Good Friday; Family Day; Christmas Day; Day of Goodwill/Boxing Day; and New Year's Day.
Click here for more information about Oriental Plaza's trading hours.
Contact Details
Website: www.orientalplaza.co.za
Tel: 011 838 6752
Email: [email protected]
Address: 38 Lilian Ngoyi Street, Fordsburg, Johannesburg