Declutter The Living Room
Get Rid Of Old Magazines
If not all of us, most of us have a stack of magazines just laying around serving no real purpose in our lives anymore. Sure, some magazines have great articles that you think you'll refer back to at some later date, but let's be honest with ourselves: we're just going to buy new magazines in the following months. Get rid of the clutter and throw those magazines away, or better yet, recycle them!
Get A Bookshelf
For book lovers, if your book collection keeps growing and your coffee table can no longer hold any more books, it's time to invest in a bookshelf. Not sure where to get one? We love the bookshelf options from Superbalist if you're looking for something more stylish. But, if size matters, have a look at Furniture Warehouse.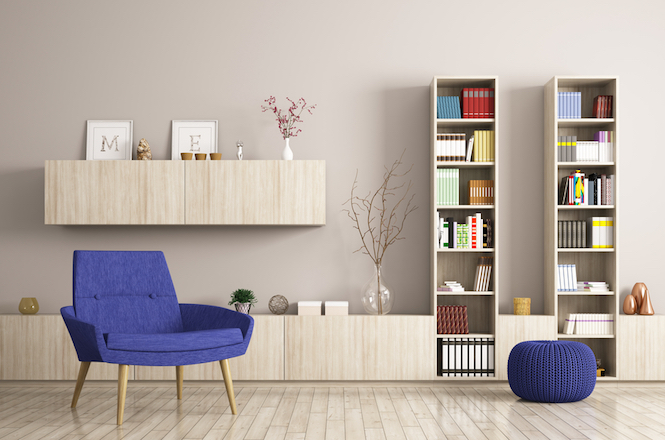 Declutter The Bedroom
Give Away Old Or Unworn Clothes & Shoes
Clothes are simple really, but we like to complicate them by thinking, "I might need to wear that to an event" but really, if you haven't worn it in a year, donate it to charity, sell it at a thrift shop or give it away to someone who'll make use of it. Don't be a hoarder: declutter your wardrobe and declutter your life. Besides, you'll have more space to buy and store that cute outfit from Zara!
Let Go Of The Old Jewellery
If it's broken, discoloured, has no sentimental value, never worn and just taking up space in your jewellery box, then it is time to let it go. On the upside, if it's fine jewellery but maybe you can't really tell whether it's worth keeping or not, get yourself a sizable jewellery box from your nearest luggage or accessories store.
Declutter The Bathroom
Toss The Old Make-Up And Cosmetics
If you can't even remember when you bought certain make-up essentials and cosmetics, this means you haven't used them in a long while and you should most certainly toss them in the trash. If you buy your make-up from M.A.C., you can recycle old containers (six) with them and get a new lipstick, lip gloss or eyeshadow in return. Make-up case looking a little empty after the declutter? Visit Superbalist and Zando online to stock up on some fresh items.
Overall Order In The Bathroom
There's always a better way to store your dry towels, toilet paper rolls and toiletries. Pimp your bathroom out with towel racks, toilet paper holders, soap dispensers or soap dishes. Not sure where to get all these nifty accessories? We highly suggest you start off at Mr Price Home for some stunning and good quality options. Also, don't forget to throw out all the empty shampoo and conditioner bottles, lotions, ragged loofahs and all the things you generally don't want to keep anymore.
Declutter The Kitchen
Throw Away Medicine And Vitamins
It is crucial to throw away expired medication and vitamins. Check your medicine cabinet quarterly for expired medication or vitamins and toss them in the trash. Not only is this beneficial in knowing what medicine and vitamins you actually have, but you also prevent risking your health by treating yourself with expired pills.
Only Keep Fresh Food
With our busy lives, it's easy to lose track of what we have in our kitchen cupboards and refrigerators. Make it a habit to do a weekly check of your kitchen cupboards and refrigerators for expired, old, rotting and unused food and food products. This not only declutters your kitchen space, but you also avoid any unpleasant surprises and persistent pungent smells.
Want to share some decluttering and organisational life hacks with us? Leave us a comment below!