If you find yourself at Melrose Arch, be sure to pop into the brand-new Archer Bar & Eatery for a specialty coffee, refreshing and oh-so creative cocktail, or even something delicious off of their street food inspired menu. Archer Bar & Eatery is the perfect hangout for lunchtime meetings, after-work drinks with your colleagues and friends, or if you're looking to tuck into some delicious street food style delights off of their menu.
Click here for more information.
Looking to dine and live it up the Portuguese inspired way? Then be sure to make you way to Ponta Restaurant at Mall of Africa in Midrand. Here, they're serious about taste, quality, value for money, and inspired never to disappoint. Tuck into their tasty selection of Portuguese inspired dishes, such as the Ponta Flattie, Taco Trio, Fish Braai platter, Succulent Espetada's or for the sweeter things in life, their homemade Farturas.
Click here for more information.
If you're looking for a foodie pit stop in Craighall Park, be sure to head to the newest restaurant-bar in the block – The Wild Side Restaurant & Bar. Expect the dishes to be bold with untamed tastes roaring with personality. Also, if you're looking for somthing refreshing to ward off the Jozi heat this summer, here you'll find the best of Malfy Gin and Pernod Ricard. There's also a wide selection of wines and cocktails for you to choose from.
Click here for more information.
Not so long ago, we took a stroll through Linden, and we came across a stunning café that we just had to share with you – Goddess Café! This lovely place is ideal if you're looking to enjoy a long overdue catch-up with the girls, over some decadent cake (the Sour Cherry Fridge Cheesecake drizzled with chocolate and flowers is a must!), insane milkshakes with all the trimmings, fabulous quiches that's sure to delight the taste buds, and so much more.
Located in the heart of Illovo, Grate Café is just the spot if you're looking to dine al fresco and enjoy the springtime delights! Here, you can expect to find some delicious treats including good coffee, fresh croissants, and indulgent pastries that are sure to have you coming back for more. They also sell vegan cookies! Let's not forget to mention their hearty breakfasts, wood-fire pizzas and flame-grilled chicken, as well as the oh-so refreshing cocktails including Mojitos with fresh lemon juice and the Long Island Ice Tea for those with a higher tolerance.
Click here for more information.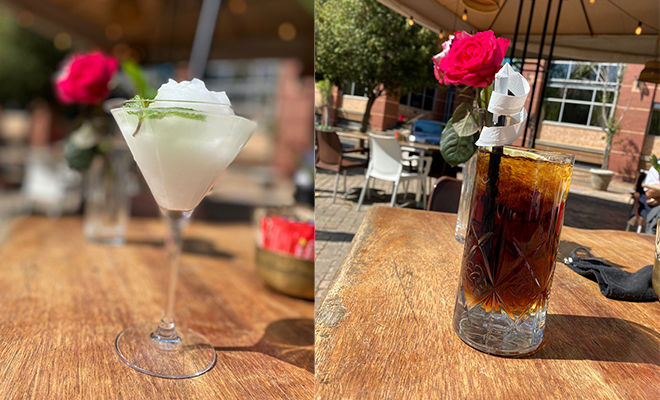 Have you heard? Istanbul Kebab has opened the doors to its restaurant in Melrose Arch. Do you remember where Moyo used to be, on High Street? Well, that is now the home to this brand-new Turkish Mediterranean Halal restaurant and dining offering at Melrose Arch. They are SANHA certified. Here, you can expect delicious dishes that are prepared freshly upon order, using authentic recipes, traditional cooking methods and only the finest ingredients. Click here to check them out on Instagram and click here for see them on Facebook.
Click here for more information.
If you're looking for an amazing dining experience that offers something out of the ordinary, then don't miss DinnerTimeStories SA's fresh installment of Le Petit Chef! This time, guests will be able to delight their senses and be amazed with a brand-new menu, hosted at the Blueberry Hill Hotel in Honeydew. Book your seats at this delectable extravaganza ASAP, as this will be a limited season, running until the end of October 2021.
Click here for more information.
DAVINCI Lounge
In case you missed it, DAVINCI Lounge, located in the DAVINCI Hotel & Suites, has brought back their delightful and decadent Urban High Tea, which will most certainly tickle your tastebuds. Every Saturday and Sunday, between 14:00 and 17:00, you and your loved ones can enjoy a variety of sweet and savoury treats, all complemented by a selection of Rondeveldt teas and Nespresso coffees. Please note that pre-booking is essential.
Details: legacyhotels.co.za | 011 292 7169 | [email protected] | Corner 5th and Maude Street, Sandton, Johannesburg.
Embarc Restaurant
Proven as a diamond in the rough, Lisa de Beer caught our eye when she proved her palate as sommelier and sous chef at Aurum Restaurant in Sandton. When Lisa announced that she will be opening her restaurant in Parkhurst, we got so excited. Meet Embarc Restaurant. The menu is set to take on the big players in the Joburg culinary scene with entries such as 'Beef and Beer' carpaccio served with yeasted mayo and popped barley. Click here to take a look at what you can expect when you make your way to this Parkhurst must-visit!
Details: www.embarcrestaurantza.com | [email protected] | 081 848 6480 | Corner 4th Avenue and 13th Street, Parkhurst, Johannesburg.
Marshall's Craft Eatery
Marshall's Craft Eatery is a very sociable local restaurant with a particular focus on artisanal offerings on the menu and on tap. This spot is rather relaxed, a place where diners can arrive in shorts and a tee, and feel comfortable and right at home. In support of local craftsmen and artists, the eatery has live entertainment every Friday night. Breakfast over the weekend is particularly aimed towards the outdoor enthusiasts that explore around Emmarentia, with traditional and healthy options available. Marshall's Craft Eatery is a surefire entry on our new restaurants in Joburg list.
Details: www.marshallscrafteatery.co.za | 010 109 2184 | 03 Olifants Road, Emmarentia, Johannesburg.
Old Town Italy
Dine in true Italian style at Melrose Arch's newest restaurant on High Street – Old Town Italy! They've just recently opened their doors last November, where Jamie's Italian used to be. Grab a seat here and indulge in authentic Italian cuisine that's sure to to hit the spot, sip and enjoy a quick brew in between business meetings, or simply just take in the atmosphere, sights and sounds of the precinct after an exciting shopping spree. Also, every Friday, guests can enjoy their delicious meals accompanied by a live acoustic performance. This sounds like the perfect way to start off your weekends! Also, be sure to keep an eye on their Facebook page for more information on their La Dolce Vino evenings. Bookings are essential.
Details: www.oldtown.co.za | [email protected] | 010 109 8632 | Shop 00513, Building 13, High Street, Melrose Arch, Birnam, Johannesburg | Facebook
Pablo Sandton
In case you missed it, Pablo Eggs-Go-Bar closed their doors in Melville and have reopened with a trendy and stylish new spot in the Mint Hotel, right in the heart of Sandton. This is just the spot to visit if you're craving Middle Eastern-inspired flavours, tapas and mezze perfect for sharing, as well as wood-fired delights (including pizzas, chicken schnitzel and beef fillet medallions). Pair that with a few refreshing cocktails, seating on the pool deck along with the amazing sights of Sandton and summer sunlight, and you have a wonderful setting to spend your leisurely Saturday afternoon! Be sure to pay them a visit and check out the new space.
Details: www.hellopablo.co.za | 078 206 4463 | [email protected] | Mint Hotel, 84 Katherine Street, Sandton, Johannesburg.
AURUM
Located on Level 7 of The Leonardo in the heart of bustling Sandton, the AURUM Restaurant is just the place to visit if you're looking for a dining experience like no other! And just in time for the brand-new season, they have just recently launched their seasonal summer menu 2020 that's sure to delight the tastebuds. Wondering what to expect on this divine new menu, click here. We have the pleasure of experiencing it for ourselves!
Details: www.aurumrestaurant.co.za | 087 536 0100 | [email protected] | Level 7, The Leonardo, 75 Maude Street, Sandown, Sandton, Johannesburg
Sotto Sopra
Get excited! Sotto Sopra has officially reopened their doors after all the unpredictability and uncertainty the pandemic has brought alone with it! Here, diners can tuck into hearty and oh-so moreish modern Italian cuisine that's sure to delight the senses. Enjoy Roman-style pizzas and flavourful pastas prepared with handmade in-house pasta in a vibrant, open and relaxing dining area on the Keyes Art Mile in Rosebank.
Details: www.sottosopra.co.za | 072 300 6681 | [email protected] | Trumpet on Keyes, corner of 19 Keyes and Jellicoe Avenues, Rosebank, Johannesburg | Facebook