Who Are The Thembelenkosini Care Givers?
Born and raised in Soweto, founder Ms. Witness Khosi Ntshangase, has worked tirelessly to enhance the lives of orphaned and vulnerable children through the Thembelenkosini Care Givers Centre. She does this by bringing positive change to her community, which was an inspiration from her late father, Thembelenkosini. His love for his community and his compassion for the disadvantaged truly inspired her to establish this foundation, which is why the centre is named in his honour. Their mission is to physically, emotionally, creatively, and intellectually enhance the lives of children in the community of Senaoane, Soweto.
Killarney Mall's Stationery Drive Mission
Donation of stationery items to last up to one year
Collection of non-perishable food donations to last the school up to one year
Do you accept this mission?
From now until 31 January 2020, Killarney Mall will be collecting stationery, (dried, non-perishable) food and clothing to assist in the financial and educational development of Thembelenkosini Care Givers Centre. If you value education as much as Killarney Mall does, you will be able to find the donation box placed outside of Pick 'n Pay. If your donation is too large, take it to Centre Management at the Office Towers. Any and all donations will be appreciated. For more information, click here.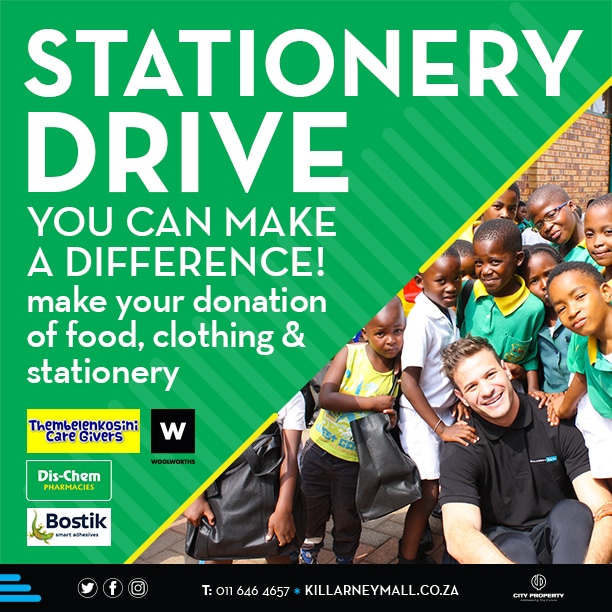 When Is It?
Friday, 03 January 2020 - Friday, 31 January 2020.
Where Is It?
Killarney Mall, 60 Riviera Road, Killarney, Johannesburg.
For More Information
For more information about Killarney Mall's 2020 Stationery Drive, visit www.killarneymall.co.za.
You can also contact them on 011 646 4657 or [email protected].
Don't forget to follow them on Facebook, Twitter and Instagram for the latest news, events and offers.