The Bay Harbour Market
A popular market in what is fondly referred to as "The Republic of Hout Bay" in Cape Town, the Bay Harbour Market offers a selection of food stalls, crafts and curios, and live music on the weekend. Open until 9pm on Friday evenings, it's the perfect place to ease into the weekend, craft beer in hand.
Where: 31 Harbour Road, Hout Bay, Cape Town

27 Boxes Night Market
 A "destination with a difference", the 27 Boxes Night Market allows you to browse through food and retail stalls, to the background of live music. Perfect for visitors to the city, vendors come from throughout Johannesburg to showcase their wares. Family- and dog-friendly.
Where: 76 4th Avenue, Melville, Johannesburg

Canal Walk
Home to over 400 retail stores, Canal Walk Shopping Centre is open from 9am to 9pm daily. Catering for everything from basic grocery needs to niche fashion stores and movies, it's a convenient option when, at 8pm, you realise you're missing a core ingredient for dinner, or need to buy an emergency birthday present.
Where: Canal Walk Shopping Centre, Century Boulevard, Century City, Cape Town.

Sandton City
Sandton City has more than 300 retailers, including international brands such as Louis Vuitton, Apple and Hugo Boss. Described as one of the continent's most prestigious shopping centres, you're able to indulge in your love of all things luxe until 8pm, Monday to Saturday.
Where: Sandton City, Sandton Drive, Sandton, Johannesburg

I Love Big Bay Market
A food and craft market along the beachfront, the I Love Big Bay Market sees food trucks and stalls come together with over 30 craft and clothing vendors, from 4pm to 9pm on the last Wednesday of the month. Grab something to eat, browse a little and enjoy the sunset with that iconic view of Table Mountain in the distance.
Where: Big Bay, Blouberg, Cape Town

Market On Main
Joining the First Thursdays movement, the Market on Main is open until 11pm on the first Thursday of every month – with their more arts-focused market taking place from 10pm to 3pm every Sunday. Fine food meets great design in Maboneng.
Where: 264 Fox Street, Maboneng Precinct, Johannesburg.

V&A Waterfront
Said to be the most popular tourist attraction in the southern hemisphere, the V&A Waterfront is also an expansive shopping centre with over 450 retail outlets. Open from 9am to 9pm every day of the week, it's always a bustling hub of activity – with locals and tourists alike.
Where: V&A Waterfront, Dock Road, Cape Town

Musgrave Roof Top Night Market
Offering the market trifecta of food, crafts and live music, the Musgrave Roof Top Night Market takes place on the first Friday of every month, atop Musgrave Centre.
Where: 115 Musgrave Road, Musgrave, Durban

V&A Food Market
Right outside the V&A Waterfront, this permanent food market is dedicated to all things delicious. Open until 7pm or 9pm, depending on the season, you'll find craft beer, artisan ice cream, an assortment of Cape Malay delights, fresh spices, South American empanadas and more.
Where: V&A Food Market, Dock Road, Cape Town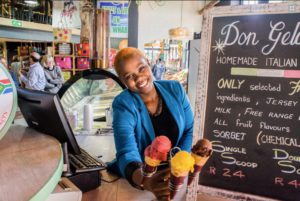 Blue Bird Garage Food and Goods Market
Located in the quirky seaside suburb of Muizenberg, the Blue Bird Garage Food and Goods Market takes place every Friday, from 4pm to 10pm. Situated in an old postal plane hangar, the market brings together the butcher, baker and more, under one eclectic roof. Priding itself on being particularly welcoming, why not end your week down south?
Where: 39 Albertyn Road, Muizenberg, Cape Town
By Candice Bresler