The Fashion Shack
This place is one of my new discoveries. Funny story because people have been talking about it. So, if you are around Joburg CBD and want to grab a coffee, a quick meal or even get to admire the fashion that exists there make sure you visit this joint, you will definitely love it. Plus it would make a great photo shoot area for your 'Gram.
The Zwipi Underground Bar
The famous underground restaurant/bar that everyone wants to check out. This is just the place to be if you are looking for something different to do around Jozi. Bring your friends and family to enjoy this amazing experience with you. They normally host a couple of amazing events every now and then and they always impress their visitors. We think it's time you checked it out the next time you're in Gandhi.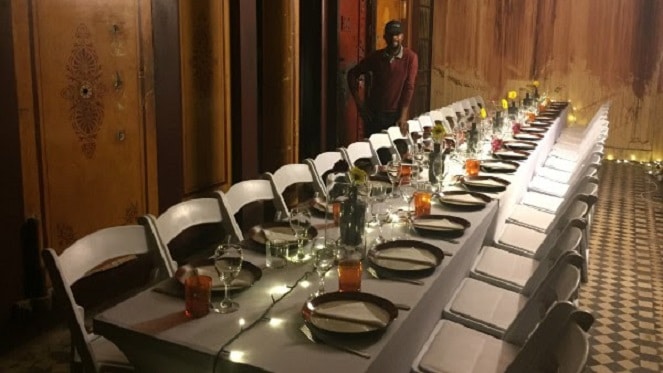 One Eloff
We would like to believe that this is by far out of all the ones on the list a hidden yet not so hidden gem. There is not way you can miss it when you're around the Eloff area. With an attractive yellow and blue painted walls and the shangaan bags hanging from the roof upon arrival. It doesn't get more African than this. And of course plenty of things to do around the area, from food, fashion, stalls and many other things to enjoy while you're here. Check it out!
The Cosmopolitan
This beautiful place is situated in one trendy area that of course is Maboneng Precinct. This beautiful corner building is known for being home to luxury lifestyle brands, a gallery and a Gastro Bar, and if you looking to get your 'fro some love make sure you visit Honour Your Crown Hair Salon which also has built it's home at The Cosmopolitan. Plus, you can look forward to multiple stores that include fashion, grooming, the revived, historic Lion Bar as well as a restaurant and bar service in the large inner courtyard. Exquisitely curated, all the brands involved bring you a luxury experience in the city – international and Pan-African combined.
Little Addis Cafe
Travelling to Ethiopia is something I've personally always had on my bucket list and this place allows you to travel with your taste buds, with food that is so amazing it will feel like you are in the streets of Addis Ababa. So, if you are tired of the same old same old food, try something new, fresh and out of the ordinary by paying this spot a visit, be sure to take pictures while you're at it, we really want to see if you really went, we're watching you!
Johannesburg Art Gallery
I would like to believe that as kids we've all visited the Johannesburg Art Gallery, but if not it's never to late to dwell in this beautiful art gallery in the heart of Joburg CBD. The culture of Joburg is magical, uncopied, unique and it has it's own story to tell, and this art gallery displays all that. Exhibiting the culture that is whistled in the streets and lived on a daily basis. And seeing all that in an art gallery hits home, because even if you are not from the CBD you fall in love with the area, because the culture is alive.
Rooftop BBQ At Maboneng
If it's a chilled vibe you're after, then welcome to Rooftop BBQ. You'd have to look for it to find it, remember to look up when you walk so that you do not miss the most amazing spots Joburg has to offer. This is a place where drinks are flowing, laughter is the language and having a great time is mandatory. Make sure you have a jolly good time, it's an order!